Want to creat software tutorials with ease? Want to make wabsite demonstrations vividly?... There are many reasons that you might want to record the screen of your Mac, but it is so hard to capture screen perfectly if you do not have a right tool.
Now, in order to save your time, a professional screen recorder tool for Mac - Kigo Video Converter Ultimate is high recommended for you.
Why choose this screen recorder tool
Mac users can make screen recording easily with the help of Kigo Video Converter Ultimate, which is able to record desktop activities in full screen HD capture or window region HD capture and option to record computer output audio to video or not for creating software tutorials, website demonstrations.
Kigo Video Converter Ultimate is an all-in-one screencasting software for the Mac that combines ultimate screen capture and advanced video editor into one desktop application.
Easily Advanced Capture on-screen action along with specific functions such as you can crop the selected region, fullscreen the selected region, select the window region and start advanced capture. It also allows you to preview recorded video.
How to Use the Screen Recorder
Step 1: Select the record mode
Record Screen: A powerful and easy-to-use screen casting function of this program for the Mac. It allows you to record desktop activities in Full Screen or Region.
Record Device: Allow you to record from the embedded or attached camera to record screen.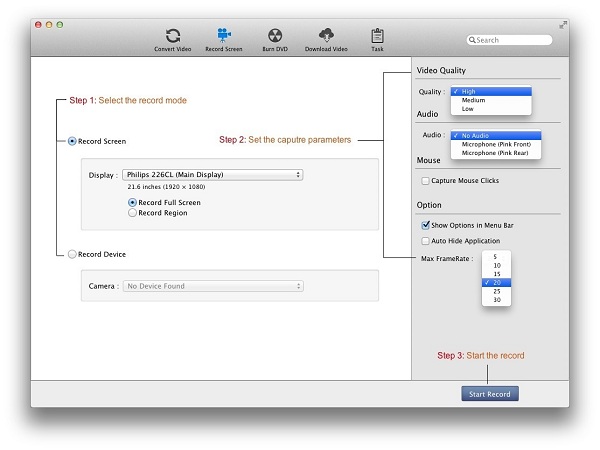 Step 2: Set the capture parameters
Video Quality: You can select High, Medium or Low as video quality.
Audio: Select No Audio to record without audio or select the recording equipment that detected according to the device to record audio.
Mouse: After checking on Capture Mouse Clicks, the action will be marked in the record when clicking mouse.
Option:
1. After checking on Show Options in Menu Bar, the timer with Stop Screen Recording options will display on menu bar of Mac.
2. After checking on Auto Hide Application, the main window of the application will auto hide when starting the record.
3. Max FrameRate: Max Frames Per Second. The program provides multiple FPS values for you to choose, including 30, 25, 20, 15, 10, 5, the more FPS, action will be displayed more smoothly, and the default value is 15, which will be enough.
Tips: Record Device only supports setting Show Options in Menu Bar in the Mouse and Option parameters.
Step 3: Start the record
Click Start Record button to start and then the recording process is added to the Task- Pending- Recording list. Meanwhile recording state displays in the Record Screen list.
Tips:
1. The performance is slightly different with Record region.
After click Start Record button, then a prompt "Drag Mouse to Start Region, Press ESC or Click Anywhere to Cancel" shows in the center of the screen. And another prompt "Click to Start Record, Press ESC to Cancel" displays in the center of the region after dragging mouse to select a region. When clicking the button, the recording started.
2. Before clicking to start, you can re-adjust the selected area in Record region.
3. The camera's LED of Record Device will be lit when starting recording.
4. At the same time can't be more than one record.
5. During recording, you can't modify the capture parameters.
Step 4: Stop the record
Method 1: Click Stop Record button in Record Screen list to finish recording.
Method 2: Click Stop button in Task- Pending- Recording list to finish recording.
Method 3: If the timer shows options in the menu bar, you can click the options to select Stop Screen Recording or shortcuts "Shift+ Command+ 1" to finish recording.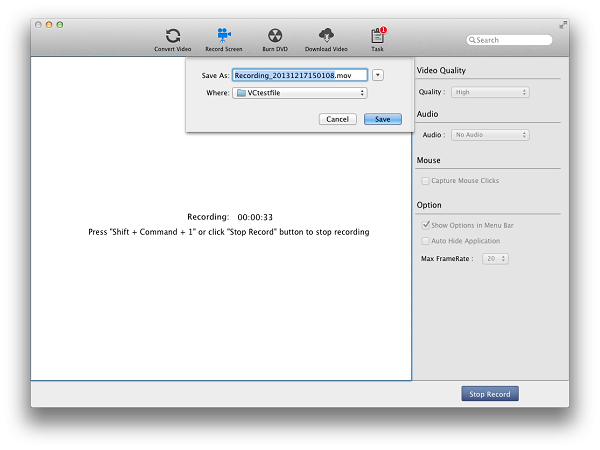 Tips: After stopping the record, a window with Save As and Where pops up. You can customize the name and path of the recording. If you save the recording, the file will be added to the Task- History- Recorded list. If you don't, the file will be deleted directly.