Online videos get more and more popular, and more and more people turn to watch videos online, or sometimes you want to download the videos and keep them to enjoy when you are on a trip or on the way to work/home.
You cannot in the internet at every moment, but if you download the videos from website, even without internet, you can enjoy the videos as usual.
Kigo Video Converter Ultimate offers you a perfect solution, with which, not only download videos from video websites directly, you can also convert the downloaded files to various formates including MP4, AVI, MOV, M4V, 3GP, MPG, MPEG, FLV for your PMP or mobile phones and so on.
Download Videos from Websites
Web Video Downloader is built-in Kigo Video Converter and helps Mac users download videos from website like YouTube, Google Video, Facebook. To download a whole video, what you need to do is , to add valid videos' URL to the window and click the Start button. In a word, this web video downloader would make your life more interesting.
This downloader now support download videos from more than 100+ sites listed here. And we will add more sites to support in future.
How to Download Videos from Youtube
Step 1: Add URL
Click the Add URL button and then Input URL window pops up. Input or paste the URL to add the URL you want to import. After parsing successfully, the file will display in the Download Video list. Also through the menu item File-> Add URL or drag URL to the list directly.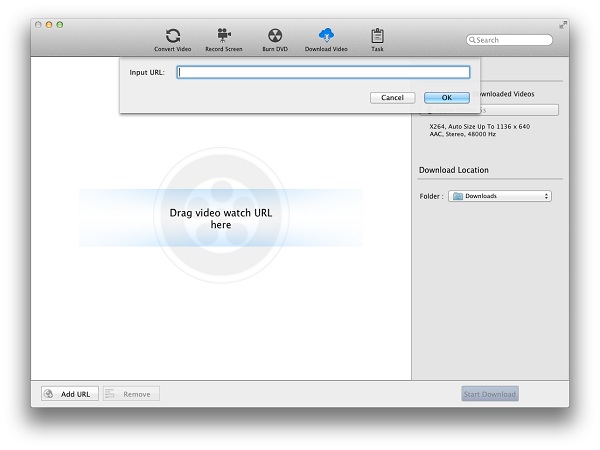 Step 2: Set the destination
Click the Download Location- Folder drop list and then click Choose "..." to set the destination.
Tips: The default path is / Users/ user/ Downloads, click Reveal In Finder could open the path.
Step 3: Start the download
Click Start Download button and then list is empty. Meanwhile all of the files on the list are added to the Task- Pending- Downloading list starting the downloading in turn and the countdown begins.
Step 4: Finish the download
After the download is done, it will be deleted form Task- Pending- Downloading list, and then added to Task- History- Downloaded list.
Tips:
When downloading videos from Facebook, Howcast, Liveleak, Movieclips, Vimeo and Youtube, you can choose different Format, Resolution to download. But only Youtube supports to choose Download subtitle.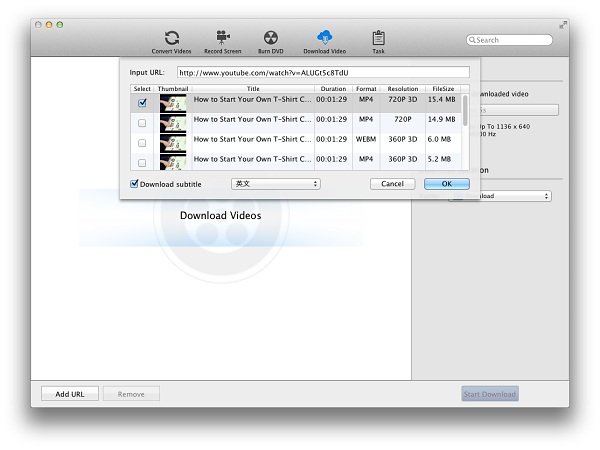 One button to Convert Downloaded video files
Firstly, make sure the Auto convert downloaded video is checked and the Profile is set before the Step 3 in the download process.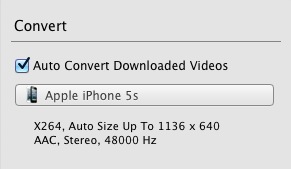 Then the downloaded file will also be added to Task- Pending- Converting list at the same time in the Step 4. So the downloaded file is automatically converted. And then the auto convert downloaded file will also be added to the Task- History- Converted list.