Facebook has been the most popular social network. On Facebook, you can connect friends, family, and business associates to share your situation. It is also regarded as a college networking website and has expanded to include anyone and everyone.
There are also many Facebook videos shared by the users, the videos may be created by users, or be some music videos, or be movie segments and so on.
Do you intend to download the Facebook videos? Let Kigo Video Downloader help you.
Kigo Video Downloader is a professional website video downloader and video converter to download and convert online videos for playback on iPad, iPod, iPhone, PSP and more.
Attractive functions of Facebook video downloader
Any resolution Facebook video could be downloaded
Download Facebook Video to MP4, AVI, 3GP, MKV and other video formats
Extract MP3, AAC audio from Facebook Video
Work for iPod, iPhone, iPad, PSP, iRiver, Android phone and so on
Record the login info and download directly next time
Parse the video information, like size, thumbnail, duration etc.
Besides Facebook Video, it also supports Google, Youtube and 1000+ other video websites
One Click to download and convert videos
Fast and easy to use
How to download and convert Facebook Videos on Mac
First you need to download Kigo Video Downloader, install and run it.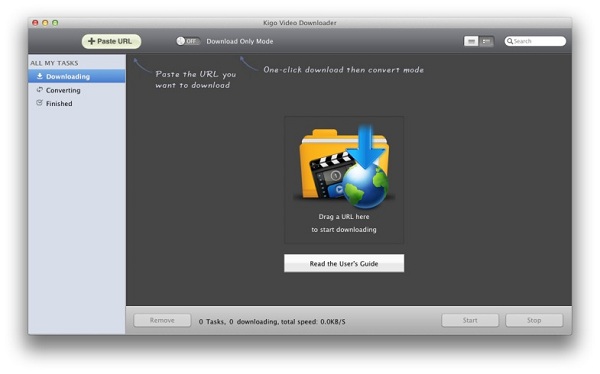 Add videos' URL of Facebook video
Click Paste URL button (Or through menu File-> New Download) and paste the URL in the pops-up window. Then click OK to parse the link. Or drag the URL of the video playback to the Downloading list
Download options setting
A lot of the videos are divided into multiple segments, including advertisements. After analyze the URL complete, all segments and ads will be listed. You can free download video clips, including ads. The fragment of less than 15 seconds is default unchecked.
Select the file you want to download. Click Start to begin downloading.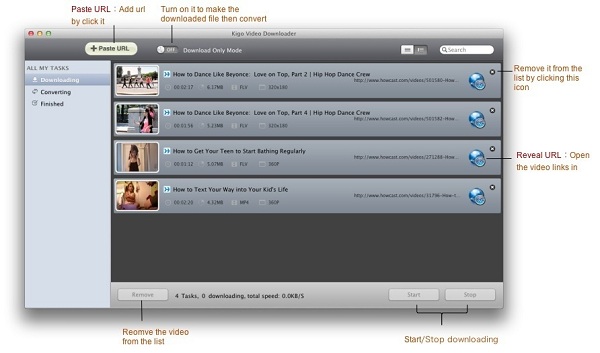 After the download is complete, the video files are automatically saved to the Finished list.
If you want to download files and then quickly start the conversion, you can click the button
to slide it ON state.
You can set profile of each file in the list by selecting it and clicking the Profile button. Then the settings window will show up.
While you set the downloading parameters, you can set the output formats and the preset for your portable players.
Finally, Click Convert Now! to begin converting.