Google.com is not only famous for its search engine, it also supports lots of videos. Google Videos was a video search engine, and formerly a free video sharing website, from Google Inc.
Google Videos are tends to provide a large archive of freely searchable videos. Besides amateur media, Internet videos, viral ads, and movie trailers, it also distributes commercial professional media, such as televised content and movies.
The Google videos lets you search and watch millions of videos, especially including forum and personalized recommendations.
When you are off-internet or want to save the Google videos to your hard disc, Kigo Video Downloader comes to help you.
Key Features of Kigo Video Downloader
Kigo Video Downloader can not only help you download videos from kinds of video-sharing websites, you can also download and convert them for most portable video player devices like iPod, iPhone, iPad, PSP, Android phones, iRiver, Creative Zen and so on.
Download any Google videos
Download several Google videos simultaneously
Choose different resolution video to download
One click to fast download
Preview videos after download
Remove Ads or other undesired segments
Convert to MP4, AVI, 3GP, M4V formats
Extract audio files from Google videos
Output for iPod, iPhone, iPad, PSP, Android phones, iRiver, Creative Zen and so on
Customized the profile
Manage the output file
Shut off the computer automatically after download
Guide to Download and Convert Google Videos
First you need to download Kigo Video Downloader, install and run it.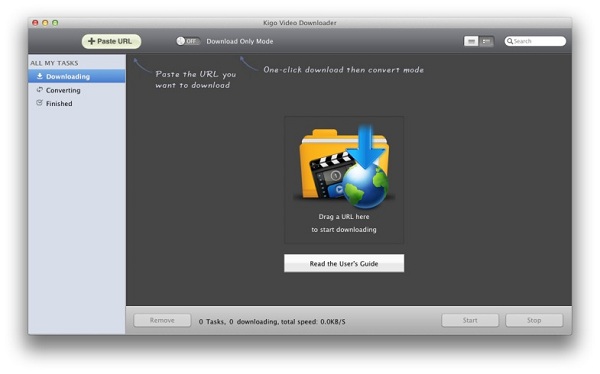 Add Google videos' URL
When you watch some Google Videos, just click Paste URL button (Or through menu File-> New Download) and paste the URL in the pops-up window. Then click OK to parse the link. Or drag the URL of the video playback to the Downloading list
A lot of the videos are divided into multiple segments, including advertisements. After analyze the URL complete, all segments and ads will be listed. You can free download video clips, including ads. The fragment of less than 15 seconds is default unchecked.
Select the file you want to download. Click Start to begin downloading.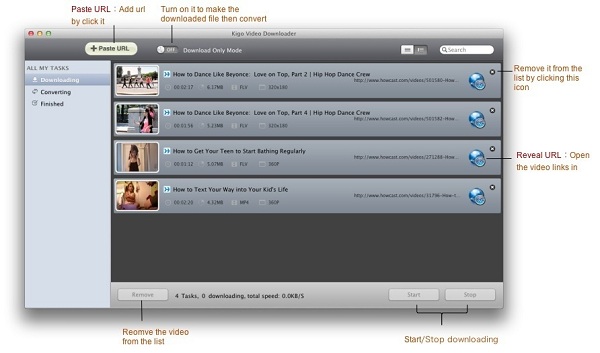 After the download is complete, the video files are automatically saved to the Finished list.
If you want to download files and then quickly start the conversion, you can click the button
to slide it ON state.
You can set profile of each file in the list by selecting it and clicking the Profile button. Then the settings window will show up.
While you set the downloading parameters, you can set the output formats and the preset for your portable players.
Finally, Click Convert Now! to begin converting.