Best Christmas Movies on HBO Max
After Thanksgiving, Christmas is coming soon. When Christmas comes, people will have a long holiday. Due to the epidemic, traveling out may be not a good choice. How to spend a meaningful vacation at home? Watching movies at home will be a good choice to kill time. There are also a great list of Christmas movies on the streaming websites like Netflix, Amazon Prime, DisneyPlus, Hulu and HBO Max. Today the article will lists the best Christmas movies on HBO Max right now, and you may find some movies most worth your time.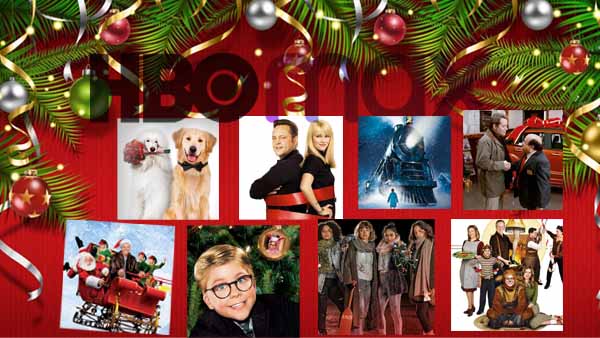 Four Christmases (2008)
Four Christmases (known as Four Holidays or Anywhere But Home in some territories) is a 2008 Christmas comedy film about a couple visiting all four of their divorced parents' homes on Christmas Day. A happily unmarried San Francisco couple find themselves socked in by fog on Christmas morning, As a result their exotic vacation plans morph into the family-centric holiday.
Deck the Halls (2016)
Deck the Halls is a 2006 American Christmas comedy film directed by John Whitesell, released on November 22, 2006. Deck the halls with lights, lights and more lights! After Danny (Danny Devito) makes it known that he plans to light up his house with enough twinkle lights to make it visible from space, Steve goes on a mission to outdo him. As expected, chaos ensues.
The Polar Express (2004)
The Polar Express is a 2004 American computer-animated Christmas musical fantasy film co-written and directed by Robert Zemeckis, based on the 1985 children's book of the same name by Chris Van Allsburg. The film tells the story of a young boy who, on Christmas Eve, sees a mysterious train bound for the North Pole stop outside his window and is invited aboard by its conductor. The boy joins several other children as they embark on a journey to visit Santa Claus preparing for Christmas. The film stars Tom Hanks, also one of the film's executive producers, in multiple distinct roles, with Daryl Sabara, Nona Gaye, Jimmy Bennett, and Eddie Deezen in supporting roles.
Black Christmas (2019)
Black Christmas is a 2019 American slasher film directed by Sophia Takal, and written by Takal and April Wolfe. Part of the Black Christmas series, it is the loose second remake of the 1974 Canadian film Black Christmas, after the 2006 film, and follows a group of sorority sisters at Hawthorne College as they are preyed upon by an unknown stalker. Put aside the festive cheer (for now) and lean into the frights that the season brings. Quite literally the opposite of merry and bright, this scary Christmas flick follows four sorority sisters as they try to outsmart a campus killer on the loose.
A Christmas Story 2 (2012)
A Christmas Story 2 is a 2012 American Christmas comedy film directed by Brian Levant and starring Daniel Stern and Braeden Lemasters. The film is a direct sequel to the 1983 film A Christmas Story, which ignores the events of the 1994 film My Summer Story. The cast is totally different this time around, but the antics feel all too familiar. In this one, a teenage Ralphie wrecks his car before he even gets off the lot, so he rounds up all of his friends to earn money to fix it.
Elf (2003)
Elf is a 2003 American Christmas comedy film directed by Jon Favreau. The film centers on Buddy, a human raised by Santa's elves, who learns about his origins and heads to New York City to meet his biological father. When young Buddy falls into Santa's gift sack on Christmas Eve, he's transported back to the North Pole and raised as a toy-making elf by Santa's helpers. But as he grows into adulthood, he can't shake the nagging feeling that he doesn't belong. Buddy (Will Ferrell) vows to visit Manhattan and find his real dad, a workaholic publisher (James Caan).
A Christmas Story (1983)
A Christmas Story is a 1983 American Christmas comedy film directed by Bob Clark and based on Jean Shepherd's semi-fictional anecdotes in his 1966 book In God We Trust: All Others Pay Cash, with some elements from his 1971 book Wanda Hickey's Night of Golden Memories and Other Disasters. It stars Melinda Dillon, Darren McGavin, and Peter Billingsley and is a seasonal classic in North America. It is shown in a marathon annually on TNT and TBS titled "24 Hours of A Christmas Story", consisting of 12 consecutive airings of the film from the evening of Christmas Eve to the evening of Christmas Day. It is often ranked as one of the best Christmas films.
Miracle on 34th Street (1947)
Miracle on 34th Street (initially released as The Big Heart in the United Kingdom) is a 1947 American Christmas comedy-drama film released by 20th Century Fox, written and directed by George Seaton and based on a story by Valentine Davies. The story takes place between Thanksgiving Day and Christmas Day in New York City, and focuses on the effect of a department store Santa Claus who claims to be the real Santa. The film has become a perennial Christmas favorite. If you need any convincing that Santa Claus is the real deal, look no further. In this family-friendly classic, Kris Kringle goes on trial to prove his identity, reminding us all that "faith is believing in something when common sense tells you not to."
Fred Claus (2007)
Fred Claus is a 2007 American Christmas fantasy comedy film directed by David Dobkin. The film was released on November 9, 2007, in the US and later released in the UK on November 30, 2007, by Warner Bros. Pictures. In this movie, jolly old Saint Nicholas (Paul Giamatti) goes head-to-head with his naughty brother, Fred (Vince Vaughn). After landing himself in a bout of trouble, Nicholas sends Fred to the North Pole to pay off his debts. t is loosely based on the poem "A legend of Santa and his brother Fred" written by Donald Henkel. It received mixed reviews from critics and grossed $97 million worldwide against the production budget of $100 million.
A Christmas Wedding Tail (2011)
Christmas Wedding Tail is the story of a pair of passionate pooches, Labrador Rusty and Poodle Cheri, who fall head-over-tails in love. The two smitten pups conspire to get their respective owners, Susan and Jake to wed. Despite Susans and Jakes compatibility, their new blended family turns out to be more than Rusty and Cheri had bargained for. Now, the calculating canines must channel their pooch powers to keep their family from ending up in the dog house.
Jack Frost (1998)
Jack Frost is a 1998 American christmas dark fantasy drama film starring Michael Keaton and Kelly Preston. Keaton played the title character, a father and musician killed in a car accident, only to brought back to life in the form of a snowman via a magical harmonica. Three of Frank Zappa's four children, Dweezil Zappa, Ahmet Zappa, and Moon Unit Zappa, appear in the film. Jack Frost was released in Australia on December 10, 1998, a day prior to its American release. It received negative reviews and became a box-office bomb, grossing just $34 million against a budget of $40-85 million.
---
Download Christmas Movies from HBO Max to Watch Offline
There are so many various popular and classic Christmas movies on HBO Max. And it is also wonderful and great if you are able to watch these Christmas movies on HBO Max offline. Kigo HBOMax Video Downloader supports users an ideal solution to search and download various movies and TV shows including HBO Max original series from HBO Max to your PC or Mac, and save to MP4 or MKV format with audio track and subtitles kept.
Kigo HBOMax Video Downloader
Retain audio tracks and subtitles.
Download HBO Max videos to MP4 / MKV with HD videos.
Fast speed and easy to operate.
Download Windows
Download Mac
Before the downloading, according to your system download the right version, install and launch Kigo HBOMax Video Downloader. The following guide will take Windows version for example.
Step 1. Output Format and Quality Settings.
Once you install Kigo successfully, click on the Settings tab on the top right corner of the window to set the output format, video quality and so on. From the Download Settings option, you can set MP4 or MKV as the output video format. And you can also set the download video quality, audio type, subtitle language, output folder and more as you need.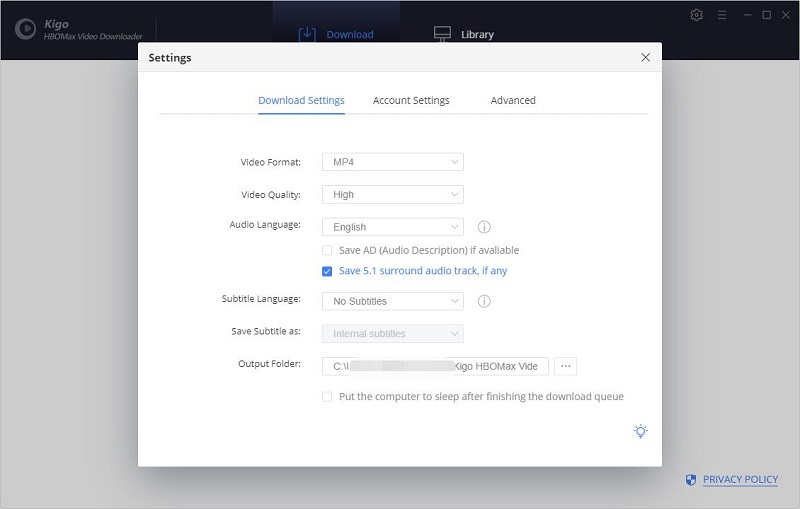 Step 2. Add HBO Max Movies or TV Series to Kigo.
You can copy and paste the HBO Max video URL to or drag videos' link to Kigo HBOMax Video Downloader, or use the video title to search and add to Kigo.
If this is your first time login, you need to login with your HBOMax account to go on.
After the login, now the search results will list on the program.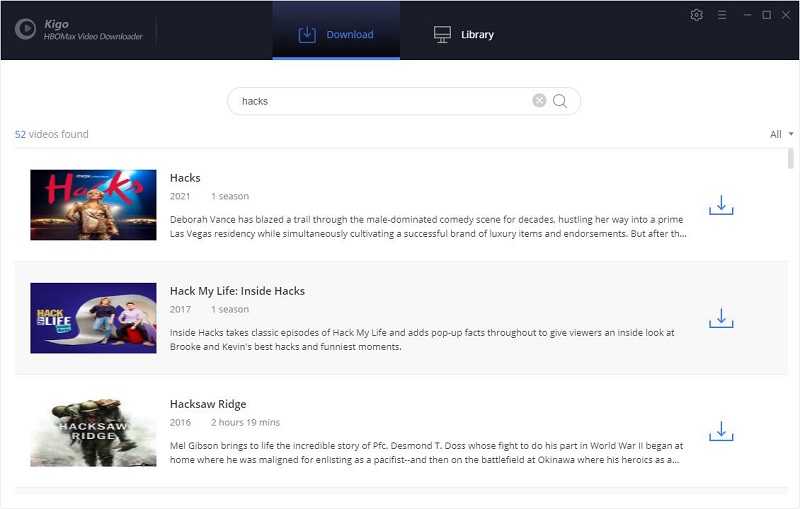 Step 3. Select and Advanced Download Settings.
Kigo HBOMax Video Downloader added "Advanced Download" settings to allow users to select the audio track and subtitle as needed. If you are trying to download a TV show, simply click the Download icon, followed that a window will pop up allowing you to select titles as well as seasons, and to choose audio track and subtitles by clicking "Advanced Download" in the bottom left corner. If you try to download a movie, please click

to open the window.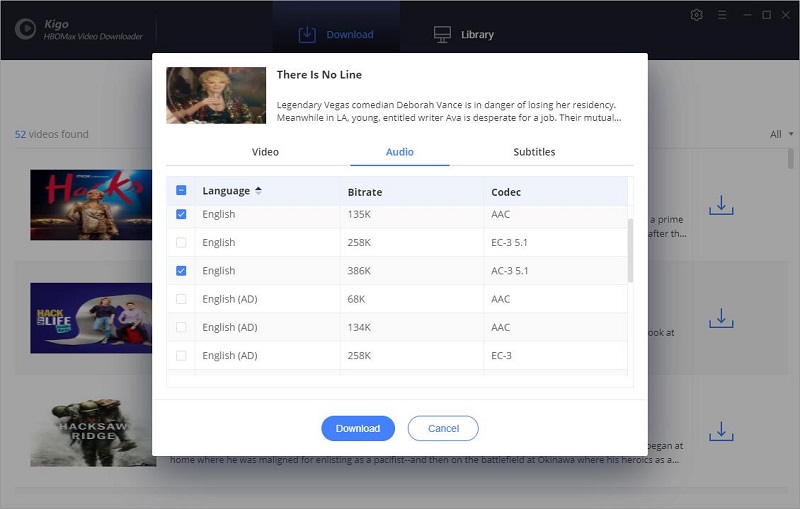 Step 4. Start downloading.
Now you can click the "Download" button to start downloading HBO Max movies or TV series.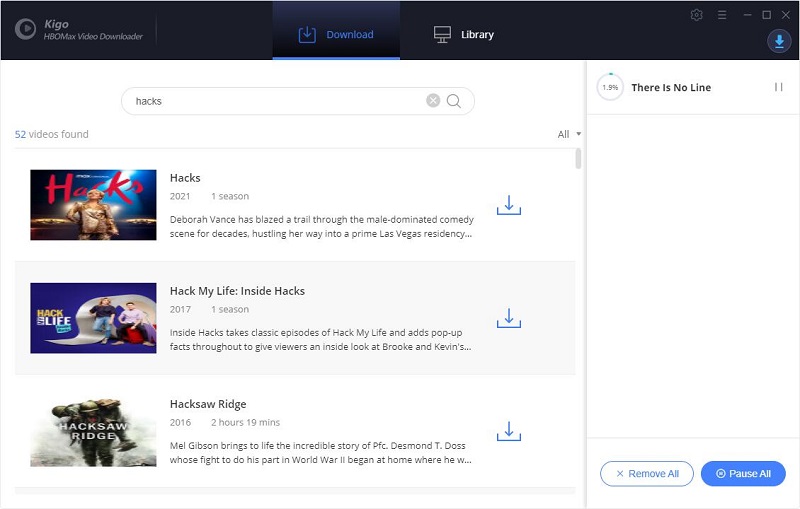 Step 5. Find the downloaded videos.
After the downloading, you can click "Library" - "Folder icon" to locate the downloaded videos directly. And then you can play these downloaded videos offline as you wish.
Conclusion
Movies make life colorful, Christmas movies have a special Christmas atmosphere. If you have no idea to watch on your Christmas holiday, you can refer to the above list and you can also refer to the above tips to download various movies from HBO Max to your PC or Mac easily.
Disclaimer: Videos from HBO Max™ are copyrighted. Any redistribution of it without the consent of the copyright owners may be a violation of the law in most countries, including the USA. KigoSoft is not affiliated with HBO Max™, nor the company that owns the trademark rights to HBO Max™. This page is provided for compatibility purposes only, and in no case should be considered an endorsement of KigoSoft products by any associated 3rd party.