Since we all know that users can download Netflix videos offline and then watch them without internet or with poor internet. Sometimes users may encounter with "download failed" problems.
Depending on the devices' differences you watch and download Netflix videos, the reasons and solutions to fix the download problems are also different. Just go ahead.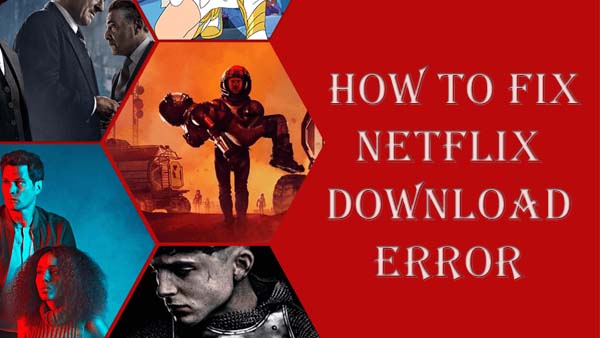 Above all, we need to know that not all titles on Netflix are available for download. (This is only taking Netflix's own downloading function). If you do not see the Downloads icon for any TV shows or movies, maybe the videos can't be available to download. Generally speaking, the following contents can't be downloaded:
The content rights are currently exclusive to another company.
The rights are not available to purchase from the content provider.
Popularity, cost, seasonal or other localized factors, or availability.
The original series produced in partnership with a studio that own the franchise or intellectual property associated with the content
If you make sure that your videos are available to download, you still download failed. According to your devices, find the corresponding solution to resolve the issue.
For Android Phone or Tablets users
When you click the download button to download videos on Netflix App, the downloads stops, and pops up "download failed", how to fix.
First please make sure you have enough storage to store the downloaded videos, because a wide variety of devices with different capabilities use the Android OS, certain Android devices are not compatible with the download feature.
When you checked the storage is ok, please check that you can only download up to 100 titles per device, or else you can delete the old titles and then download the new one. The detailed option is to run Netflix - navigate to More > App Settings in the Netflix app and then tap on the Delete all Downloads option.
More errors you can find the solution from https://help.netflix.com/en/node/55672#
For iPhone, iPad and iPod Touch users
Please make sure you have installed the latest version of Netflix and the downloaded videos are available. And what is important your device support downloading feature on Netflix.
When you download failed, you can check the storage and the download limits as the above.
When you get error "Too many devices error", that is because Netflix restricts video downloads to one device per account. To fix that you will have to delete the older titles from your other devices.
For Windows 10 Computer or Tablet
Not like Mac users or Win 7 users, Windows 10 computer users can also download Netflix videos with the latest version of the Netflix app. Please note that is not supported in a browser.
Even you download from Netflix on Windows 10 computer, you also have a Download Limit.
The download limit error, like "Yearly download limit error", which is related to the one already discussed above. For example, some content rights holders allow a certain number of downloads for their creations. In this situation, makers put a restriction on the number of downloads per year.
Summary
Most videos you can download directly unless the videos are not allowed to download. Only Windows 10 computer users with the latest Netflix can download Netflix videos. If you are Windows 7, Win XP users, or you don't like the download limit of Netflix, Kigo Netflix Downloader is your wise choice, which helps users download Netflix movies, tv shows, original series and so on with up to 1080p HD output.