Top 10 Popular Original Movies of All Time on Netflix
Netflix provided a list of its 10 most popular original movies of all time to Bloomberg on Wednesday. The list includes the action movie "Extraction" starring Chris Hemsworth, the thriller "Bird Box" starring Sandra Bullock, and Martin Scorsese's Oscar contender "The Irishman."
Netflix counts a view if an account watches at least two minutes of a movie or TV series, which is how it calculated this list and its daily lists. The list of biggest movies ever is based on viewership within the first four weeks.
It also introduced daily top 10 lists of its most popular movies and TV shows earlier this year. This is the first time the streaming giant has offered its own list of its most popular movies of all time, though.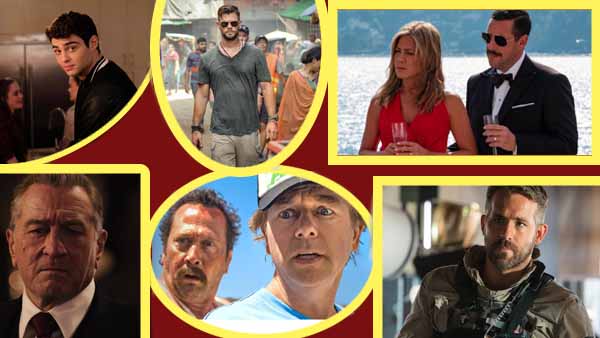 More details about the list as following:
10. "The Perfect Date" (2019) - 48 million viewers in first four weeks
The Perfect Date is a upbeat, funny teen romcom in a high school setting populated by seniors dealing with the challenges of becoming young adults. It's another in a series of cheerful and/or inspiring teen movies released on Netflix, and features one of the the site's breakout stars, Noah Centineo. Wholesome high school activities, like dances, working in a pizza joint, and falling in love, are front and center. The kids' parents are involved and dependable; teachers care about their students; and the teens themselves are "figuring life out as they go along."
9. "The Platform" (2020) - 56 million
An accidentally perfect parable for current times, The Platform has an ingeniously simple premise: Goreng wakes up in a concrete room. In the centre of the floor and ceiling are large, rectangular holes, through which he can see other identical rooms stretching above and below across innumerable storeys.
8. "The Wrong Missy" (2020) - 59 million
The basic premise of Netflix's comedy movie The Wrong Missy is a stale one. Tim (David Spade) goes on a blind date with a woman named Melissa (Lauren Lapkus), who is obviously horrible because she's brunette and loud. Then Tim meets another Melissa (Molly Sims), who is obviously perfect for him because she's blonde and demure. So Tim tries to invite the second woman to join him at a corporate retreat, but he accidentally texts the wrong Melissa - or Missy, as she prefers to be called.
7. "Triple Frontier" (2019) - 63 million
"Triple Frontier" is a solid, engrossing genre item with designs on being something more. It doesn't quite get there but it does well enough along the way to make the journey worth taking. Set in an unnamed area of Latin America (likely including Colombia) where the borders of three countries come together, "Frontier's" core story, presumably unchanged, is a heist movie of the familiar "one last job" variety.
6. "The Irishman" (2019) - 64 million
Martin Scorsese's "The Irishman" is a coldly enthralling, long-form knockout - a majestic mob epic with ice in its veins. It's the film that, I think, a lot us wanted to see from Scorsese: a stately, ominous, suck-in-your-breath summing up, not just a drama but a reckoning, a vision of the criminal underworld that's rippling with echoes of the director's previous mob films, but that also takes us someplace bold and new.
5. "Murder Mystery" (2019) - 73 million
"Murder Mystery," a caffeinated comedy that stars Sandler and Jennifer Aniston as working class New Yorkers whose European vacation gets handcuffed to a $70 billion corpse, would have raked in a respectable haul at the box office. (The duo's 2011 romp "Just Go With It" earned $215 million worldwide.) Today, the A-listers are cavorting on Netflix in a film that feels like a postcard from a past era. Turns out the small screen frames their caper flick just fine.
4. "6 Underground" (2019) - 83 million
6 Underground is an adventure film that introduces six characters who've gone off the grid (presumed dead) as they unite and take on an evil dictator from a Middle Eastern country. That's the story, but that's not what the movie is about. It's about action, a "stunt reel" from start to finish, including one very long car chase that almost destroys a city's downtown hub, including its pedestrians, buildings, and its entire infrastructure. And that's before we know who anyone is.
3. "Spenser Confidential" (2020) - 85 million
The film picks Spenser up on his last day inside (the word "PRISON" is helpfully flashed on screen in giant letters) as a group of sullen inmates attempt to ambush him before he can get out. Good luck with that.nSpenser has big plans to leave Boston and restart his life as a driver of semi trucks in Arizona (Colleen Camp makes an all-too-brief appearance as his instructor) but fate, as they say, intervenes.
2. "Bird Box" (2018) - 89 million
Bird Box is pretty much the same story, except it's looking at the creatures from another planet that will end your days on earth. Lay your eyes on one of these extraterrestrials, and you immediately want to kill yourself - throwing yourself in front of a car, or bus, or whatever is handy. You can see how this strong premise would work for a while ... until, well, it doesn't.
1. "Extraction" (2020) - 99 million
"Extraction" is a simple-minded action vehicle for Chris Hemsworth that should benefit from providing a theatrical-style adrenaline rush when the spigot for such fare has closed. Basically, Netflix is serving up an old-fashioned B movie, at a moment when the A-list blockbusters have been postponed.
Beyond that, "Extraction" is a pretty numbing affair, reminiscent of early Arnold Schwarzenegger movies ("Commando" comes to mind), with a pinch of "Man on Fire." It's the sort of movie where bodies pile up promiscuously, and the near-unstoppable protagonist takes a grilling and keeps on killing.
Download Netflix Movies to MP4 format
Each movies you can watch on Netflix. If you like, you can also download them to MP4 format and then play on other video player devices with the help of Kigo Netflix Video Downloader.
Support Downloading movies, tv shows and original series.
All the audio tracks and subtitles will be kept.
Download up to 1080p HD videos.
Fast speed and easy to operate.
Free Download
Purchase Now
Step 1 Click the above download button to download the latest version to your computer, install and run the Netflix Downloader.
Step 2 Input the movie name you want to download and search.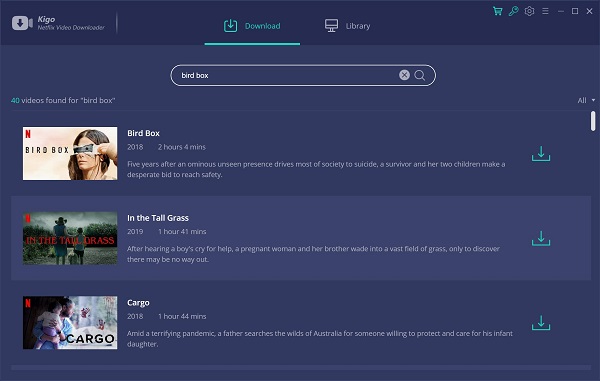 You can also copy and paste the video url or drag the video url to the program.
Tips: If you don't use Kigo Netflix Downloader ever, you need to login with your Netflix account to continue downloading.
Step 3 Advanced Settings.
When you move mouse to the movie you want to download, the "Advanced Setting" logo will pop up beside the download button.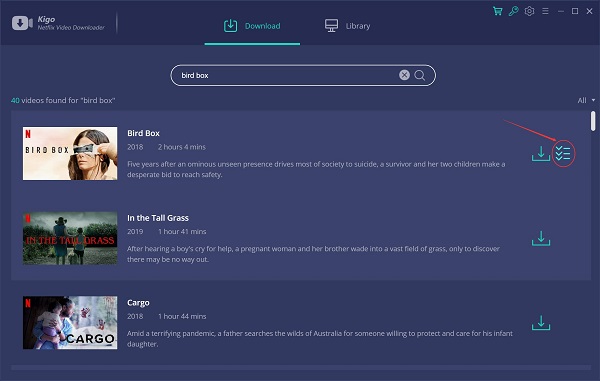 Click it, you can set the output quality, audio track and subtitle as you like.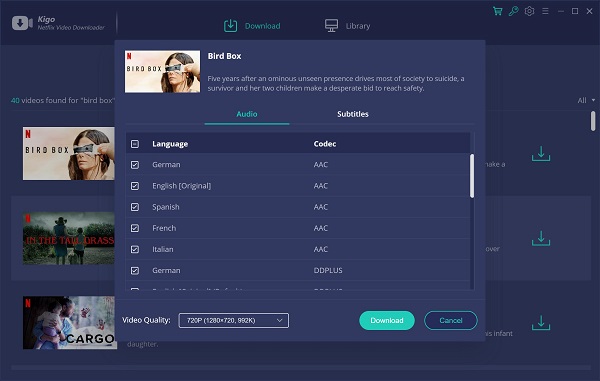 Step 4 Start Downloading.
After you finish the downloading settings, you can click "Download" button to start.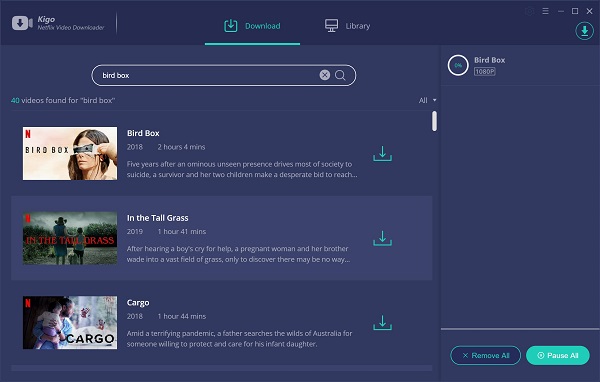 Conclusion
Not only Netflix original series, Netflix also supports various high quality original movies. All the movies you can watch them on Netflix, and download them with Kigo Netflix Video Downloader.