TunePat Netflix Video Downloader Full Review
With its vast library of movies, TV shows, and documentaries, Netflix offers a wide range of entertainment options for its subscribers. However, one limitation of Netflix is that it does not allow users to download videos for offline viewing. This is where TunePat Netflix Video Downloader comes in.
Looking for a reliable way to download and watch Netflix content offline? Dive into our comprehensive review of TunePat Netflix Video Downloader and revolutionize your streaming experience now!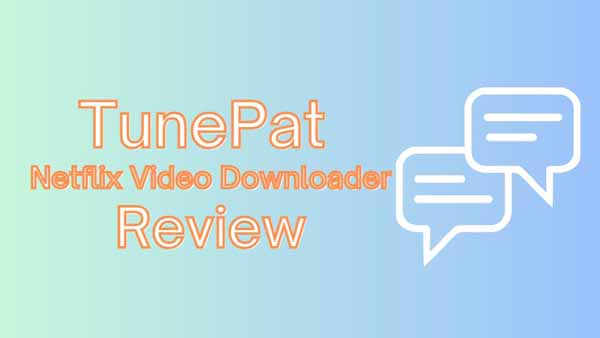 What is TunePat Netflix Video Downloader?
TunePat Netflix Video Downloader is a software that allows users to download and save Netflix movies and TV shows on their devices. It is a powerful tool that can convert downloaded videos into MP4 or MKV format, making them playable on various devices such as smartphones, tablets, and smart TVs. It supports downloading videos in HD quality and preserves all audio tracks and subtitles. It also has a fast download speed and a user-friendly interface that makes it easy to use.
TunePat Netflix Video Downloader is compatible with both Windows and Mac operating systems and is regularly updated to ensure compatibility with the latest versions of Netflix. It is an excellent solution for users who want to watch Netflix content offline or have limited internet access.
Key Features of TunePat Netflix Video Downloader
TunePat Netflix Video Downloader is a powerful software tool designed to enable users to download Netflix videos and save them for offline playback. But what sets TunePat apart from other similar tools? Let's explore some of its key features.
1. High-Quality Video Downloads
TunePat Netflix Video Downloader ensures that users can download videos from Netflix with up to 1080p. Whether it's a movie, TV series, or documentary, TunePat preserves the original video quality, including resolution, subtitles, and audio tracks. This means that users can enjoy their downloaded content with the same level of clarity and immersion as streaming directly from Netflix.
2. Fast and Efficient Downloads
Downloading videos can be a time-consuming process, especially when dealing with large files. TunePat addresses this issue by providing a fast and efficient downloading experience. The software utilizes advanced technology to accelerate the download speed, allowing users to save their favorite Netflix videos quickly and effortlessly.
3. Support for Multiple Devices
The downloaded videos will be saved in MP4 or MKV formats for various devices and platforms. Whether you want to watch your downloaded content on a smartphone, tablet, smart TV, or any other device, TunePat ensures seamless playback across different platforms. This versatility makes it an ideal choice for users who want to enjoy Netflix videos on multiple devices without any limitations.
4. Intuitive and User-Friendly Interface
One of the standout features of TunePat Netflix Video Downloader is its intuitive and user-friendly interface. The software is designed with simplicity in mind, allowing even novice users to navigate and operate the program effortlessly. With just a few clicks, users can start downloading their favorite Netflix videos and build their offline library.
5. Batch Downloading
TunePat Netflix Video Downloader supports batch downloading, enabling users to download multiple videos simultaneously. This feature is particularly useful for users who want to save entire TV series or multiple movies at once. With batch downloading, users can save time and effort while building their offline collection of Netflix content.
How Much Does TunePat Netflix Video Downloader Cost?
TunePat provides a free trial version that offers the same features as the registered version, but it is limited to downloading only the first five minutes of each video. If you wish to access the complete videos using the program, you will need to purchase a license to remove these restrictions.
TunePat offers three subscription options: Monthly Plan, Yearly Plan, and Lifetime Plan. The monthly subscription fee is just $39.9. The Yearly Plan costs $49.9, while the Lifetime Plan is priced at $129.90. (Halloween discount -$30) Additionally, if you require TunePat on multiple devices, the Team Plan is recommended, as it allows you to register the program on three devices using a single license. For more information, please refer to the order page.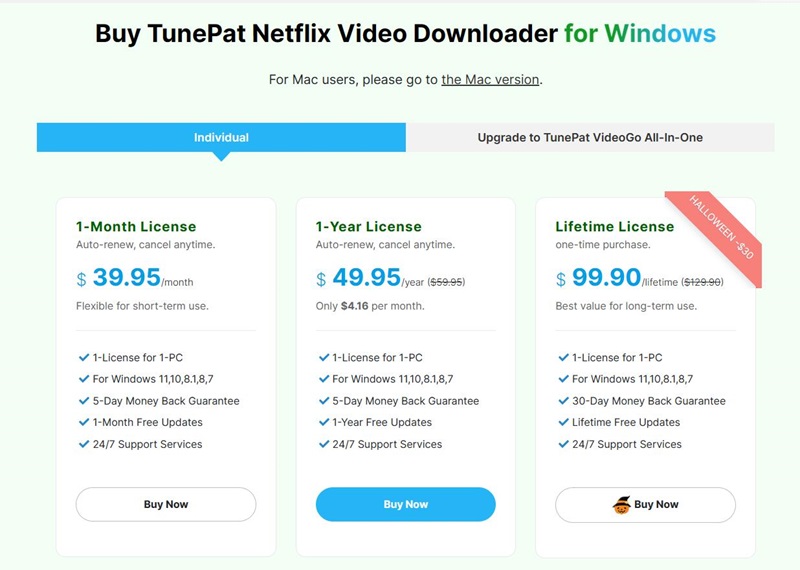 Is TunePat Netflix Video Downloader Legal?
TunePat is a software that complies with legal regulations and ensures a safe and ad-free experience for its users. It guarantees that it does not contain any malware or harmful viruses that could potentially harm your device. Furthermore, TunePat does not impose any obligation to download additional bundled software, providing a hassle-free and straightforward user experience.
How to Use TunePat Netflix Video Downloader?
Here are some steps to guide you on how to use TunePat Netflix Video Downloader:
Step 1. Launch TunePat and Log in to Netflix
To begin, download and open the most recent version of TunePat Netflix Video Downloader. In the main interface, input a letter or any character into the search bar and click on the magnifying glass icon. A sign-in window will appear, prompting you to enter your email address and password. This will grant TunePat access to the Netflix library.
Step 2. Search for Netflix Videos
After logging in, clear the search bar and enter the video name or copy and paste the video's link from Netflix to TunePat. The program will quickly find the results.
Step 3. Set the Output Options
Click the "Gear" icon to choose output settings. In the "Download Settings" tab, select video quality, format, audio and subtitles language, output path. In the "Advanced" tab, choose video codec mode, hardware acceleration and more.
Customize the Advanced Download Settings
To download a movie or TV show, use the "Advanced Download" icon to access settings for video quality, audio tracks, and subtitles. For TV shows, select the season and title before accessing advanced settings.
Start Downloading Netflix Video
To start downloading, click the "Download" button. All selected videos will be added to the download queue on the right side of the program. The videos will be downloaded in order. You can continue adding videos to the list or doing other tasks while TunePat downloads the videos.
After the download is complete, navigate to the "Library" section where you will find all the videos you have downloaded. By clicking on the "Folder" icon, you can easily locate the local files. This means that Netflix videos are now saved on your computer, allowing you to watch them offline whenever you want.
TunePat Netflix Video Downloader Review - - Pros & Cons
TunePat Netflix Video Downloader offers several advantages and drawbacks that users should consider before making a decision. Here are some key points to keep in mind:
Pros of TunePat
You can freely download and watch an unlimited number of Netflix videos..
It supports MP4 or MKV format with up to 1080p and offers various output settings.
Retain multi-language audio tracks and subtitles
High compatibility and fast download speed.
Cons of TunePat:
You can't download 4K Videos from Netflix.
It is not possible to set the download speed.
Best Alternative to TunePat Netflix Video Downloader in 2023
Kigo Netflix Video Downloader provides reliable solutions for downloading Netflix videos, ensuring you can enjoy your favorite content offline whenever and wherever you want. It is a professional tool specifically designed for downloading videos from Netflix in MP4 or MKV. It offers fast and efficient downloads, supports subtitles and audio tracks, and even allows users to download entire seasons or TV shows.
Support downloading movies, TV shows and original series in MP4 or MKV.
All and some the audio tracks and subtitles will be kept.
Download up to 1080p HD videos.
Support H.265 and H.264.
Fast speed and easy to operate.

Free Download
Windows 11/10/8/7
100% Secure

Free Download
macOS 10.15-14
100% Secure
One Click to Download Netflix Video
Kigo Netflix Video Downloader is the best solution for Netflix lovers, allowing you to easily download numerous movies and TV shows with a single click. You don't have to install the Netflix app as Kigo Netflix Video Downloader directly downloads videos from the web player, giving you the freedom to enjoy your entertainment anytime and anywhere.
Save Netflix Video in MP4 / MKV with 1080p
Kigo Netflix Video Downloader lets you download Netflix movies and TV shows in MP4 or MKV format for offline viewing on any device. You can choose video quality based on your device specs and storage. Downloads are easy on Windows 11/10/8/7 and macOS 10.15 or later. You can transfer movies to other devices like Windows Media Player, VLC, Roku, RealPlayer, Amazon Fire TV, Xbox 360, Samsung Phones, iPhones, and Android phones.
Keep Multilingual Audio Tracks and Subtitles
Netflix offers audio tracks and subtitles in various languages based on location and language settings. Kigo Netflix Video Downloader enables the downloading of Netflix videos while preserving multilingual audio tracks and subtitles, including 5.1 surround audio and AD audio for visually impaired or blind people.
Three Subtitle Modes to Choose
Kigo Netflix Video Downloader supports downloading muti-language subtitles for Netflix videos. It offers internal, external, and hardcode subtitles. You can choose the subtitle type based on your preference. Internal subtitles allow you to save multiple languages in one video. External subtitles are saved as separate files in SRT or VTT format for editing. Hardcode subtitles are burned into the video and can only be downloaded in one language at a time.
How to Use Kigo to Download Netflix Video
Step 1 log in to your Netflix account and output settings.
Launch Kigo Netflix Video Downloader on your computer, log in to your Netflix account, and then click the "setting" icon to open the setting window. Through this window, you can set the output format, output picture quality, audio track language, subtitle language, output sound quality, output path, etc.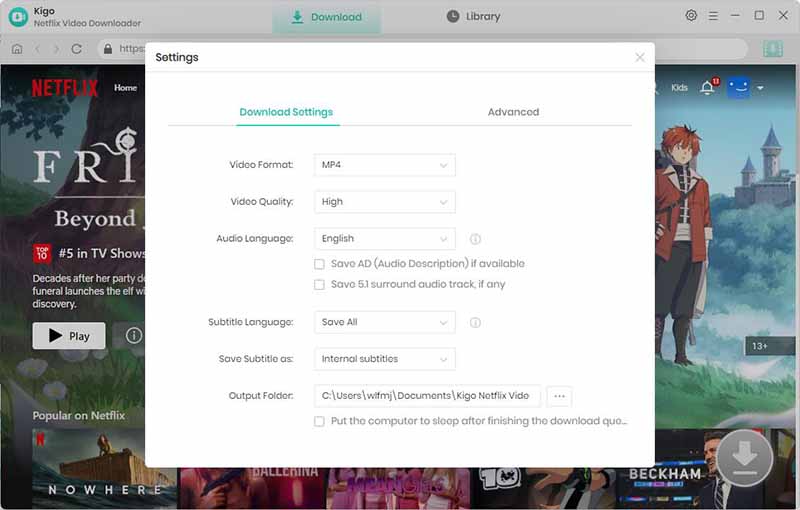 Step 2. Load Netflix video to Kigo.
In the search bar you can simply type in "manifest" and click to search it.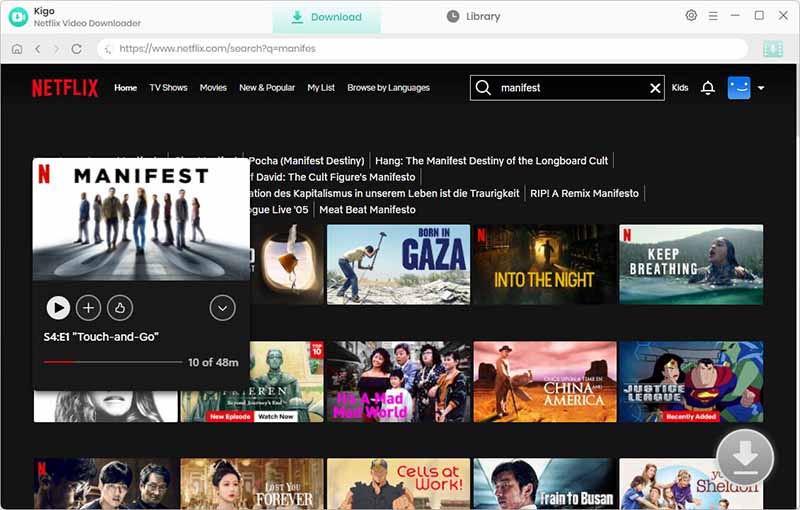 When it is listed, click on the TV show and it will be played quickly. Then click the Download button in the lower right corner, Kigo will automatically recognize and parse the video information. Then select the Season and Episode as you need.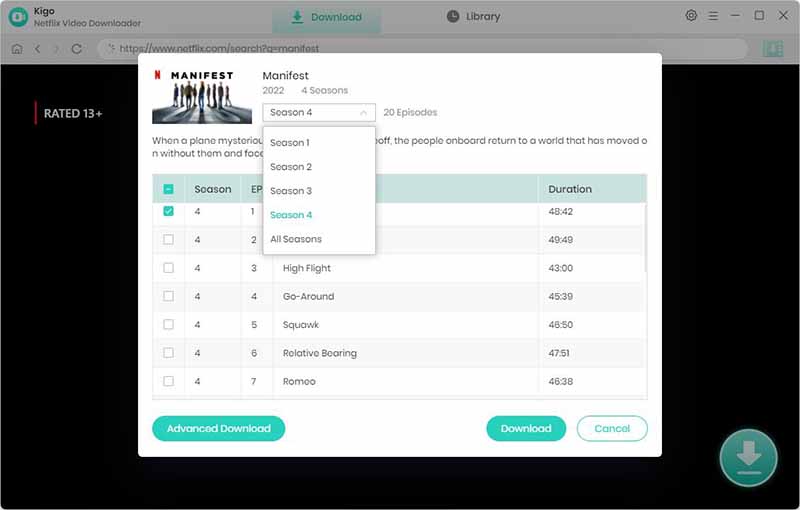 Step 3. Customize "Advanced Download" settings.
Click the "Advanced Download" in the lower left corner of the window to set the video quality, audio track language and subtitle language, format with more details.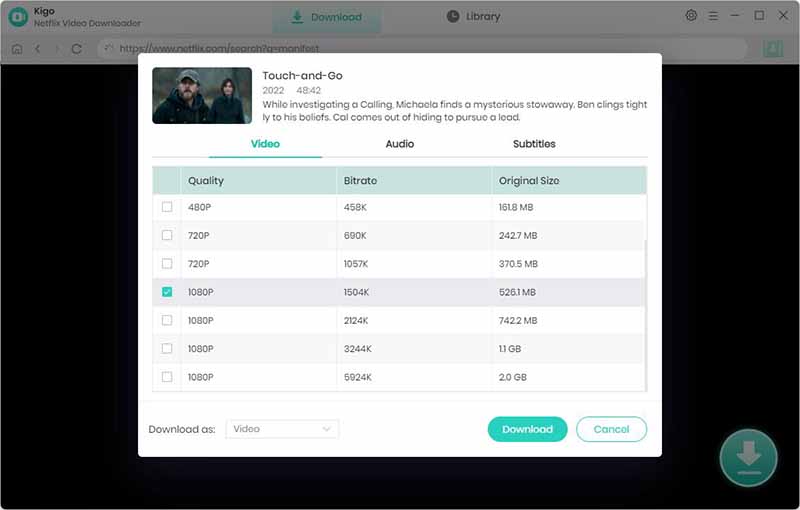 Step 4. Start to download video from Netflix
After the setup is complete, you can click the "Download" button to start downloading Manifest from Netflix to your computer in HD MP4. You can also keep adding other videos to the download queue during the downloading process. All the videos will be downloaded one after another.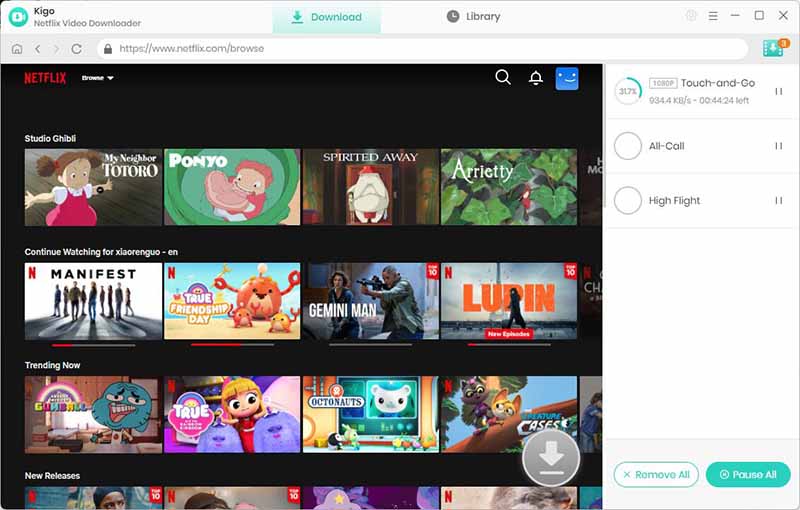 Conclusion
In conclusion, TunePat Netflix Video Downloader is a valuable tool for Netflix subscribers who want to enjoy their favorite content offline. With its high-quality video downloads, fast and efficient performance, support for multiple devices, intuitive interface, and batch-downloading capabilities, TunePat offers a comprehensive solution for downloading and saving Netflix videos.
An alternative option is Kigo Netflix Video Downloader, which offers similar functionality offers a more cost-effective solution with a lower subscription price, appealing to those seeking budget-friendly options. With its user-friendly interface, high-quality downloads, support for various video formats, fast downloading speeds, and excellent customer support, it is the ultimate solution for all your video downloading needs.