How to Add Netflix Videos to Final Cut Pro
---
Final Cut Pro is a series of non-linear video editing software programs first developed by Macromedia Inc. and later Apple Inc. Users can use the software to log and and transfer video onto a hard drive (internal or external), where it can be edited, processed, and output to a wide variety of formats. The most recent version, Final Cut Pro X 10.4.8, runs on Intel-based Mac computers powered by macOS Mojave 10.14.6 or later.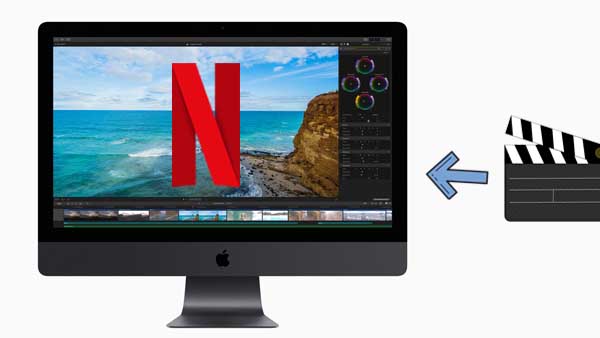 Why Choose Final Cut Pro
Support Various video formats
Final Cut Pro provides non-linear, non-destructive editing of any QuickTime-compatible video format including DV, HDV, P2 MXF (DVCProHD), XDCAM (via plug-in), 2K, 4K, 5K, and 8K film formats and can import projects directly from iMovie for iOS and iPadOS.
A large Amount of Editing Functions
It supports a number of simultaneously composited video tracks (limited mainly by video form capability); unlimited audio tracks; multi-camera editing for combining video from multiple camera sources; 360o video editing support; as well as the standard ripple, roll, slip, slide, scrub, razor blade and time remapping edit functions.
Personalized Functions
It comes with a range of video transitions and a range of video and audio filters such as keying tools, mattes and vocal de-poppers and de-essers. It also has multiple color correction tools including color wheels, sliders and curves, video scopes and a selection of generators, such as slugs, test cards, and noise.
Since we have known how powerful Final Cut Pro, can we add Netflix videos to Final Cut Pro so as to edit the unique videos clips?
How to Download Netflix Videos to Load to Final Cut Pro
To solve the problem, first we need to download videos from Netflix to Mac, and then load the local downloaded videos to Final Cut Pro. It seems simple. How to download from Netflix to Mac, this get to be the only problem we need to solve.
Kigo Netflix Video Download for Mac offers its answer. As a simple yet powerful Netflix movies, TV shows and original series downloader, what users only to do is just download Kigo Netflix Video Download and install, and then follow the quick guide to find videos and download. All the process is oversimplified.
Support downloading movies, TV shows and original series in MP4 or MKV.
All and some the audio tracks and subtitles will be kept.
Download up to 1080p HD videos.
Support H.265 and H.264.
Fast speed and easy to operate.

Free Download
Windows 11/10/8/7
100% Secure

Free Download
macOS 10.15-14
100% Secure
Firstly click the download button to download and install Kigo Netflix Downloader on your Mac.
Step 1. Copy Netflix movies' url or search directly to download.
If you have the Netflix movies' url you want to download, just copy and paste them to download. You can also search the movies by the name or keywords or drag movies' link to download.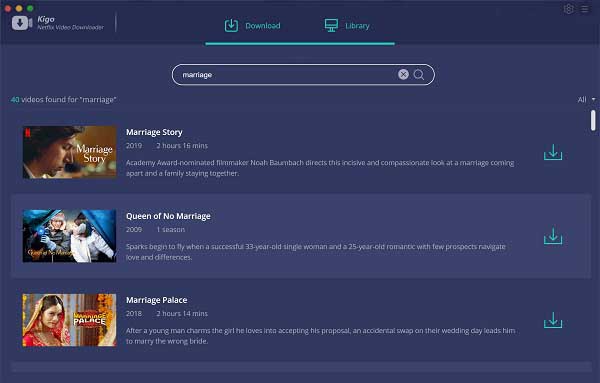 If this is your first try, you need to login with your Netflix account to go on downloading.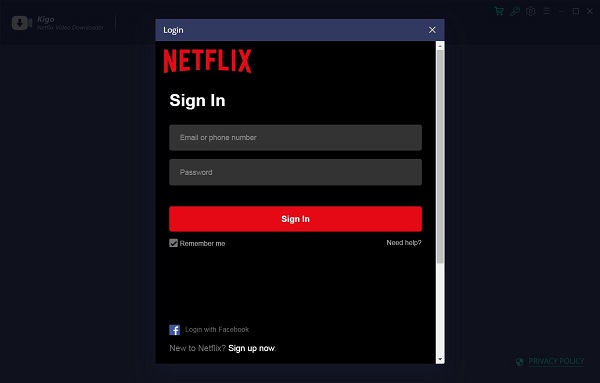 Kigo Netflix Downloader will not take any information out of your account. More declaimer about privacy.
Step 2. Click the Download button.
After you login with your Netflix account, choose the video or TV shows to download.
If your version is the trial version, you can only download 480p quality videos with one default audio track and subtitle. You can also purchase for the full version to download up to 1080p HD videos.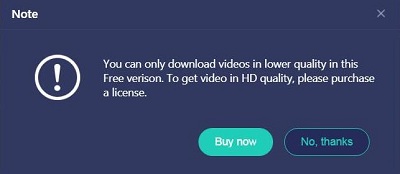 Step 3. Select Audio track, subtitle and download quality.
Kigo Netflix Video Downloader added advanced download settings to allow users to select the audio track and subtitle as they needed. If you are trying to download a TV show, simply click the Download icon, followed that a window will pop up allowing you to select titles as well as seasons, and to choose audio track and subtitles by clicking "Advanced Download" in the bottom left corner. If you try to download a movie, please click

to open the window.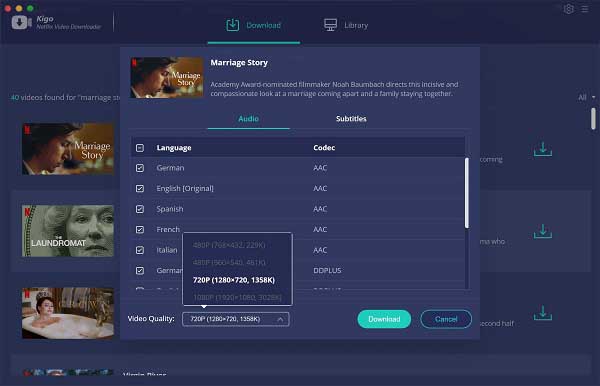 Step 4. Start downloading.
Now you can click "Download" to start your Netflix movies downloading on Mac.
Step 5. Load to Final Cut Pro.
Once the downloading is finished, you can click the library - Show in Finder to find your downloaded videos on your Mac. And then open Final Cut Pro, and drag the downloaded videos to Final Cut Pro.
Conclusion
If you want to create some TV or movie clips, Netflix's various videos is a good resource. And you can use Kigo Netflix Downloader to download them and then edit Netflix downloads on Final Cut Pro.

Free Download
Windows 11/10/8/7
100% Secure

Free Download
macOS 10.15-14
100% Secure
Useful Hints
Kindly be aware that the trial version allows downloading only the initial 5 minutes of each video. To fully enjoy the complete video, we recommend purchasing a license. We also encourage you to download the trial version and test it before making a purchase.
---