How to Download Discovery Plus Videos to Computer
At the end of the last year, Discovery Plus announced that users of the ad-free plan in the U.S. will be able to download content for offline viewing on the service's iOS and Android apps. To download shows and videos from Discovery Plus on your mobile device, you need to be a current, active subscriber with the ad-free subscription plan. You also must have the latest version of the Discovery Plus app on one of these devices: iPhone, iPad running iOS 13 or later. Android phone or tablet running Android 5.1 or later. So is there a way to download Discovery Plus videos on your computer and play them offline?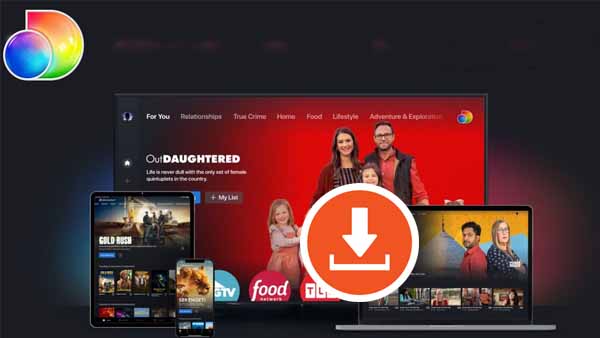 Download Discovery Plus Videos to Computer with Kigo
There is no official way to download and watch Discovery Plus videos offline on your computer, but you can do so with the help of third-party download tools, such as Kigo DiscoveryPlus Video Downloader. Once you have Kigo installed on your computer, you can add videos by adding video links or searching the video title. You can also set the video output quality, and Kigo currently supports up to 1080p downloads. You can also select the output format between MP4 and MKV, download the subtitle files as you wish, and store them in Internal Subtitles, External Subtitles, or Hardcode Subtitles.
Download video content from Discovery Plus for offline viewing.
Retain the audio tracks and subtitles as you need.
Download Discovery Plus videos to MP4 / MKV with HD quality.
All downloads automatically remove header ads.
Fast download speed and easy to operate.

Free Download
Windows 11/10/8/7
100% Secure

Free Download
macOS 10.15-13
100% Secure
Before you start, if this is your first time using Kigo products, please click on the download button above to download and install the latest version to your computer. It doesn't matter if you are a Mac user, the next tutorials are equally suitable.
Step 1. Set the output format, etc.
Click on the Settings tab on the top right corner of the window to set the output format, video quality and so on. From the Download Settings option, you can set the output video format between MP4 and MKV. And you can also set the download video quality (High, Medium and Low), audio language, subtitle language, output folder and more as you need.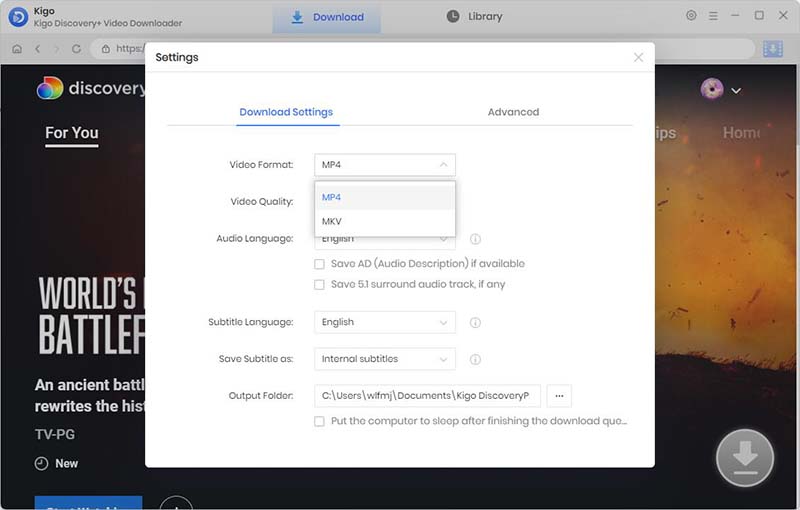 Step 2. Add Discovery Plus Videos to Kigo.
There are some different methods to add Discovery Plus videos to Kigo, for example, by typing in the name of the video or keywords to search for it, or by copying and pasting the link to the video directly into Kigo. Please don't worry, Kigo's built-in intelligent recognition will automatically parse Discovery+ video links.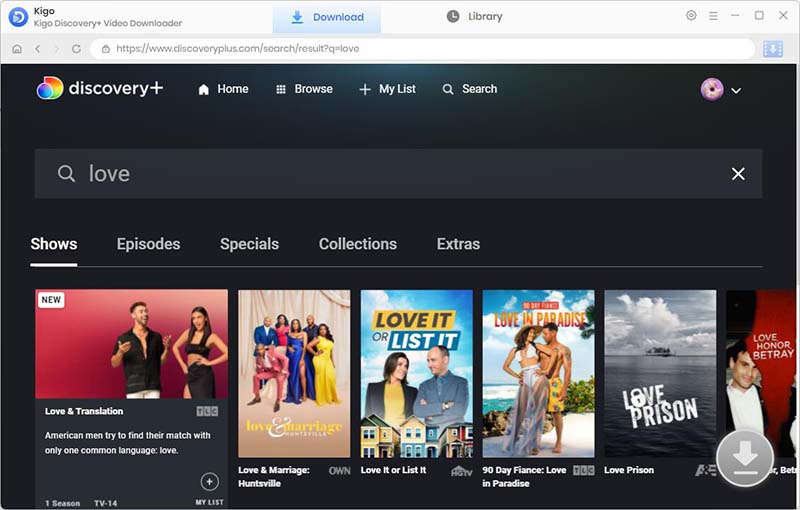 Please note that if this is your first-time login, you need to log in with your Discovery Plus account to go on. Kigo DiscoveryPlus Video Downloader will not take any information out of your account. More declaimer about privacy.
Step 3. Customize "Advanced Download" settings.
You can select the audio track and subtitles via "Advanced Download" settings window as needed. If you are trying to download a TV show, simply click the Download icon, followed that a window will pop up allowing you to select titles as well as seasons, and to choose audio track and subtitles by clicking "Advanced Download" in the bottom left corner. If you try to download a movie, please click

to open the window.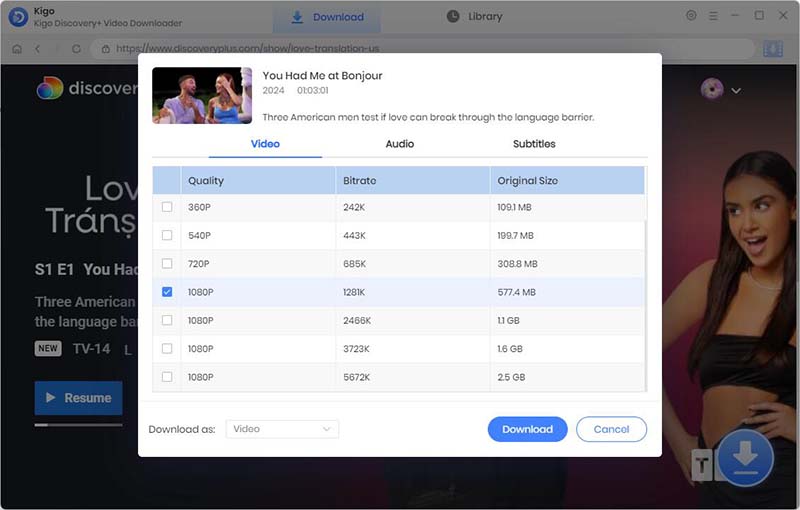 Step 4. Start downloading Discovery Plus videos to computer.
The final step, you can click the "Download" button to start downloading Discovery Plus movies or TV series.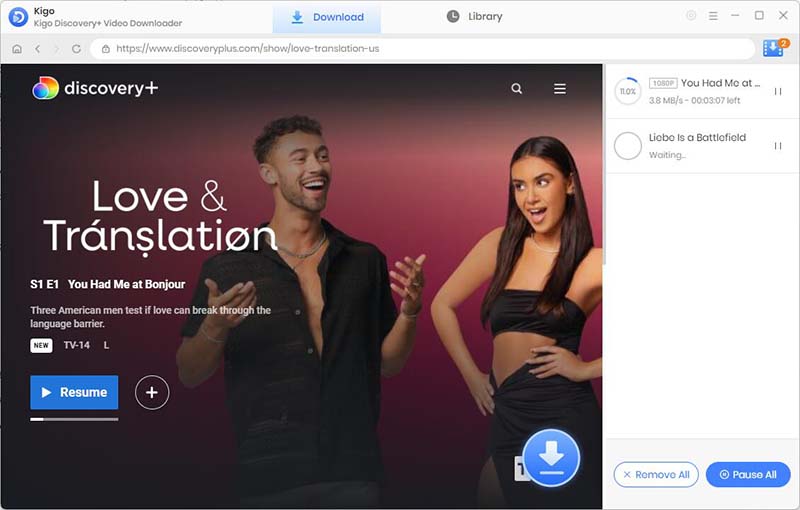 After the download is complete, you can click "Library" - "Folder icon" to locate the downloaded videos directly. Now you have downloaded Discovery Plus videos to your computer.
Top Questions:Why Choose Kigo DiscoveryPlus Video Downloader
No need to worry about Discovery Plus download limits
As known that Discovery+ noted that the downloaded title will live on the device for 30 days in the unplayed state or 48 hours after you hit the play button. Plus, you can renew the title download once you're online after it expires. When you download Discovery Plus videos with Kigo, there is no need to worry about the download limitations on the expiration date of downloads, the number of devices that can be played, etc.
Move Discovery Plus downloads to an external hard drive
When you download videos from Discovery Plus through the mobile app, you can only play the videos you downloaded offline through the app. Videos downloaded through Kigo can be transferred to external storage, USB drive, or SD card at your leisure or played locally on your computer with Windows Media Player or VLC Media Player with ease.
Final Words
Once you've downloaded Discovery Plus videos to your computer with the help of Kigo DiscoveryPlus Video Downloader, you can share them with your close friends or back up those videos that are leaving Discovery Plus and you didn't have time to watch. You can also play the downloaded videos on your Smart TV, home theater, etc. You can also transfer these downloaded videos to mobile devices that do not support the Discovery Plus app, so you can watch them anywhere, anytime.

Free Download
Windows 11/10/8/7
100% Secure

Free Download
macOS 10.15-13
100% Secure
Useful Hints
Kindly be aware that the trial version allows downloading only the initial 5 minutes of each video. To fully enjoy the complete video, we recommend purchasing a license. We also encourage you to download the trial version and test it before making a purchase.
---