How to Download Manifest All Seasons in HD MP4
---
Good news for Manifest fans. The final episodes of Manifest Season 4 will be released on Friday, June 2, 2023. Manifest is an American supernatural drama television series created by Jeff Rake that premiered on September 24, 2018, on NBC. It centers on the passengers and crew of a commercial airliner who suddenly reappear after being presumed dead for five and a half years. You can watch the previous episodes of Manifest on Netflix, or you can choose to download Manifest's all seasons in HD MP4 to your computer for offline viewing.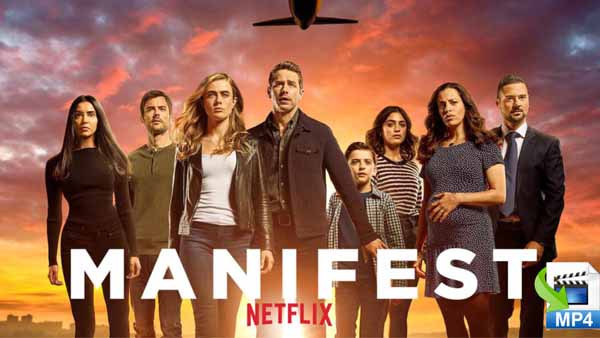 What is Manifest About
While traveling from Jamaica to New York City, Montego Air Flight 828 experiences a brief period of severe turbulence. When they land at Stewart International Airport in Newburgh, New York, the plane's 191 passengers and crew learn from NSA deputy director Robert Vance that over five and a half years have passed while they were in the air, during which time they were presumed dead. As they rejoin society, the passengers begin to face the fact that their lives—and loved ones—are not the same as they were, while they also begin to experience guiding voices and visions representing events yet to occur, referred to as 'callings.'
The Top 10 TV Series like Manifest
If you like the type of drama like Manifest, then the next 10 dramas are also ones you can't miss.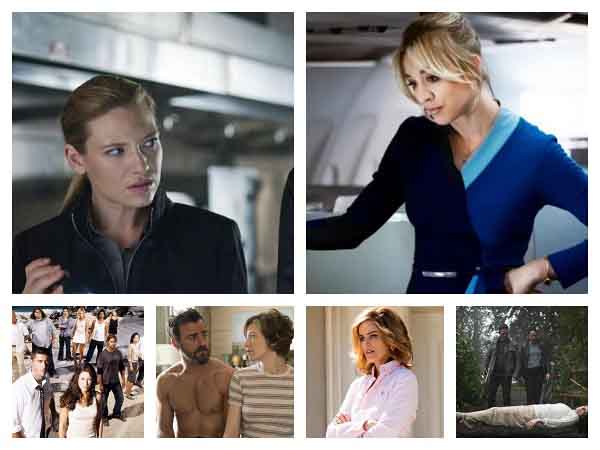 1. Fringe
Fringe is definitely a must-watch for Manifest fans, as the series is five seasons of mystery, supernatural science fiction, and crime procedural, with a well-designed mythology that those who watch long-running, in-depth genre shows like Doctor Who will love. . Starring Anna Torv as FBI agent Olivia Dunham, John Noble as a brilliant but slightly out of it scientist Walter Bishop, and Joshua Jackson as Walter's estranged, cynical son, Fringe is centered around a fictional branch of the FBI called the Fringe Division.
2. Dirty John
"Dirty John" is a true-crime anthology series that explores the theme of love gone wrong, set against the backdrop of sunny Southern California. In the course of each season, viewers can follow a relationship from promising beginning to catastrophic end, raising the question of whether it's possible to really know someone, even the person one loves most. Through exploring the nuances and reframing the narratives of well-known cases, the series serves to remind the audience that there are two sides to every story, and people are often not quite as they seem.
3. The Leftovers
Created by Damon Lindelof, HBO's The Leftovers is a criminally underrated series about a world in which two percent of the population disappeared three years earlier, randomly and without explanation. Based on Perrotta's 2011 novel of the same name, the series begins three years after the "Sudden Departure", a global event that resulted in 2% of the world's population disappearing. The lives of police chief Kevin Garvey (Justin Theroux) and his family, along with grieving widow Nora Durst (Carrie Coon) and her brother, Reverend Matt Jamison (Christopher Eccleston), are the focal points of the series as they struggle to adjust to life after the Departure.
4. Lost
Lost is certainly the show that's most akin to Manifest. A handful of strangers on a plane together must rally as one force when the plane crashes on a faraway island. Things get even more bizarre when they realize they aren't alone on the island — not only that, they're in grave danger. The long-running mystery drama is an absolute must-watch for any Manifest fans, surely an inspiration for the newer series.
5. The Flight Attendant
More planes! Kaley Cuoco stars in HBO Max's The Flight Attendant, which follows a mystery involving one hotel room, one dead guy, and the boatload of drama that unfurls surrounding the event. When a flighty flight attendant sleeps with one of her passengers, she wakes up to realize he's been murdered beside her in bed. Instead of reporting the murder, she does what anyone might do: runs. Now on the run, she investigates who may have murdered her ex-lover.
6. Sense8
Created by the Wachowskis, the filmmaking team behind the Matrix movies and Cloud Atlas, Sense8 is about a group of eight people connected around the world who develop the ability to see, hear, and feel everything the others in the group do, known as "sensates." As the group is finally starting to understand their empathic new situation, they learn that there's an organization after them that's hunting and killing sensates across the world.
7. Emergence
Emergence was another mystery drama that was canceled too soon. The series followed Jo, a police chief who takes in a young child she finds near the site of an intriguing accident. The girl has no memory of who she is, nor what happened at the accident, drawing Jo in for a dangerous conspiracy larger than she ever imagined. If she can figure out the child's identity, she'll crack the case wide open.
8. Debris
Mysterious wreckage starts falling from the sky, leading an intrigued, secretive task force to investigate the situation. They set out to figure out where it came from, why it's raining down on Earth, and what it has the power to do. Amidst the unearthly occurrences, the team has their own personal drama they bring to the table in their race against time.
9. The OA
The OA is a strange and inspiring show unlike anything else on television. The series stars Marling as Prairie Johnson, a woman who reappears after having been missing for seven years. While before she was blind as a result of an accident in her childhood, Prairie has somehow regained her sight. Shortly after returning to her family a thoroughly changed person, Prairie starts secretly gathering together five locals, telling them her story and asking for help saving other missing people who she claims are trapped in another dimension.
10. Under The Dome
Based on Stephen King's 2009 novel of the same name, the CBS series "Under The Dome" focuses on a small town called Chester's Mill where a mysterious dome suddenly encloses the town and its citizens one day, cutting them off from the rest of the world. Over the course of three seasons, the show explores how and why the dome is there, who's responsible, and what happens when a bunch of people are stuck together in a small, trapped place, with resources scarce and relationships tested. Just when you think you've figured out what's really behind the dome, the show throws you for a loop with a twist you never see coming.
How to Download Manifest All Seasons in HD MP4
If you prefer to watch Netflix videos directly on mobile, then you can use the download function that comes with the Netflix app to download Manifest for offline viewing. The whole process is very simple, find the show and if there is a Download button, click it and wait for the download to complete. Please note that the videos downloaded through the app can only be watched offline on this device, the next tutorial will give you more freedom to download Manifest in HD MP4 to different devices, not only your smart devices, but also the devices which support USB Drive or SD Card playback, you can do that too.
To download Manifest in HD MP4 format, Kigo Netflix Video Downloader comes to help you. Like you install an app on your mobile device, you need to download and install Kigo on your computer, and then add video, set the video quality, and start downloading to get your favorite Netflix videos downloaded. You can also choose the appropriate audio track language and subtitle language according to your needs. Kigo also supports 5.1 surround audio. With it, you can easily download various Netflix original series, TV shows, movies and so on in HD MP4 or MKV format (up to 1080p).
Support downloading movies, TV shows and original series in MP4 or MKV.
All and some the audio tracks and subtitles will be kept.
Download up to 1080p HD videos.
Support H.265 and H.264.
Fast speed and easy to operate.

Free Download
Windows 11/10/8/7
100% Secure

Free Download
macOS 10.15-13
100% Secure
Before you begin, if you don't already have Kigo installed, click the "Download" button above to download and install the latest version of Kigo Netflix Video Downloader to your computer.
Step 1 Choose the output format.
Click to run Kigo on your computer, and then click the "setting" icon to open the setting window. Through this window, you can set the output format, output picture quality, audio track language, subtitle language, output sound quality, output path, etc.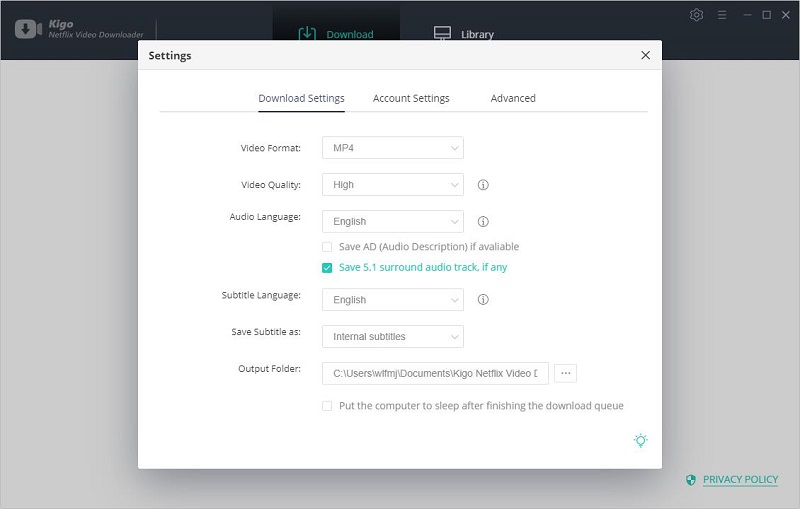 In the "Video Format" drop-down list, select MP4, and in the "Video Quality" drop-down list, select High, or Medium or Low. In the "Audio Language" drop-down list you can find the original sound for playback. In the Subtitles Language drop-down list you can select your desired subtitle language. You can also customize the style of the subtitles, internal, external or hardcode. You can also reset the output path if needed.
Step 2. Add Manifest to Kigo.
In the search bar you can simply type in "manifest" and click to search it, or copy the link from "Manifest" details page of the website to add what you want to download.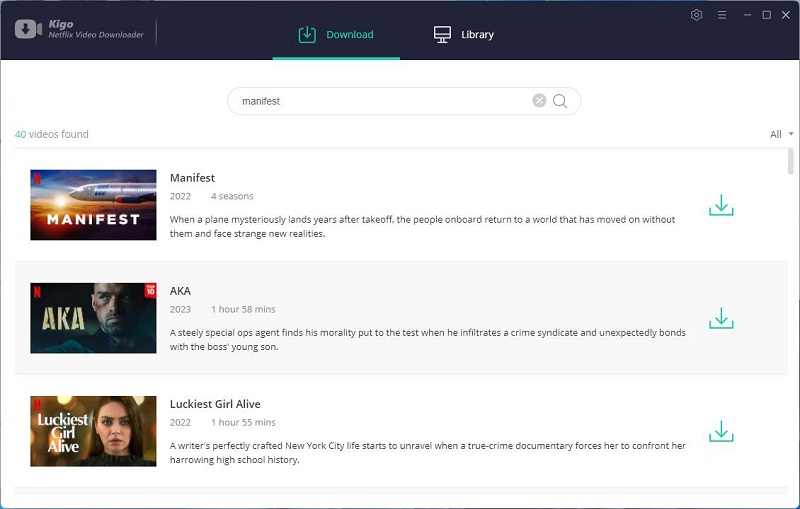 Please note that if this is your first time using Kigo Netflix Video Downloader to download Netflix videos, a login window will pop up to guide you to log in with your Netflix account before searching. If your network does not change, there is no need to perform a subsequent login operation.
Step 3. Customize "Advanced Download" setting.
After Manifest is listed on the Kigo, click "Download" button to select the Season / Episode to download. Here we select All Seasons from the drop-down list.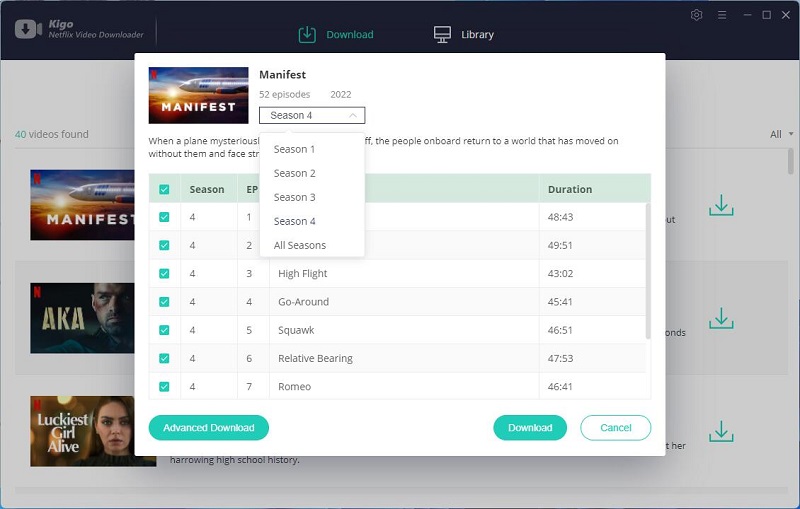 Then click the "Advanced Download" in the lower left corner of the window to set the video quality, audio track language and subtitle language, format with more details.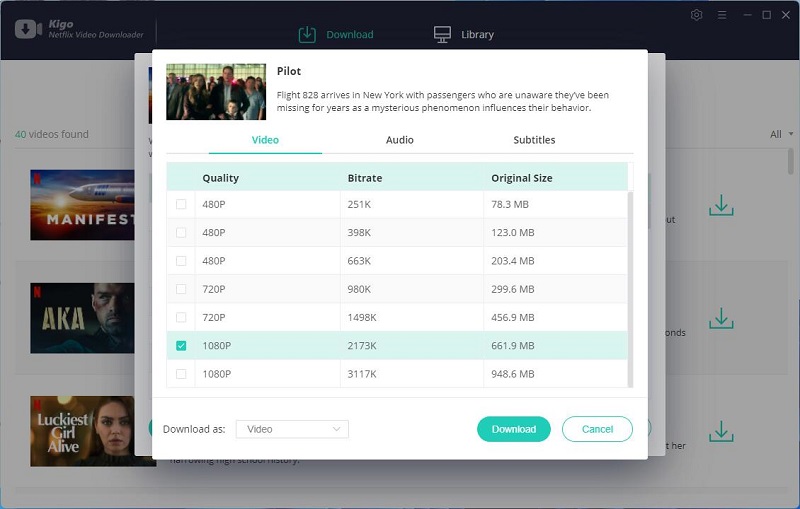 Step 4. Start to download "Manifest"
After the setup is complete, you can click the "Download" button to start downloading Manifest from Netflix to your computer in HD MP4. You can also keep adding other videos to the download queue during the downloading process. All the videos will be downloaded one after another.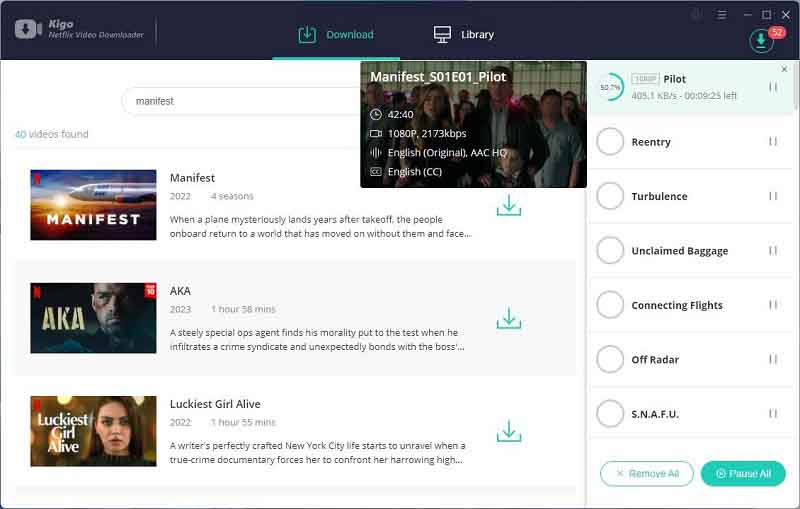 Once the download is complete, you can click on Library to view all the downloaded episodes. You can select the downloaded video and click on the small Folder icon on the right side to quickly locate the downloaded video.
Final Word
Referring to the tutorial above, with Kigo Netflix Video Downloader, you can not only download "Manifest", you can also download other popular movies, TV series and docu from Netflix in the same way. The downloaded MP4 videos can be played on your computer with various video players, Windows Media Player, VLC Media Player, or or transferred to SD, USB Drive, etc. for playback on other devices that do not support online playback. The downloaded TV series can also be played anytime, anywhere!

Free Download
Windows 11/10/8/7
100% Secure

Free Download
macOS 10.15-13
100% Secure
Useful Hints
Kindly be aware that the trial version allows downloading only the initial 5 minutes of each video. To fully enjoy the complete video, we recommend purchasing a license. We also encourage you to download the trial version and test it before making a purchase.
---
Videos from Netflix™ are copyrighted. Any redistribution of it without the consent of the copyright owners may be a violation of the law in most countries, including the USA. KigoSoft is not affiliated with Netflix™, nor the company that owns the trademark rights to Netflix™. This page is provided for compatibility purposes only, and in no case should be considered an endorsement of KigoSoft products by any associated 3rd party.