Movies and other materials are frequently stored and viewed on DVDs. When you come upon some of your favorite HBO Max videos and want to retain them forever to play them anytime, burning them to DVDs is a great option. So, if you want to burn streaming videos like HBO Max videos to DVDs, what should you do?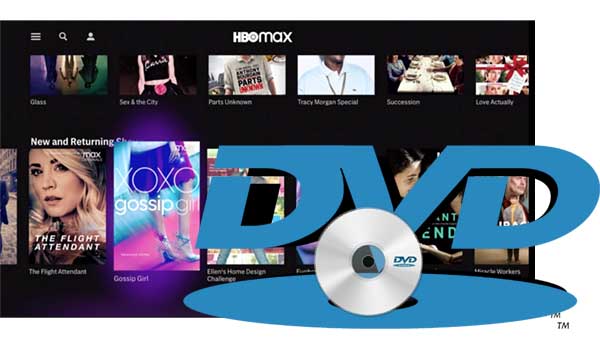 Part 1. HBO Max Download Limits
HBO Max is a standalone streaming platform that includes all of HBO, plus even more TV shows, blockbuster movies, and new Max Originals for everyone. Full episodes of original shows, movies, schedule information, exclusive video material, episode guides, and more are available on HBO Max.
As the new WarnerMedia service, HBO Max combines the existing HBO Go / Now library — all of HBO — with additional content, including Warner Bros. blockbusters, popular TV shows like Friends, Cartoon Network shows, classic films, Studio Ghibli titles, and new, exclusive originals.
HBO Max content can be downloaded locally, but there are a few limitations: users get a total of 30 downloads per account across all devices and user profiles. Unwatched downloads also expire after 30 days or after 48 hours once you've started watching it. Users will be able to renew expired downloads, although it's not clear if there's a limit as to how often you'll be able to do so. Additionally, only five copies of a show or movie can be downloaded at once across your various devices.
If you want to download HBO Max videos and store them in MP4 format, the download function of the HBO Max app itself is not possible and you have to resort to a third-party downloader, Kigo HBOMax Video Downloader is one such downloader that helps you download HBO Max videos and store them in MP4 or MKV format.
Part 2. Download HBO Max Videos to MP4 format
With the help of Kigo HBOMax Video Downloader, you can easily download HBO Max movies and TV series in MP4 or MKV format with up to 720p. It also supports the download of different audio tracks or subtitles. The "Advanced Download" settings window allows users to choose different video quality with different bit rates. Also, in the audio selection window, it supports AC3 and 5.1 audio downloads. For subtitles, it supports three different subtitle modes and supports storing them as separate files.
Kigo HBOMax Video Downloader
Select some or the whole audio tracks and subtitles to keep.
Download HBO Max videos to MP4 / MKV with HD videos.
Support AC3 and 5.1 audio downloading.
Fast speed and easy to operate.
Download for Win
Download for Mac
Guide to Download HBO Max video to MP4 on PC
To meet the needs of users of different versions, Kigo HBOMax Video Downloader is available in both Windows version and Mac versions. You can choose the appropriate version to download according to your computer system.
Step 1. Set output format and output video quality.
Install and run Kigo on your PC, and click on the Settings icon on the top right corner of the window to set the output format (MP4 / MKV), video quality (Low, Medium / High), and so on. Here we choose MP4 as the output video format. And you can also set the audio language, and subtitle language as you need. You can choose to save subtitles as internal subtitles, external subtitles, or hardcode subtitles, and the video codec between H.265 and H.264.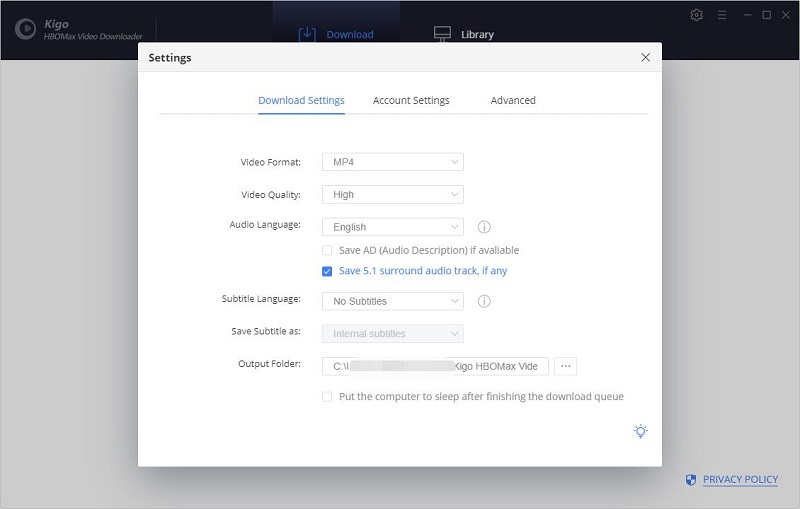 Generally speaking, the video quality selected through the settings window is simply the difference between "Low", "Medium", and "High". If you want to specifically choose a different bitrate for this kind of quality (480p and 720p), please set it through the advanced download. The choice of audio tracks and subtitles is similar. If more detailed settings are needed, please also set them through the "Advanced Download" window.
Step 2. Add HBO Max Videos to Kigo.
Once the output format is simply selected, you can now add the video to Kigo. You can add a video by typing the video title in the search box of Kigo and clicking the search icon, or you can add a video by copying the video link to Kigo, which will automatically resolve the video link on the HBO Max website and open the link on Kigo.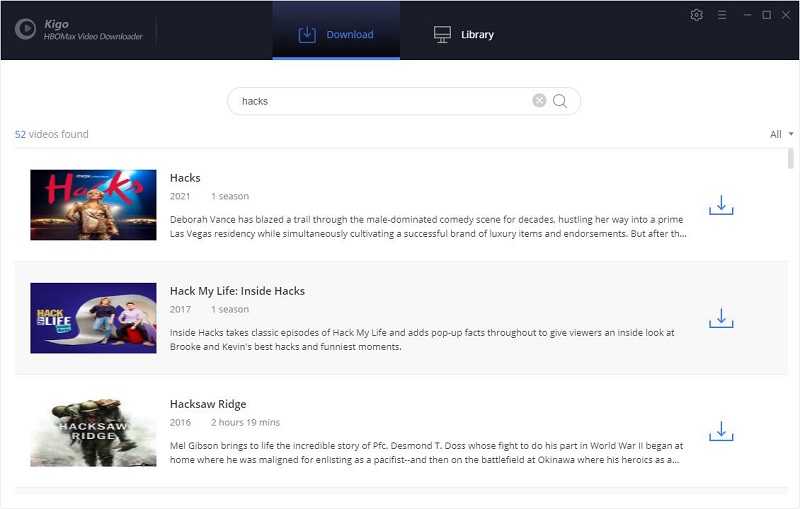 If this is your first time using the Kigo program, you will need to log into your HBO Max account before the search results are listed. Kigo will never record your login information and does a good job of protecting users' personal information.
Step 3. Select video and open the "Advanced Download" window.
Once the search results are listed, if the video you want to download is a movie, you can open the advanced settings window by using the settings button

next to the download button to make further settings.
If the video you want to download is a TV series, you can directly click the Download button to further select the episodes and open the advanced download window.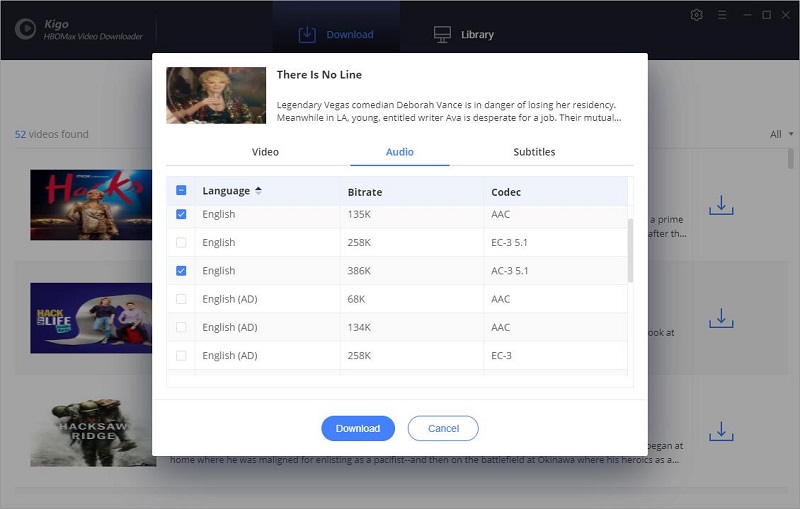 Choose video quality.
Bitrate is the quality of the video or audio being uploaded to your chosen platform. Bitrate is measured in kilobits per second (kbps), which means how many 'bits' of data you're sending, and at what 'rate' (i.e. speed) they're being sent. Of course, video bitrate can have a direct impact on your video quality. The video quality will be lower if the bitrate is lower. With a higher bit rate, you can upload a large number of video bits per second. Thus, it results in a higher quality video. Likewise, a higher bitrate will also increase the video file size. As a result, it will lead to slower export.
Nowadays, most new streamers prefer to use 720p (1280 x 720) resolution. It gives an excellent quality video. Moreover, this resolution is super easy to render.
Regular HD Videos:
For HD videos that have a high frame rate (720p, 60fps) – The ideal bitrate is 3,500 to 5,000 kbps
For HD videos that have a standard frame rate (720p, 30fps) – The ideal bitrate is 2,500 to 4,000 kbps
Choose Audio track language and audio quality
Warmly note that the acquisition of audio track language for your downloaded video is related to the profile language and the display language of the show/movie checked in the profile.
Audio bitrate defines the amount of data that is stored in the sound file you are listening to. Every audio file has a "bitrate" associated with it. Every second of an audio recording contains a certain amount of data or bits. The more kilobytes that are stored per second the higher the sound quality of the file.
Kigo supports users to choose audio bitrates from 69k, 135k, 258k, and 386k. The audio codec can be selected among AAC, EC-3 5.1, and AC-3 5.1. If you want to download 5.1 audio, please make sure you have checked 5.1 audio option on the setting window. Of course, if you need AD audio downloading, it also supports it.
Choose video subtitles
Warmly note that the acquisition of video subtitles for your downloaded video is related to the profile language and the display language of the show/movie checked in the profile.
All the video subtitles can be saved in srt format. (New version will add this function.) Meanwhile you can also save subtitles as the internal subtitles, external subtitles and hardcode subtitles as you need.
Step 4. Start to download.
After you complete the above settings, you can click the download button to start the download.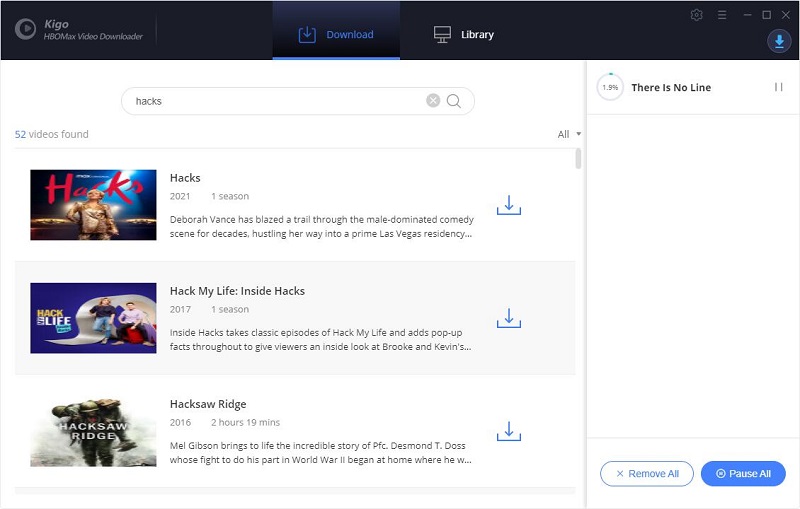 Part 3. Burn Downloaded HBO Max Videos to DVD
After the downloading, you can click "Library" - "Folder icon" to locate the downloaded TV Shows or movies directly. And then you can play these downloaded videos offline on any device as you like. Besides, you can follow the next guide to burn downloaded HBO Max video to DVD.
Method 1. Burn HBO Max Video to DVD with Windows Media Player
Most computers running Windows have Windows Media Player installed. You can use Windows Media Player to burn the downloaded HBO Max videos to DVDs directly.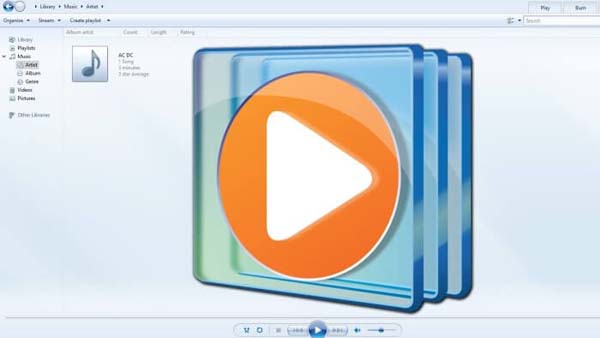 Open Windows Media Player by clicking Start, pointing to All Programs, and then clicking Windows Media Player.
Click the Burn tab, and then click the Burn options arrow to see more options.
To burn video or a large amount of music, click Data CD or DVD. This kind of disc may not play on all devices.
Open the disc drive, insert a blank DVD, and close the drive. If the AutoPlay dialogue box opens, close it.
If your computer has multiple drives, click the Burn Options menu, click More burn options, and then click the Devices tab to select the drive you want to use.
If there is already media under the Burn tab, click Clear list to empty the current burn list.
Drag the videos that you want to burn from your media library to the list pane on the right side of Windows Media Player.
To burn the media, click Start Burn. This may take a few minutes. Don't open the disc drive until the burn process for that disc is complete.
Method 2. Burn Downloaded HBO Max Video to DVD with Any Video Converter Free
To burn the downloaded HBO Max movies or TV shows to DVD Disc, Here recommend one free DVD Burner - Any Video Converter Free.
First of all, go to download and install Any Video Converter Free on your PC, and then run it.
Step 1. Load the Downloaded Amazon Video.
Put a blank DVD or Blu-ray Disc to the computer. On Any Video Converter Free, click on the "Burn DVD" tab, then click the "Add Video(s)" button. Press Ctrl or Shift to select more than one video at one time in the file folder. Or click on the "Menu" button in the upper right corner of the main window and choose "File" > "Batch Add Video Files" to add video clips from single or multiple folders.
After you add the downloaded HBO Max videos, they will be displayed on the middle panel with their detailed information (duration, format, video codec and size, etc).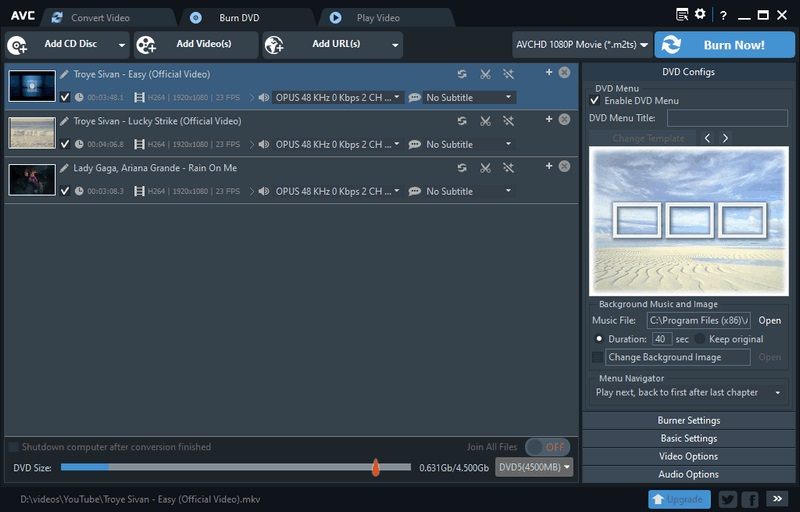 Step 2. Choose the Output Format.
After uploading HBO Max videos, on the upper right, choose DVD video NTSC Movie or DVD video PAL Movie according to your TV system; And AVCHD Movie according to your DVD player.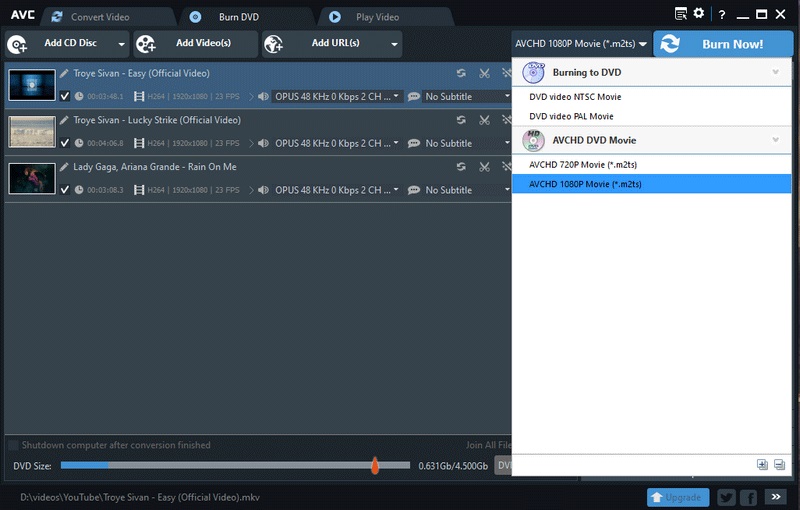 Tips: AVCHD DVDs can be only played on a Blu-ray player or DVD player that supports AVCHD DVD playback.
Step 3. Start to Burn HBO Max video to DVD
Click on the "Burn Now!" button to start burning HBO Max videos to DVD. Once completed, click the "OK" button to eject your disc.
Conclusion
If you are looking for a way to keep streaming videos safely and for a long time, burning to DVD will be your best choice. However, videos downloaded through the app cannot be burned. Don't worry, Kigo HBOMax Video Downloader can help you solve this problem and burn the downloaded HBO Max video to DVD.
Please note that only the first 5 minutes of each video can be downloaded with the trial version, please purchase a license to enjoy the full video. It is suggested that to download the trial version and have a test before purchasing it.
Purchase for Win
Purchase for Mac
Disclaimer
Videos from HBO Max™ are copyrighted. Any redistribution of it without the consent of the copyright owners may be a violation of the law in most countries, including the USA. KigoSoft is not affiliated with HBO Max™, nor the company that owns the trademark rights to HBO Max™. This page is provided for compatibility purposes only, and in no case should be considered an endorsement of KigoSoft products by any associated 3rd party.