How to Watch HBO Max Videos Offline
---
When you are in a fast and stable network, you don't need to think about watching videos offline. When your network is unstable, or you may be out without internet for a long time, or you are in a space that does not support an external network, if you still want to play and watch videos smoothly, downloading these HBO Max videos to local and offline viewing is a wise choice. Due to the special nature of HBO Max, there are different methods that can be used when downloading HBO Max videos from different clients. The details can be referred to below.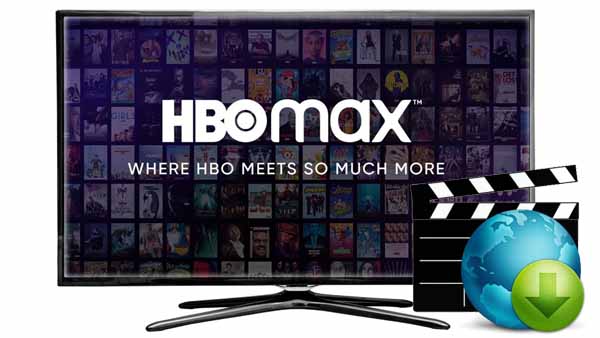 How to Watch HBO Max Videos Offline on Mobile Device
To download videos on the HBO Max app, first of all, please make sure the following two conditions are met:
You are an ad-free plan user.( $14.99 per month or $149.99 per year)
You have downloaded the latest version from the App Store or Play Store.
Then go to the content you wish to download from HBO Max app and tap the "Download" icon to save it on your device. Wait for the download to finish or tap the stop button at any time to pause. When you're ready to watch offline, tap the profile icon and tap Downloads.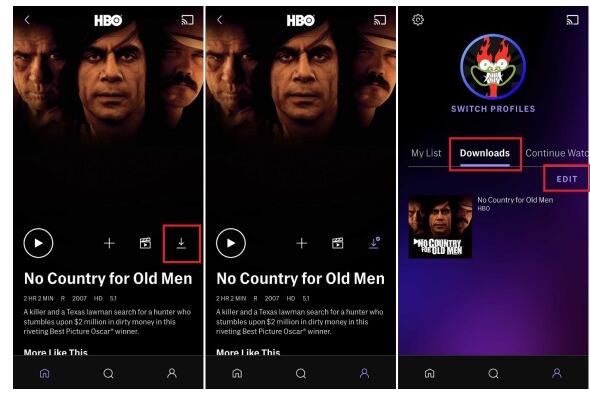 Please note that the videos you download in the app are not the videos you already own. Your viewing still needs to be completed within your active subscription period. When your subscription period ends, you will still not be able to watch these downloaded videos. Unwatched downloads expire after 30 days, and you have 48 hours to finish once you start watching. Downloads will also automatically expire when the show or movie leaves HBO Max. Expired content can be renewed when you're connected to the internet, and the same videos can be renewed multiple times. Just tap the expired download and select Renew.
How to Watch HBO Max Videos Offline on PC / Mac
If you want to have full access to the videos you download, try Kigo HBOMax Video Downloader to download videos on your PC / Mac. This solution is better for you. After downloading these HBO Max videos, you can still watch them even if your subscription period expires. You don't have to worry about the videos leaving HBO Max, and you don't have to worry about the number of videos you can download or the limitations of your video device. Please note that the downloaded videos are for the subscriber's personal use only. Even if you are an ad-supported user, you can also use Kigo to download HBO Max videos easily and quickly.
In order to download the videos properly, please make sure you can watch these HBO Max videos, which means you need to download the videos within the valid subscription period, regardless of the plan you are subscribed to. All videos will be stored in MP4 or MKV format. Kigo also offers three subtitle modes for users to choose from, internal subtitles, external subtitles and hardcode subtitles.
Download movies and TV shows from HBO Max to PC / Mac.
Select some or the whole audio tracks and subtitles to keep.
Download HBO Max videos to MP4 / MKV with HD videos.
Support AC3 and 5.1 audio downloading.
Fast speed and easy to operate.

Free Download
Windows 11/10/8/7
100% Secure

Free Download
macOS 10.15-13
100% Secure
Please click on the download button above to download and install the latest version to your computer. The next tutorial is for the Windows version to download HBO Max videos as an example, and the steps for the Mac version are the same.
Step 1. Select output settings.
Launch Kigo and click on the Settings icon to set the output format (MP4 / MKV), video quality (Low / Medium / High), and so on. And you can also set the audio language, and subtitle language as you need, and save subtitles as internal subtitles, external subtitles, or hardcode subtitles, and the video codec between H.265 and H.264.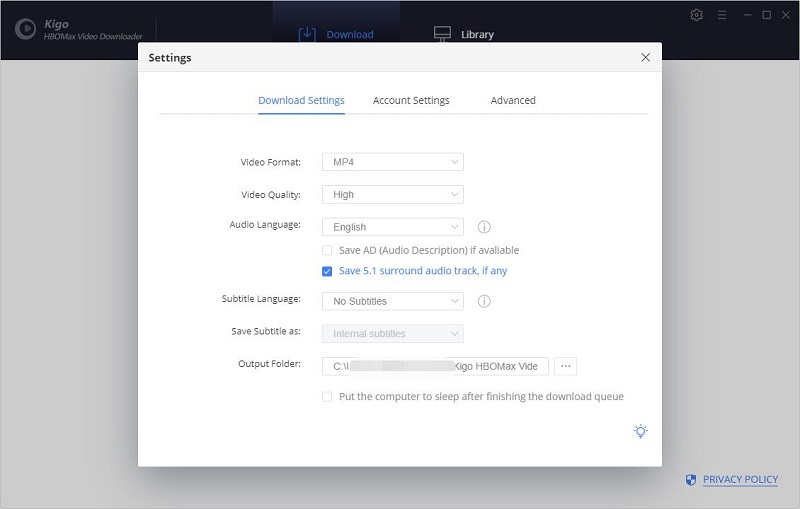 Step 2. Add HBO Max video to Kigo.
Type the video title in the search box of Kigo and clicking the search icon to add videos to Kigo, or copy the video link to Kigo. Kigo will automatically parse video link on the HBO Max website and search the link on Kigo. Please note that the video link must be the link to the video playback and not the detail page link address.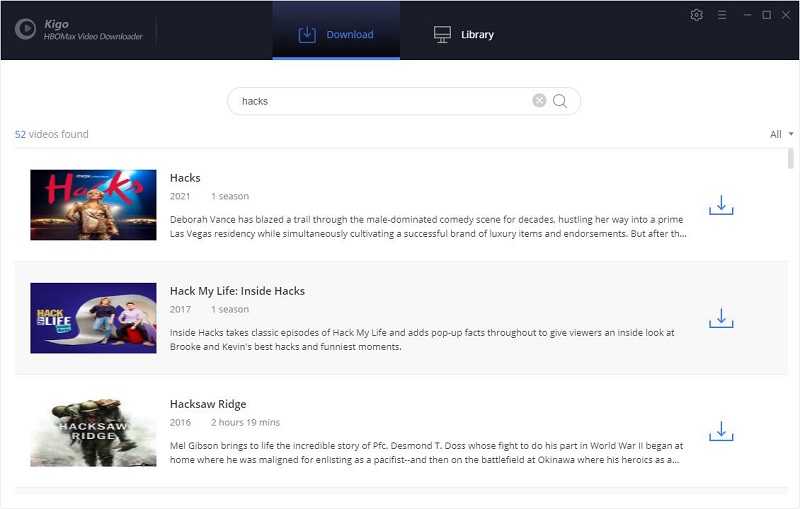 If this is your first time using the Kigo program, you will need to log into your HBO Max account before the search results are listed. Kigo will never record your login information and does a good job of protecting users' personal information.
Step 3. Customize the "Advanced Download" settings.
When the downloading is a movie, you can open the advanced settings window by using the settings button

next to the download button to make further settings.
When the downloading is a TV series, you can directly click the Download button to select the episodes, and open the "Advanced Download" window by clicking the button in the lower left corner.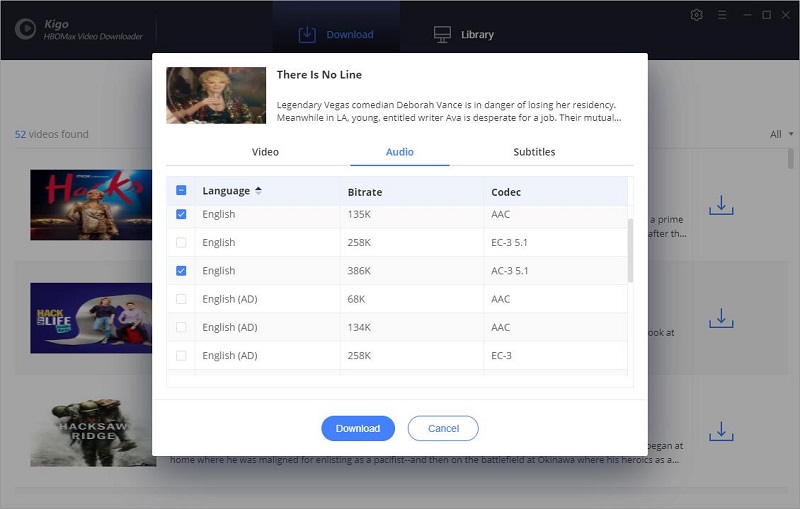 Step 4. Start to download HBO Max videos.
Now you can click the "Download" button to start the download the video from HBO Max to your computer.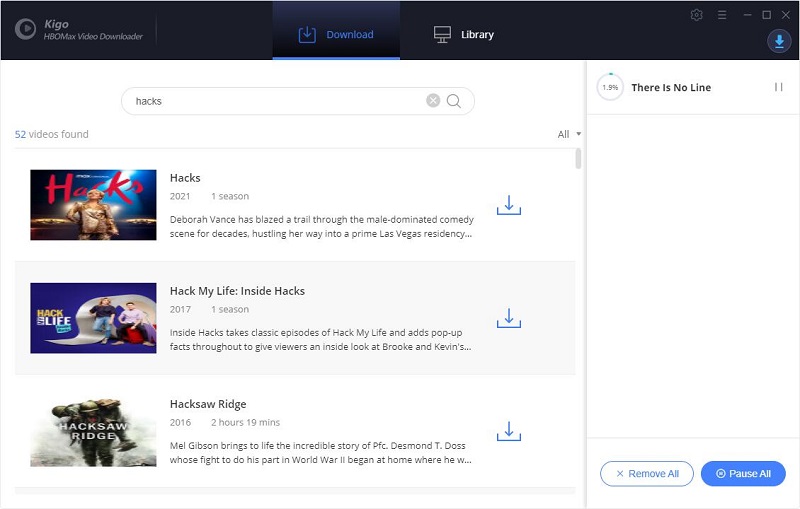 Once the download is complete, you can find all the completed videos by clicking on Library. By selecting a particular video and clicking on the small file icon, you can quickly locate the downloaded video.
Final Words
Downloading videos through the HBO Max app's embedded download feature is the easiest option when you have an active subscription period. If your subscription plan does not support the download feature, if you want to be able to keep these downloaded videos for a long time, or if you want to be able to play them on many playback devices, Kigo HBOMax Video Downloader is the smart choice for you.

Free Download
Windows 11/10/8/7
100% Secure

Free Download
macOS 10.15-13
100% Secure
Useful Hints
Kindly be aware that the trial version allows downloading only the initial 5 minutes of each video. To fully enjoy the complete video, we recommend purchasing a license. We also encourage you to download the trial version and test it before making a purchase.
---
Videos from HBO Max™ are copyrighted. Any redistribution of it without the consent of the copyright owners may be a violation of the law in most countries, including the USA. KigoSoft is not affiliated with HBO Max™, nor the company that owns the trademark rights to HBO Max™. This page is provided for compatibility purposes only, and in no case should be considered an endorsement of KigoSoft products by any associated 3rd party.