What are Paramount Plus Download Limits & How to Remove
---
Similar to Netflix, Disney Plus, Amazon Prime Video, etc., Paramount+ offers its premium subscribers the ability to download on mobile clients. These features are not supported on all mobile devices and must be available on iPhone/iPad (iOS 13+) and Android tablets/phones (Android 5+). When you download videos and play them offline through the Paramount+ app, it does not mean that you have full ownership of those downloaded videos.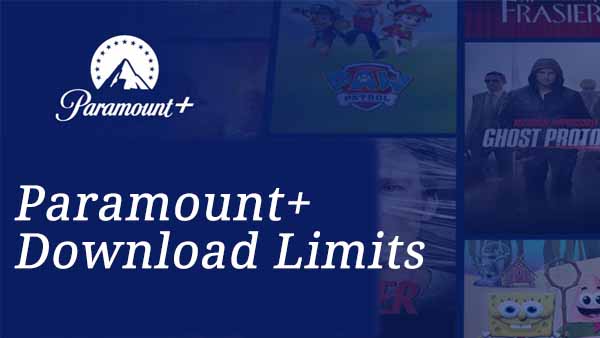 Because of the DRM restrictions, Paramount Plus downloaded videos also contain various limits as follows. You can also use this article to learn how to download Paramount Plus videos and remove these download restrictions through third-party download tools such as Kigo Paramount+ Video Downloader.
Limit of the maximum number of downloads
You can have a maximum of 25 videos in your download library at one time. If you're attempting to download a 26th video, you will see the "download limit" error message.
Limit of the number of supported download devices
You may only use a maximum of three simultaneous streams (measured across all content available on the Paramount+ Service) at any time regardless of the number of devices that we permit you to access the Paramount+ Service with.
Limit of the maximum number of downloads of the same video
You may see this message if you're trying to download the same video to another device. If you have 5 copies of the same video across all devices, you'll be prompted with this error message on your 6th download attempt.
Expiration limit of the Paramount+ downloads
Starting with the day you've downloaded the video, it will be available in your download library for 30 days. After 30 days, the video will be removed from your download library.
Once you start streaming the video (even if it's only for a few minutes!), it will be available in your download library for 48 hours. After 48 hours, the video will be removed from your download library. If you haven't finished watching the video by the time it expires, you can always download it again.
How to Remove Paramount Plus Download Limits
To remove the Paramount+ download limits, you can try to use Kigo ParamountPlus Video Downloader to download Paramount Plus movies, TV series, and documentaries, and store them in MP4 or MKV format with up to 1080p quality. It also supports users to select the audio tracks and subtitles kept. And even if you are an Essential plan subscriber, you can still use Kigo to download Paramount videos. This is something that is not possible on the app.
Download movies and TV shows from Paramount Plus.
Retain audio tracks and subtitles after downloading.
Download Paramount Plus videos to MP4 / MKV.
Support up to 1080p videos downloading.
Fast speed and easy to operate.

Free Download
Windows 11/10/8/7
100% Secure

Free Download
macOS 10.15-13
100% Secure
First of all, choose the appropriate version above to download and install according to your computer system. For the next tutorial we will use the Windows version as an example, and the same steps for the Mac version.
Step 1. Customize Output Format and Video Quality Settings.
Click on the Settings tab on the top right corner of the window to set the output related. From the Download Settings option, you can set the output format between MP4 and MKV. And you can also set the download video quality among Low, Medium and High, audio type, subtitle language, output folder, and more as you need.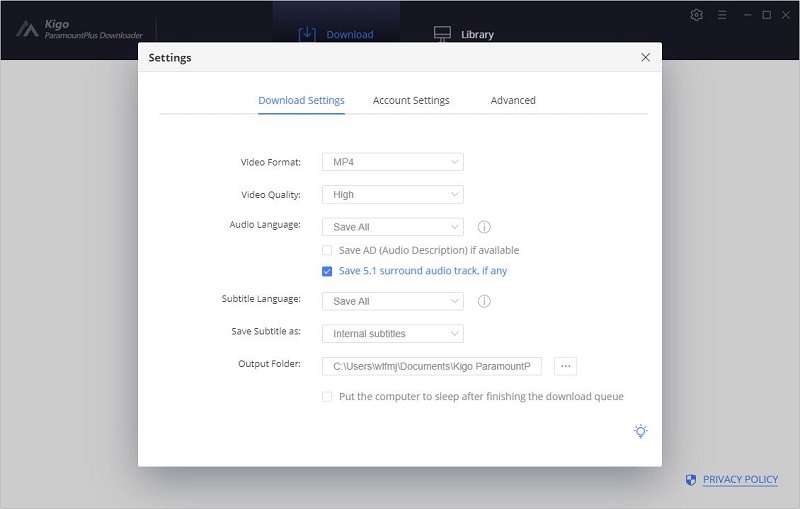 Step 2. Add Paramount Plus Movies or TV Series.
Copy and paste the Paramount Plus video URL to or drag videos' link to Kigo ParamountPlus Video Downloader, or use the video title to search and add. Please make sure the link in the video details links, otherwise, you may not find the video. We usually recommend that users search for videos directly with the smart search that comes with the program. If this is your first-time log in, you need to log in with your ParamountPlus account to go on. After the login, the search results will be listed on Kigo.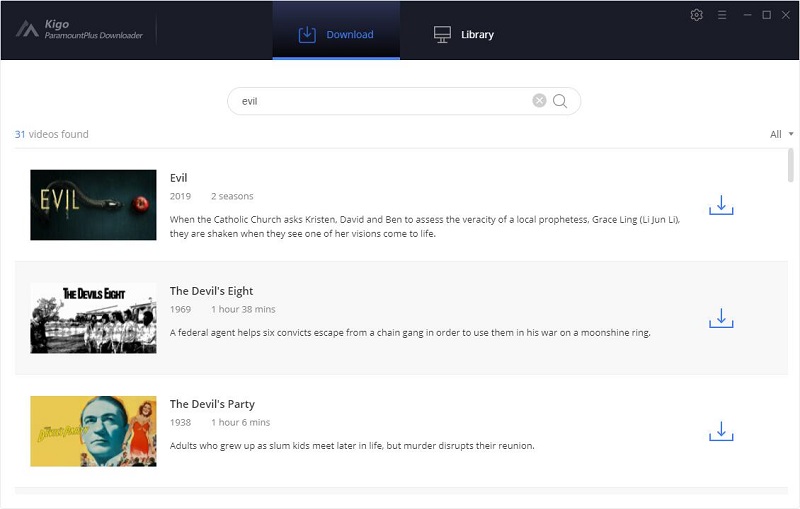 Please note that Kigo ParamountPlus Video Downloader will not take any information out of your account. More declaimer about privacy. And you can only need to log in with your Paramount Plus account the first time.
Step 3. Select "Advanced Download" Settings.
Now click the "Download" icon to select the episodes and make further settings if you are downloading a TV series. You can choose to download an entire season or select the season and the episode. Then click "Advanced Download" in the bottom left corner to choose audio track and subtitles with more details. If you are downloading a movie, please click

to open the "Advanced Download" setting window to choose audio track and subtitles.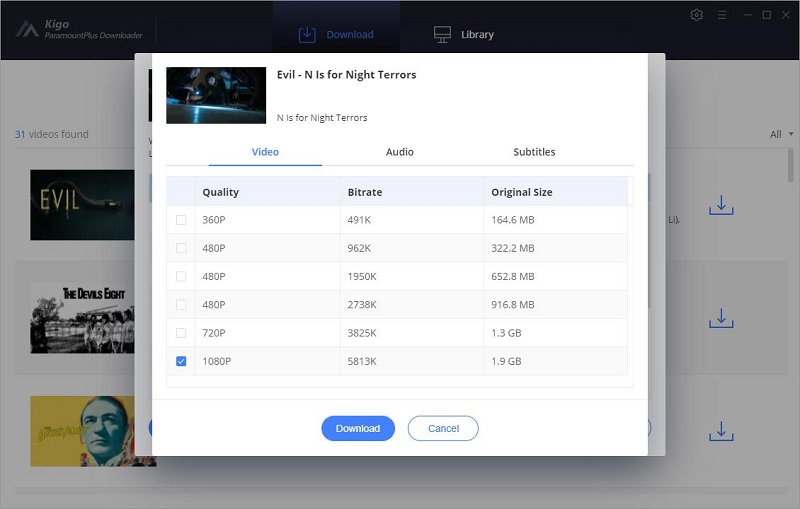 Step 4. Start Downloading Paramount+ Videos.
Click the "Download" button to start downloading movies or TV series to MP4 or MKV format from Paramount Plus to your laptop.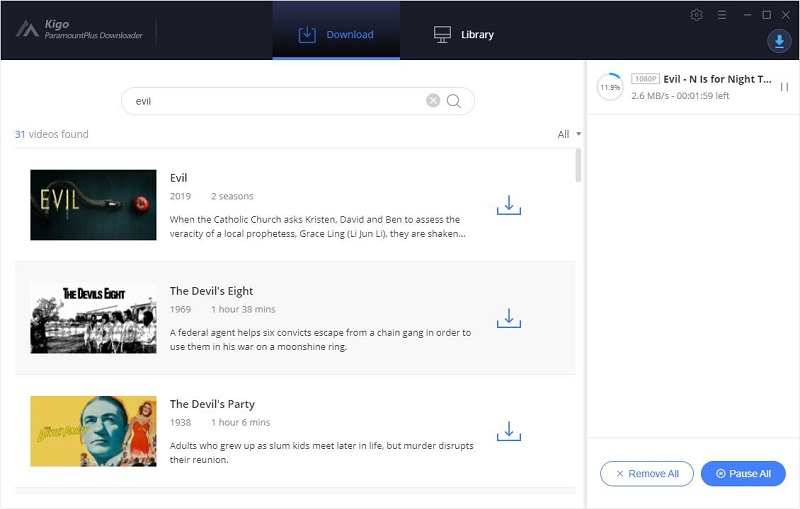 After the downloading, click "Library" - "Folder icon" to locate the downloaded Paramount Plus videos directly. Please note that the Paramount+ videos you download on your computer are now completely yours to watch on any supported device you want, transfer to an external storage device, and keep it as long as you want.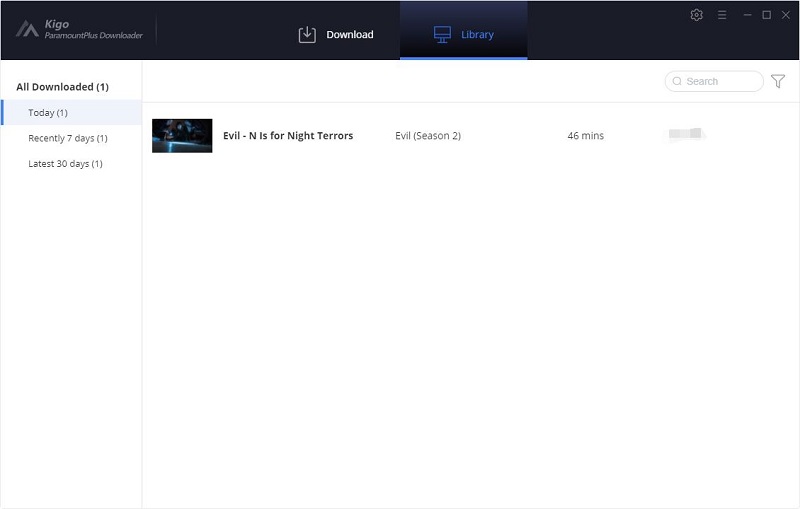 Final Words
If you don't want to put up with the Paramount+ download limits on the app, then using Kigo Paramount+ Video Downloader to download your Paramount videos is a great option. You don't have to worry about some videos leaving Paramount and not being able to watch them anymore.

Free Download
Windows 11/10/8/7
100% Secure

Free Download
macOS 10.15-13
100% Secure
Useful Hints
Kindly be aware that the trial version allows downloading only the initial 5 minutes of each video. To fully enjoy the complete video, we recommend purchasing a license. We also encourage you to download the trial version and test it before making a purchase.
---
Videos from Paramount+™ are copyrighted. Any redistribution of it without the consent of the copyright owners may be a violation of the law in most countries, including the USA. KigoSoft is not affiliated with Paramount+™, nor the company that owns the trademark rights to Paramount+™. This page is provided for compatibility purposes only, and in no case should be considered an endorsement of KigoSoft products by any associated 3rd party.