The Horror Movies for Halloween on Hulu and Watch Offline
Halloween 2022 will occur on Monday, October 31. What is the first thing that comes to your mind when Halloween arrives? People always dress up in costumes and go house to house asking for food or money, a practice that eventually became today's "trick-or-treat" tradition. Of course, Halloween thriller movies are also indispensable. Thrills and chills await movie buffs on Hulu, which makes its case to be synonymous with the horror genre.
Next we'll give you a list of some classic horror movies that you can watch online or download to watch locally on Hulu during Halloween.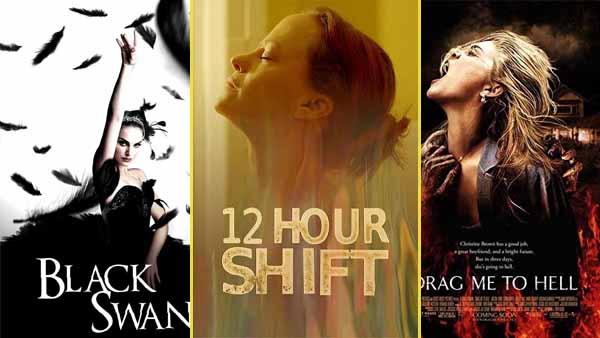 Hellraiser
Director David Bruckner's Hellraiser is not at all the same as Clive Barker's 1987 original. That might seem obvious, but it's important to note—if for no other reason than to help set expectations. Bruckner and his screenwriters Ben Collins and Luke Piotrowski don't seem altogether interested in the kind of psychosexual introspection that drove Barker's film (or the novella it was based upon), instead leveraging the franchise's iconography as a canvas for a different sort of psychological exploration.
Drag Me To Hell
Sam Raimi's Drag Me To Hell opens with the '80s Universal Studios logo, only the first indication that Raimi, who's been shackled to the Spider-Man franchise for the last decade, intends to go back in time. Specifically, he's recalling his own time at Universal in the early '90s, when he brought the splatstick hokum of his Evil Dead days to the studio playground with 1990's Darkman and 1992's Army Of Darkness. A sort of de facto Evil Dead 4, Drag Me To Hell picks up where he left off, trafficking in lots of supernatural mumbo-jumbo (gypsy curses, psychics, ass-whomping ghosts) as an excuse for gloriously over-the-top horror-comedy.
Black Swan
The sheltered ballerina Natalie Portman plays in Darren Aronofsky's Black Swan dreams of dancing the part of Odette in Swan Lake. But even in her dreams, she's shadowed. She never imagines herself dancing with Prince Siegfried, the hero; her pas de deux are with Von Rothbart, the villain of the piece, the sorcerer who ultimately seals Odette's doom. His spell transforms her into the swan: He gives her death and beauty wrapped together, and as the fevered film progresses, and Portman gets drawn further away from the childhood bedroom over which her mother (Barbara Hershey) keeps such careful watch, she starts to see the same pattern play out in life.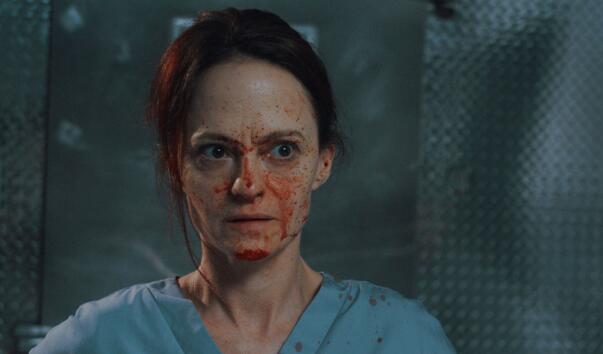 12 Hour Shift
A dark solid wicked black comedy has been born, with inquests of deep desperation and twists to stay buoyant in the water. That combined with a very unusual choice of the score, rhythmic opera made the madness even deeper like a turmoil of hell. It's about organ trafficking at a hospital in USA, the nurse and her in-law cousin with connections to the mob, supply them with friskily for a hand of doe. One night suddenly a kidney goes missing when delivery is done, and the saga tells you the chaotic brawl to get a new one within 2 hours.
Blade
Blade is a 1998 American superhero horror film directed by Stephen Norrington and written by David S. Goyer. Based on the Marvel Comics superhero of the same name, it is the first installment of the Blade franchise. The film stars Wesley Snipes as the titular character with Stephen Dorff, Kris Kristofferson and N'Bushe Wright in supporting roles. In the film, Blade is a Dhampir, a human with vampire strengths but not their weaknesses, who together with his mentor Abraham Whistler and hematologist Karen Jenson, fights against vampires, namely the exceptionally vicious Deacon Frost.
Evil Dead (2013)
Mia (Jane Levy), a drug addict, is determined to kick the habit. To that end, she asks her brother, David (Shiloh Fernandez), his girlfriend, Natalie (Elizabeth Blackmore) and their friends Olivia (Jessica Lucas) and Eric (Lou Taylor Pucci) to accompany her to their family's remote forest cabin to help her through withdrawal. Eric finds a mysterious Book of the Dead at the cabin and reads aloud from it, awakening an ancient demon. All hell breaks loose when the malevolent entity possesses Mia.
Let The Right One In
When Oskar (Kåre Hedebrant), a sensitive, bullied 12-year-old boy living with his mother in suburban Sweden, meets his new neighbor, the mysterious and moody Eli (Lina Leandersson), they strike up a friendship. Initially reserved with each other, Oskar and Eli slowly form a close bond, but it soon becomes apparent that she is no ordinary young girl. Eventually, Eli shares her dark, macabre secret with Oskar, revealing her connection to a string of bloody local murders.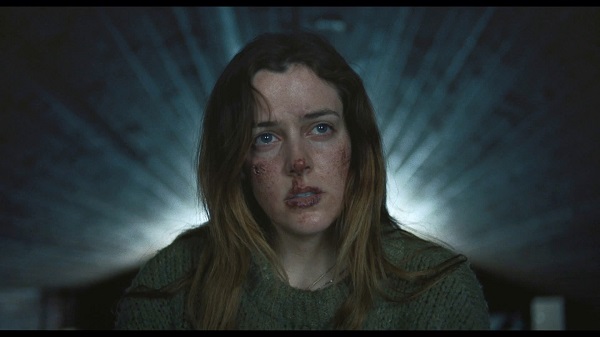 The Lodge
The Lodge fits into the genre of horror that you would associate movies like Hereditary, The VVitch, and The Shining. It wasn't quite as good as those films listed, however, it was certainly better than the average horror movie filled with cheesy jump scares and ruined by a messy, propaganda-filled plot. The Lodge kept guessing and was an incredibly slow burn, causing the tension to be more palpable and more palpable until everyone snapped. The Lodge does not obviously assign a character whom you are rooting for. Everyone is a little insane, leaving you no moral high ground to stand on. It was for the sure derivative of movies like the Lighthouse, The Shining, and Hereditary in the ways the film portrayed grief and insanity. For sure would recommend to anyone who is into this type of slow, deeper horror. Don't go if you're looking for a likable, predictable movie with cheap jump scares.
Memories Of Murder
The story is about the investigation of the serial murders that took place in Hwaseong, a town in South Korea. Bong Joon Ho narrates the story differently by showing the problems faced by the detectives in the town during the Investigation instead of mainly focusing on the Murders. There are no unnecessary scenes in the film, each scene in the film drives the plot forward. This film gives a great amount of Thrill without many plot twists. Investigation scenes are great and keep you hooked throughout the film. Camerawork impressed me even in this film as I loved it in Parasite. The whole film has a raw touch that makes us believe it is inspired by true incidents. All actors did a good job, especially the character who is suspected as the Murderer impressed a lot.
The Nightingale
Jennifer Kent's The Nightingale is a Western revenge yarn of such heightened cruelty and suffering that it basically demands to be read as allegory. Westerns, as a rule, are violent, and that perhaps goes double for the Aussie ones, which tend to be more pitiless than their American cousins, stripping the genre of its romance and derring-do. Even by those standards, The Nightingale is tough to take. Set in the Oz of 1825, it confronts audiences with the full horror of colonialism, including enough scenes of sexual assault to warrant the trigger warning offered up before several screenings of the film. But while what we see and can never unsee over the course of a grueling two-plus hours is certainly extreme, it's not gratuitous.
Parasite
The script is based on Joon-ho's source material from a play written in 2013. He later adapted it into a fifteen-page film draft, and it was split into three different drafts by Jin-won. Joon-ho stated that he took inspiration from the 1960 Korean film The Housemaid, and also from the Christine and Léa Papin incident in the 1930s to write the film's screenplay. Filming began in May 2018 and completed that September. The technical crew comprised cinematographer Hong Kyung-pyo, film editor Yang Jin-mo, and composer Jung Jae-il. Darcy Paquet, an American film critic and author, provided English translations for the film's international release.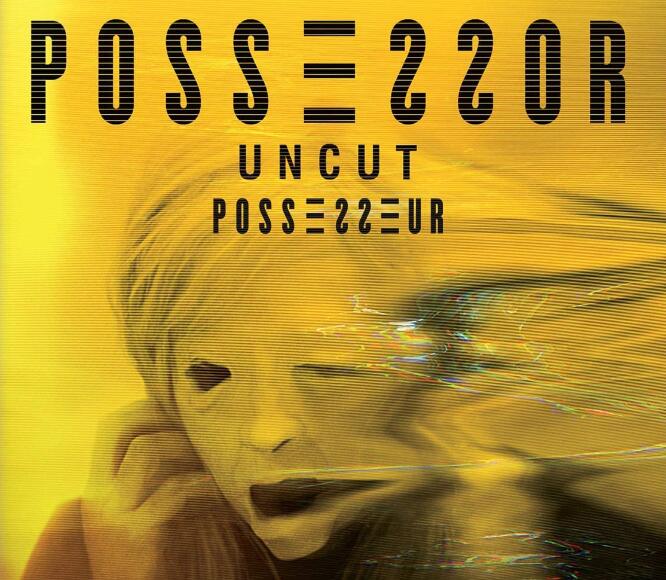 Possessor
Possessor is a mindfuck without a safe word: a slick, nasty bit of science-fiction pulp that's as interested in shredding nerves as buzzing the brain they're attached to. The premise, a nightmare vision of bodies snatched and unwillfully weaponized, could have been extracted straight from the racing noggin of Philip K. Dick. But that author's dystopian premonitions are just one aspect of its genre alchemy, a stylish mash-up of Ghost In The Shell, Inception, Under The Skin, and Olivier Assayas' corporate-espionage thriller demonlover. And as it's both written and directed by Brandon Cronenberg, son of Canadian horror maestro David, it should probably come as no great shock that Possessor includes some truly gnarly mutilation of the flesh alongside the mental variety.
The Rocky Horror Picture Show
In this cult classic, sweethearts Brad (Barry Bostwick) and Janet (Susan Sarandon), stuck with a flat tire during a storm, discover the eerie mansion of Dr. Frank-N-Furter (Tim Curry), a transvestite scientist. As their innocence is lost, Brad and Janet meet a houseful of wild characters, including a rocking biker (Meat Loaf) and a creepy butler (Richard O'Brien). Through elaborate dances and rock songs, Frank-N-Furter unveils his latest creation: a muscular man named "Rocky."
Shirley
This film is an extended Shirley Jackson short story with Shirley as the dual protagonists, herself and the young, pregnant academic's wife who gives birth to Shirley's novel within a novel. I thought it a compelling peek into the mind of a sacred misfit who withdraws from the conventional world into a greater world of imaginative, deviant dervishes. Moss and Young played off each other beautifully, not unlike reflections in a fun house mirror that becomes less and less distorted as time unfolds. It examines the powerful intimacy between the artist and her mirrored muse. It's a film about the aesthetic process, not the plot.
Watch These Horror Hulu Movies Offline
For all the above movies, you can search and stream them on Hulu directly through the movie name. Of course, if you want to watch these movies in the car audio and video system (without network support), you can download these Hulu movies local with the help of Kigo Hulu Video Downloader, and then transfer the downloaded video to USB or SD Card, so you can play it directly on many devices.
Kigo Hulu Video Downloader is designed to help you download movies, TV shows, or documentaries from Hulu to the computer so you can watch them offline. During the download process, you can also choose to keep all or part of the audio tracks and subtitle files. Currently, Kigo supports two different output formats, MP4 and MKV. When you install the latest version of Kigo, you can also download audio tracks, videos, and subtitles separately.
Support downloading Hulu videos including movies and TV shows.
Retain audio tracks and subtitles.
Download Hulu videos in MP4 / MKV format.
Support AC3 audio and HD video downloading.
Fast speed and easy to operate.

Free Download
Windows 11/10/8/7
100% Secure

Free Download
macOS 10.15-13
100% Secure
Steps to Download Hulu Movies Offline
Step 1. Custom Output Settings.
Launch Kigo on your computer, and click on the Settings tab to set the output format, video quality and so on. From the Download Settings option, you can set MP4 or MKV as the output video format, and set the download video quality, audio type, subtitle language, output folder and more as you need.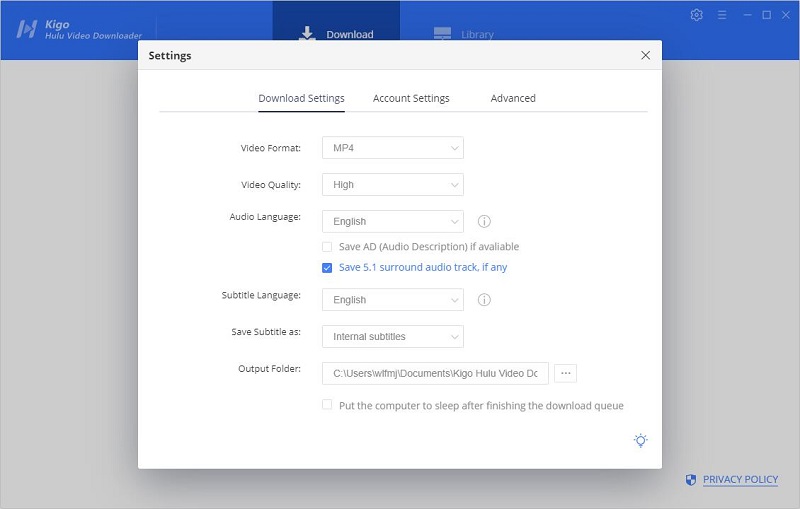 Now Kigo supports downloading videos from both Hulu US and Hulu Japan. From the Account Settings column, you can click website to choose the different website.
Please note that, the video quality selected through the settings window is simply the difference between "Low", "Medium", and "High". If you want to specifically choose a different bitrate for this kind of quality (480p and 720p), please set it through the advanced download. The choice of audio tracks and subtitles is similar. If more detailed settings are needed, please also set them through the "Advanced Download" window.
Step 2. Add Movies or TV Series from Hulu to Kigo.
With Kigo's embedded search engine, you can enter the name or keyword of the video you want to download and then search directly. You can also copy and paste the Hulu video URL to or drag videos' link to Kigo Hulu Video Downloader.
If this is your first time login, you need to login with your Hulu account to go on. Then the search results will list on the program.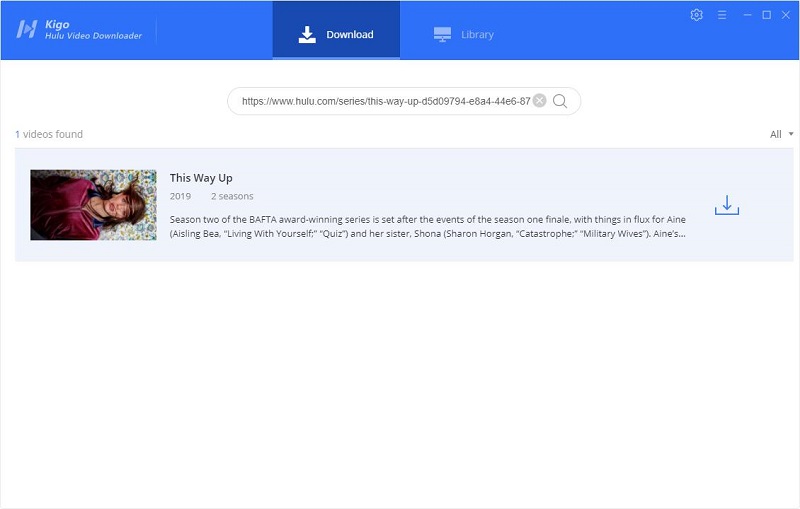 Step 3. Select Advanced Download Settings.
Once the search results are listed in Kigo, if you are downloading a TV series, then all seasons of that series will be displayed in the results. You can choose to download all Seasons in one click, or you can select a particular episode to set up and download individually.
Kigo Hulu Video Downloader added advanced download settings to allow users to select the audio track and subtitle as needed. If you are trying to download a TV show, simply click the Download icon, followed that a window will pop up allowing you to select titles as well as seasons, and to choose audio track and subtitles by clicking "Advanced Download" in the bottom left corner. If you try to download a movie, please click

to open the window.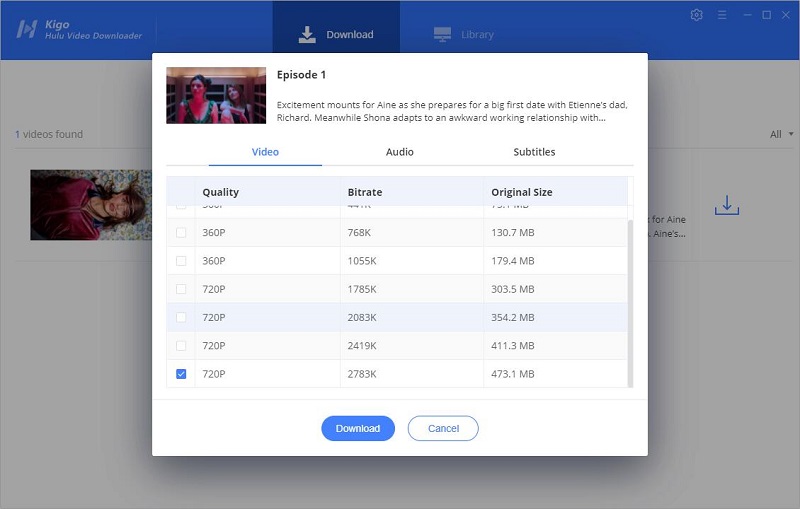 Step 4. Start Downloading Videos from Hulu.
When you have completed the above settings, you can click the "Download" button to start downloading movies or TV series from Hulu.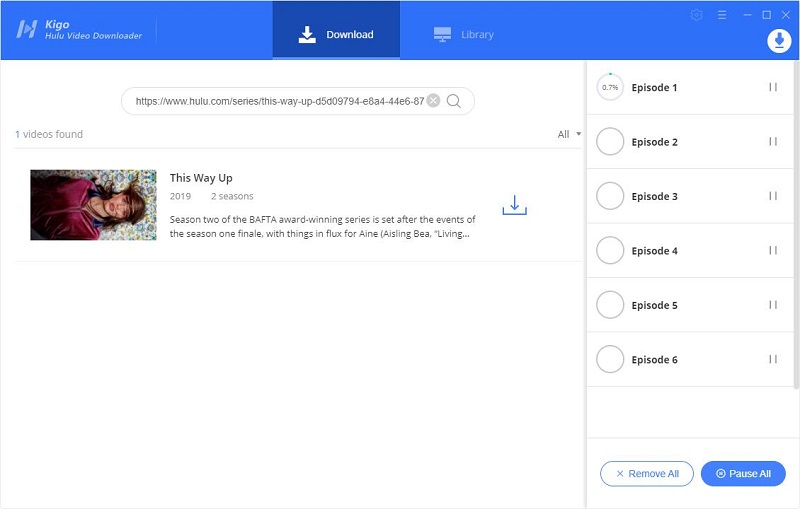 Once the downloading is completed, you can click "Library" - "Folder icon" to locate the downloaded Hulu videos directly. And all the movies or TV shows can be played offline on your computer or other device as you like.
Summary
After downloading the movies from Hulu with Kigo Hulu Video Downloader, you can not only watch them offline on your computer, but you can also transfer them to a USB or SD Card or play them on other audio/video devices.

Free Download
Windows 11/10/8/7
100% Secure

Free Download
macOS 10.15-13
100% Secure
Useful Hints
Kindly be aware that the trial version allows downloading only the initial 5 minutes of each video. To fully enjoy the complete video, we recommend purchasing a license. We also encourage you to download the trial version and test it before making a purchase.
---
Videos from Hulu™ are copyrighted. Any redistribution of it without the consent of the copyright owners may be a violation of the law in most countries, including the USA. KigoSoft is not affiliated with Hulu™, nor the company that owns the trademark rights to Hulu™. This page is provided for compatibility purposes only, and in no case should be considered an endorsement of KigoSoft products by any associated 3rd party.