How to Offline Play Love, Death & Robots Season 3 on Computer
---
Developed by Deadpool director Tim Miller, Love, Death & Robots has given directors of various backgrounds the chance to tell unique and engaging sci-fi stories in animation ranging from the stylized to the photo-real. Since 2019, it has become the service's powerhouse venue for experimental filmmaking in the realm of animation. If you want to download Love, Death & Robots Season 3 for offline viewing, how to do.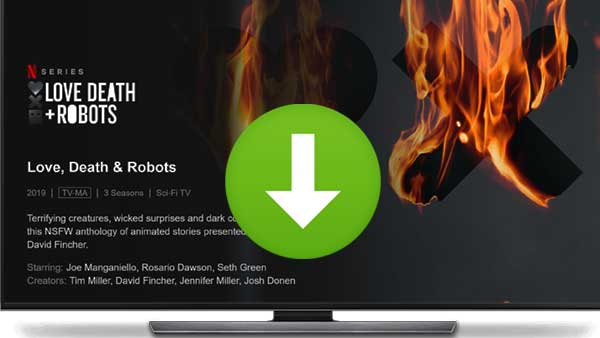 While this Season offers fewer standout installments than the previous two, it still delivers on the same level of intrigue and visionary storytelling with outstandingly varied animation. Love, Death & Robots has won 11 Primetime Emmy awards, including Outstanding Animated Short Form Program and Individual Achievement in Animation, among others.
All Episodes about Love, Death & Robots Season 3
S3E1 "Three Robots: Exit Strategies"
The first direct sequel in Love, Death + Robots history – from the mind of acclaimed sci-fi novelist John Scalzi. The titular trio of droll droids return to take a whirlwind tour studying post-apocalyptic human survival strategies before mankind was finally snuffed out.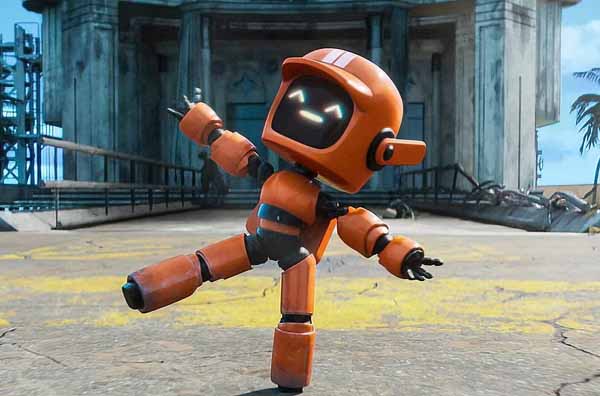 S3E2 "Bad Travelling"
A jable shark-hunting sailing vessel is attacked by a giant crustacean whose size and intelligence is matched only by its appetite. Mutiny, betrayal and ventriloquism with a corpse… welcome aboard the animation directing debut of David Fincher.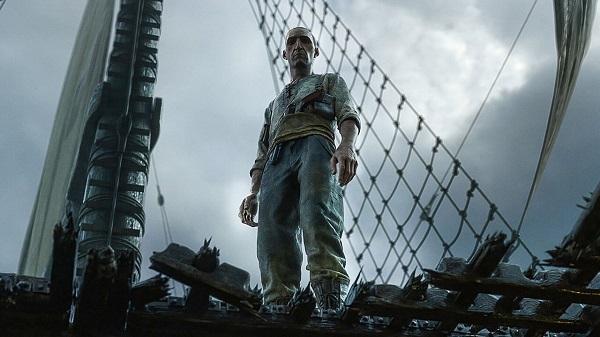 S3E3 "The Very Pulse Of The Machine"
When an exploratory expedition on the surface of the moon Io ends in disaster, an astronaut must trek to safety dragging the body of her co-pilot while using potentially mind-warping drugs to deal with the pain of her own injuries in this trippy tribute to comic book legend Moebius.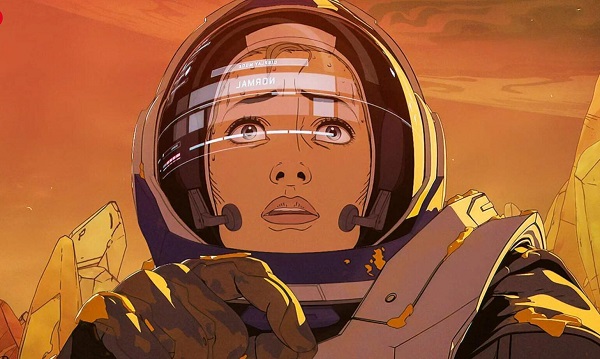 S3E4 "Night of the Mini Dead"
The apocalypse is conceived – literally – in a graveyard in this biting zombie satire, which starts with some cheeky cemetery sex and accelerates into a walking dead invasion of everywhere – from downtown LA to the Vatican. It's the end of the world as we gnaw it.
S3E5 "Kill Team Kill"
Young, dumb and full of… blood, lots and lots of blood, a 'roid-raging, adrenaline-fuelled force of US soldiers faces a foe unlike any they have faced before, the result of a CIA experiment that gets really fucking Grizzly. From the director of Kung Fu Panda 2.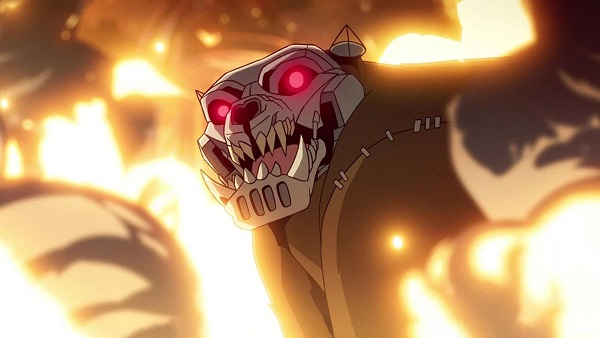 S3E6 "Swarm"
A story of fear, sex and philosophy on the farthest frontier, as two post-human scientists study an apparently mindless insectoid-race. Tim Miller writes and directs the first ever screen adaptation of the work from renowned Cyberpunk author Bruce Sterling.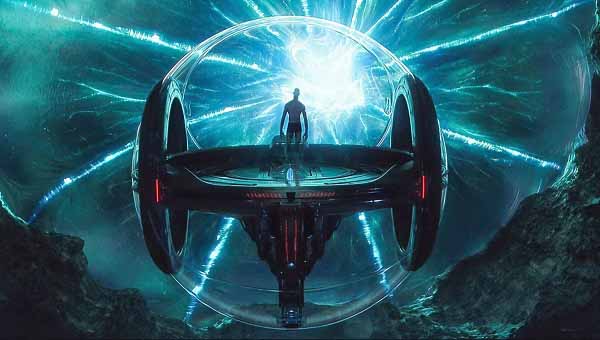 S3E7 "Mason's Rats"
You know you have a pest control problem when they start to shoot back. The ratpocalypse comes to Scotland, as a grumpy farmer takes drastic steps to deal with an invasion of hyper-evolved rodents.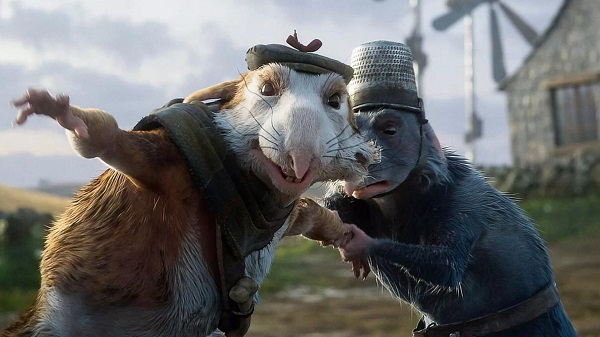 S3E8 "In Vaulted Halls Entombed"
Deep in the mountains of Afghanistan, a squad of Special Forces soldiers has the dangerous job of recovering a hostage held by terrorists. But the real evil they must confront is an elder god of ancient and terrifying power.
S3E9 "Jibaro"
Fantasy and greed combine in this re-imagining of the traditional folktale of a siren whose song lures men to their doom. But her sorcery fails to work on the deaf knight, Jibaro, and the Golden Woman becomes fascinated by him. Thus begins a deadly dance of two predators.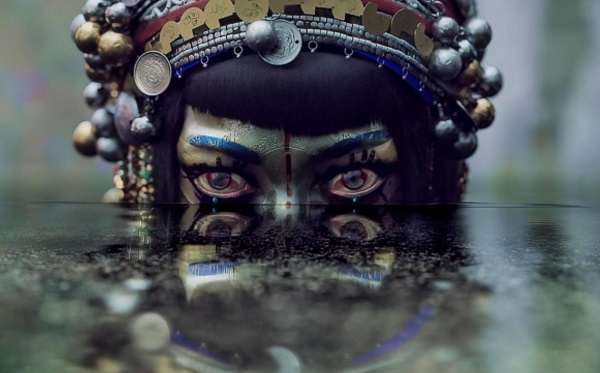 Watch Love, Death & Robots Season 3 Online on Netflix
If you have subscribed Netflix, you can watch kinds of movies, TV shows including original series freely on Netflix as you like.
Just search the original series "Love, Death & Robots", and you can play all the Seasons on Netflix as you like.
How to Download Love, Death & Robots Season 3 to Computer and Play Offline
Without Netflix app, if you want to download the TV series offline to your computer, you need to ask Kigo Netflix Video Downloader to help you. With Kigo Netflix Video Downloader, users can download Netflix movies, TV shows, the original series and documentaries to computer and save in MP4 or MKV format with up to 1080p quality. It also provides two video codec options (H.264 and H.265) for users to choose. All the subtitle can also be saved as the internal subtitles, external subtitles, and hardcode subtitles you need.
Support downloading movies, TV shows and original series in MP4 or MKV.
All and some the audio tracks and subtitles will be kept.
Download up to 1080p HD videos.
Support H.265 and H.264.
Fast speed and easy to operate.

Free Download
Windows 11/10/8/7
100% Secure

Free Download
macOS 10.15-13
100% Secure
First, you can download the appropriate version by clicking on the download button above and install it on your computer.
Step 1 Set the output.
Run Kigo Netflix Video Downloader on your computer, and click the setting icon to set the output format (MP4 or MKV), output quality (Low, Medium and High), audio track language, subtitle lauguage and so on.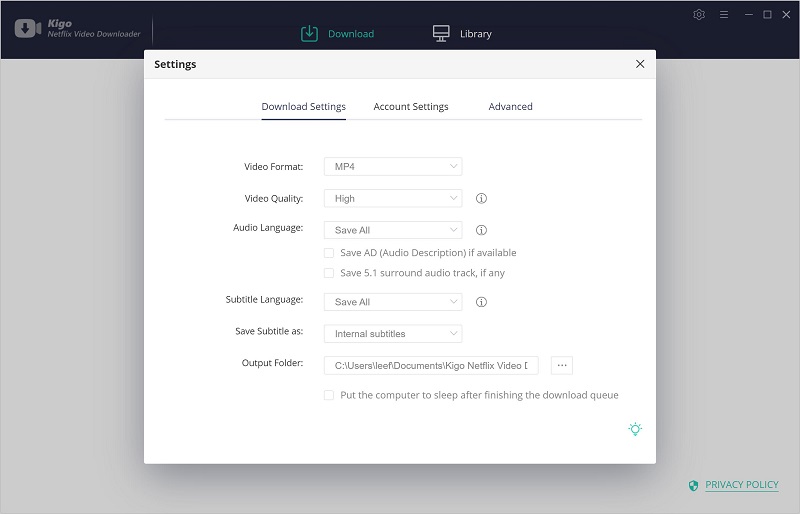 Kigo supports hardware acceleration with Intel / NVIDIA / AMD graphics cards, which will enable you to run the program more smoothly and speed up the download process. To get the best performance, please make sure you have the latest graphics driver installed on your computer.
Step 2 Search "Love, Death & Robots" on Kigo.
After closing the setting windows, enter "love death" in the search bar and click to search it.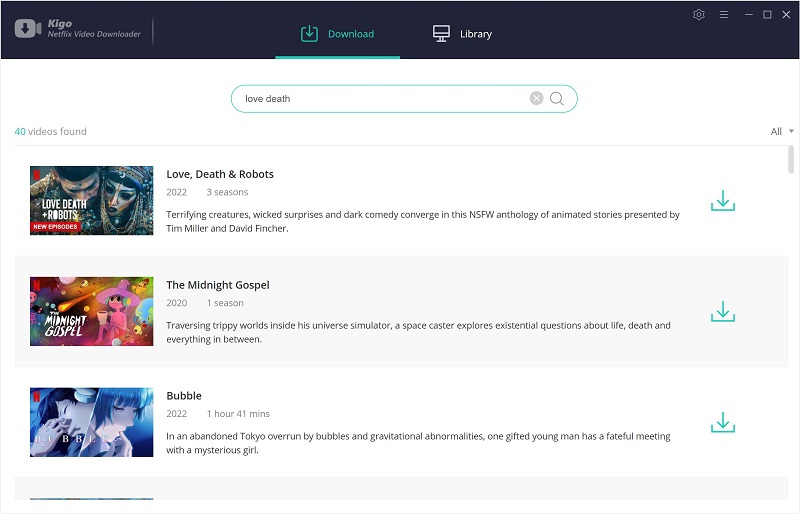 If you don't use Kigo Netflix Downloader ever, you need to login with your Netflix account to go on downloading.
Step 3 Select and "Advanced Download" settings.
Once the TV show is listed on Kigo, tap the "Download" button to select the season and episodes to download. You can also download the whole seasons one time.
Then click "Advanced Download" at the bottom right to set it with more specific settings. Here you can set the video quality with different bitrates, audio track with different audio quality, and subtitles with three modes for you to choose.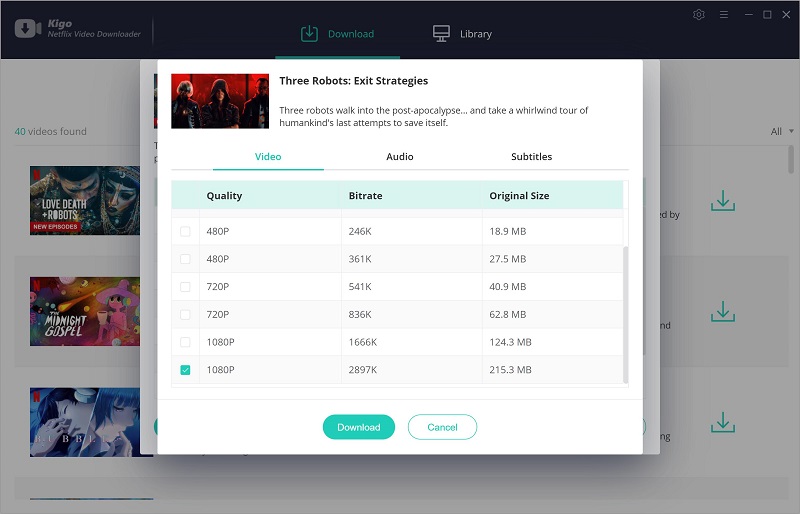 Step 4 Click "Download" button.
Once all the setting is completed, now click "Download" to start to download Love, Death & Robots to your computer.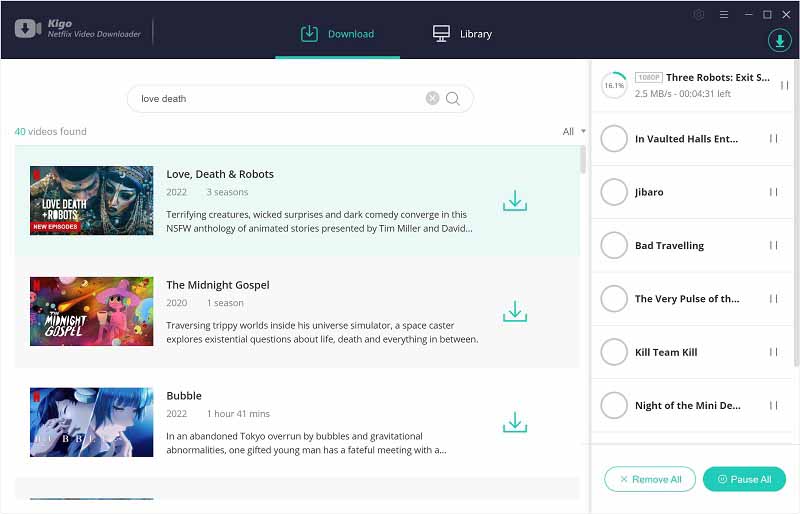 Step 5 Locate Love, Death & Robots Directly.
After the downloading, you can go to Library to find the downloaded video, and click "folder icon" to locate the video directly. Now you can play the downloaded video offline as you like.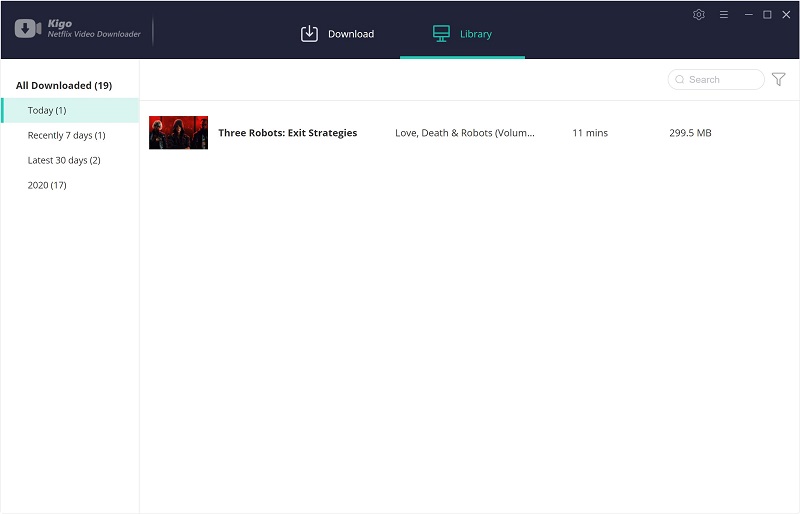 Conclusion
There are totally three Seasons of Love, Death & Robots. Please don't worry, you can follow the guide above to download the whole TV series from Netflix to your computer and play them offline.

Free Download
Windows 11/10/8/7
100% Secure

Free Download
macOS 10.15-13
100% Secure
Useful Hints
Kindly be aware that the trial version allows downloading only the initial 5 minutes of each video. To fully enjoy the complete video, we recommend purchasing a license. We also encourage you to download the trial version and test it before making a purchase.
---
Videos from Netflix™ are copyrighted. Any redistribution of it without the consent of the copyright owners may be a violation of the law in most countries, including the USA. KigoSoft is not affiliated with Netflix™, nor the company that owns the trademark rights to Netflix™. This page is provided for compatibility purposes only, and in no case should be considered an endorsement of KigoSoft products by any associated 3rd party.