According to Amazon Prime Video Usage Rules, "For downloaded videos, you'll typically have 30 days to begin watching the video after you download it and once you start watching it, you'll typically have 48 hours to finish watching it." In other words, after 30 days these downloaded videos will not be available for viewing whether you have watched them or not.
However, if you do not renew your subscription after it expires, you will not be able to continue watching these videos, regardless of whether the downloaded videos are still within 30 days or not, unless you purchase that video title or renew your subscription.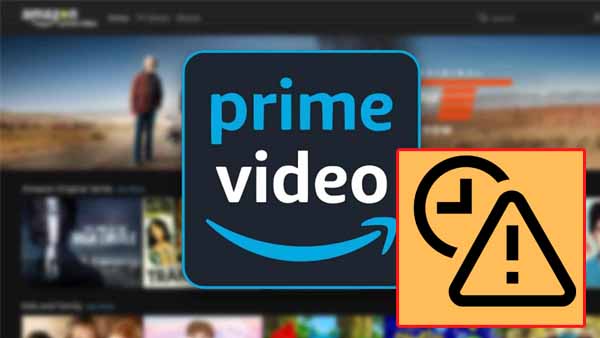 It seems a bit overbearing, but there is nothing you can do about it as a user. So is there a way to extend the expiration date of these downloaded videos, or is there no need to consider the expiration date of the downloaded videos, you can keep them for a very long time.
You got lucky. This article is to show you how to extend the expiration date of your downloaded Amazon videos, or you can also save and back up your Amazon videos for a long time with this solution.
Solution Tool – Kigo Amazon Video Downloader
To remove the limits and extend the expiration date of Amazon Prime downloads, the app download method no longer works, so you have to turn to Kigo Amazon Video Downloader.
Kigo Amazon Video Downloader was designed to simplify downloading for users and to allow for more flexible and extensive playback of downloaded videos. With Kigo, you can easily download Amazon movies, TV shows, and documentaries and save them in MP4 or MKV format with the audio track and subtitles kept on your Windows or Mac computer, even if you don't have the Prime Video app installed.
Download Amazon movies, tv shows, and original series.
Save Amazon videos to MP4 / MKV format.
Select some or the whole audio tracks and subtitles to keep.
Download up to 1080p HD videos.
Fast speed and easy to operate.
Download for Win
Download for Mac
Support for Amazon Video in different regions.
To meet the needs of users in different regions, Kigo currently supports video downloads from the following regions: Amazon US, Amazon Japan, Amazon Germany, Amazon UK, and primevideo.com. If you are outside of your home country, a reduced selection of Prime Video titles is available to stream. Kigo will help you download them before and then watch them offline.
A maximum of 26 language installation packages are supported.
Now Kigo supports 26 languages, including Chinese Simplified, Chinese Traditional, Catalan, Danish, Dutch, English, France, Filipino, German, Georgian, Ukrainian, Italian, Japanese, Korean, Polish, Portuguese, Russian, Romania, Spanish, Telugu, Turkish, Armenian, Tamil, Ukrainian, Thai, and Serbian.
Save Amazon Prime videos in MP4 / MKV format
The downloaded video will be stored in MP4 or MKV format. As for the output format, you can set it through the settings window before you start downloading. The Amazon Prime downloads can be playable on different kinds of portable players like Apple iPad, iPhone, Android phone, Kindle Fire TV, iRiver, Creative Zen, and so on without limitation.
How to Download Amazon Prime Videos Offline
With Kigo Amazon Video Downloader, you can easily download Amazon Prime videos in MP4 or MKV format with up to 1080p quality on your computer without worrying about the expiration date of the videos, and you can save them as long as you like!

Step 1. Custom output setting.

After the installation is complete, start the program. Click the "Settings" icon on the upper right corner of Kigo to set the video format (MP4 / MKV), video quality (Low / Medium / High), the language of audio tracks and subtitles, and so on.

Besides, please choose the website you are using to access Amazon Prime Video on the "Account Settings" window.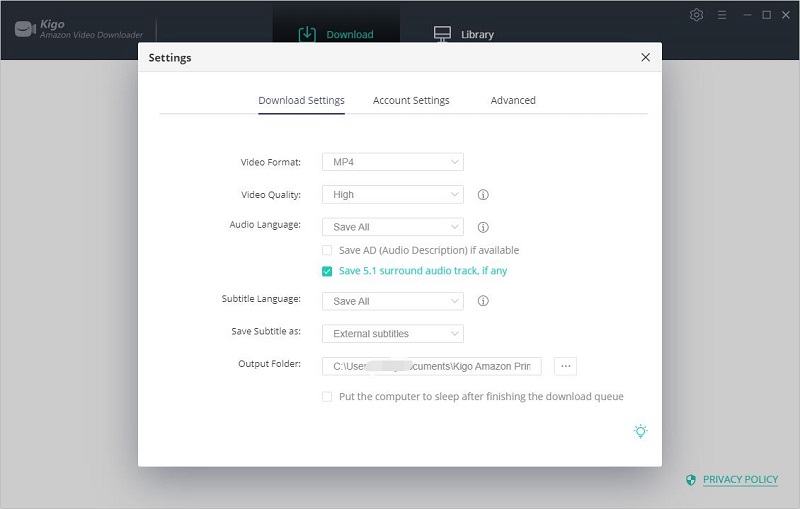 Step 2. Add Amazon Prime videos to Kigo.
There is a smart search engine built-in in Kigo, so you can enter the video title or keywords to search Amazon Prime videos directly. Generally speaking, the search results are the same as what you search on web browsers. What's more, you can also copy or drag and drop the video link to the program.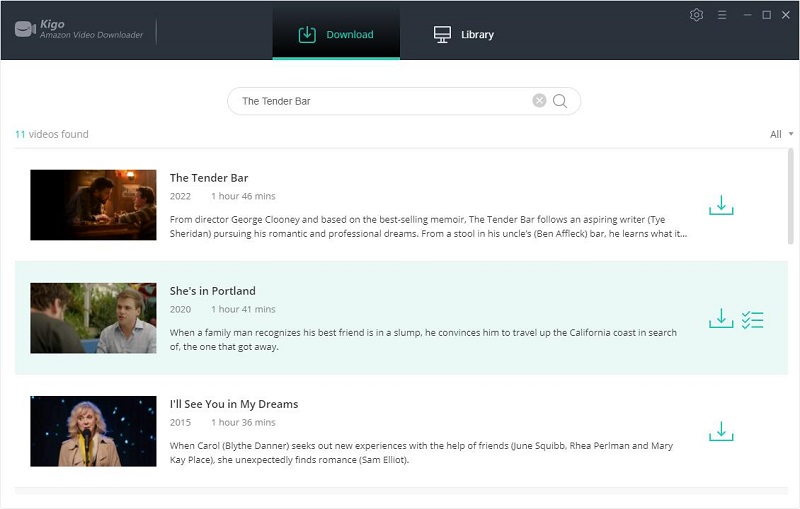 If this is your first-time use, please log in with Amazon Prime account to go on.
Step 3. Select and "Advanced Download" settings.
Once the video is listed on Kigo, you can continue with further settings. Kigo Amazon Video Downloader also offers the "Advanced Download" option that allows you to select specific video quality, audio tracks, and subtitles with different bitrates. If you are downloading a movie, click the "Advanced Setting" icon next to the download icon.
If you are downloading a TV show, click the "Download" icon to select the season and episode, and click the "Advanced Download" button at the bottom left corner of the window to set the video quality, audio track and subtitles.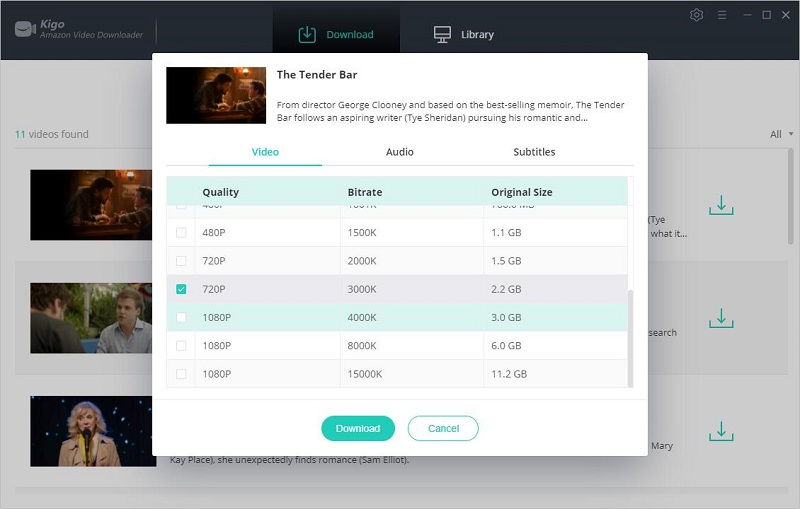 Step 5. Start to download from Amazon Prime.
Once you have done the above setup, you can click the "Download" button to start downloading the video.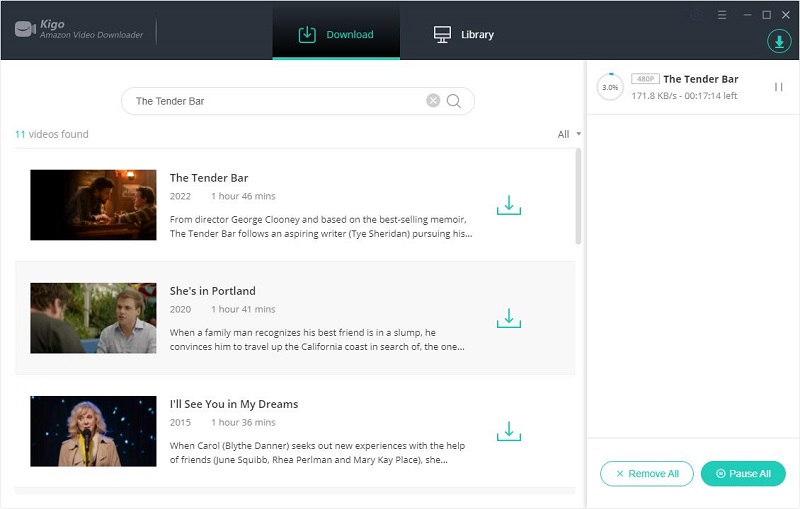 After the downloading, you can quickly click on Library - Folder icon to locate the downloaded movie. The downloaded movies are no longer subject to any expiration dates or other restrictions. You can also play the downloaded movie on Windows Media Player, VLC Media Player, or transfer them to USB Drive or SD Card as you wish.
Conclusion
Videos downloaded through Kigo Video Downloader can be saved on your computer whether you watch them or not for 30 days or more. You can watch them whenever you want, without worrying about time limits, limits on the number of devices you can download, or limits on the number of videos you can download, etc.
Please note that only the first 5 minutes of each video can be downloaded with the trial version, please purchase a license to enjoy the full video. It is suggested that to download the trial version and have a test before purchasing it.