Amazon Prime users not only enjoy shopping discounts at Amazon stores but also enjoy different music and video programs. Amazon Prime Video can be streamed on a variety of devices, including Apple TV. There are different ways to let users watch Amazon Prime Video on Apple TV, for example, you can play with the Amazon Prime app on Apple TV, or you can use AirPlay from your iPhone or Mac browser to cast on Apple TV, or you can download Amazon Prime videos and then offline play on Apple TV.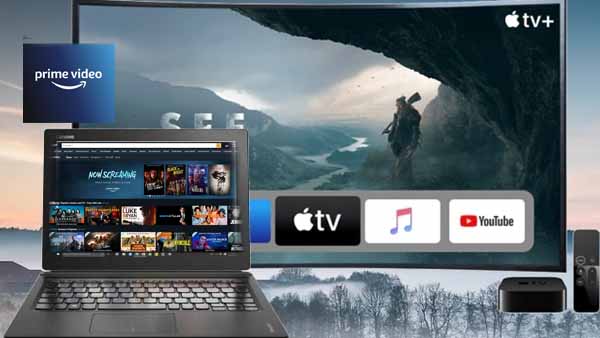 Main Points to Know How to Play Amazon Videos on Apple TV
Method 1. Use the Prime Video Apple TV app
The models of the Apple TV are from Apple TV 1st to Apple TV 4K. If you have the Apple TV 2 or 3, Apple added the Prime Video app to the home page, so all you have to do is simply click on it and authorize your account.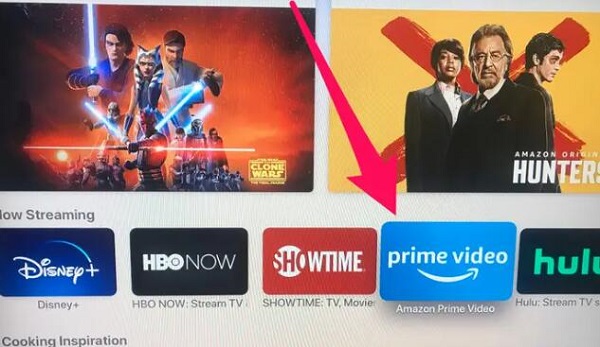 If you have the first generation Apple TV or the Apple TV 4 or newer, go to the App Store on your Apple TV. Amazon Prime is usually one of the recommended apps in the first submenu, under "Now Streaming." If not, you can search for it in the search box and download it.
Once you find the app, click on it to open its download/update screen and then click on "Download" next to the description.
Once downloaded, the app will ask you to enter your Amazon sign-in info.
When you open Amazon Prime, it will highlight movies that are included in your Amazon Prime subscription.
While you can rent or purchase other content, Amazon Prime Video content requires no further payment.
Additional Tips to connect your Apple TV to your Amazon Prime Video account
Once you've configured your Apple TV, you'll want to download the Amazon Prime Video app by selecting the "App Store" option from the Apple TV home screen. From there, simply search for Amazon Prime Video and click "Install" to start the download.
Once the installation process is completed, launch the Amazon Prime Video app and select "Sign In" to connect your existing Amazon Prime Video account. Alternatively, you can also sign up for Prime Video account via the app if you're not a member.
Once you're logged in with your Amazon Prime video account, you can start watching Amazon Prime Video on your Apple TV.
Method 2. Use AirPlay from your iPhone or iPad to Apple TV
If you don't like the Prime Video Apple TV app installed on Apple TV, you can try the Airplay method. Apple's AirPlay feature allows users to stream videos, images, music, and other forms of media from an Apple device to another compatible device. You can AirPlay content from an iPhone, iPad, or Mac to an Apple TV or AirPlay-compatible smart TVs and speakers.
Step 1. Open the App Store and download the Amazon Prime Video app on your iPhone or iPad.
Step 2. Open the Prime Video app. It will ask you to sign in to your Amazon account.
Step 3. Select a video to play it.
Step 4. Once the video is playing, tap the AirPlay icon in the top-right. It is a rectangle with a triangle in it.
Step 5. A list of possible devices you can AirPlay to will come up. Tap on your Apple TV. Your title will now stream on your Apple TV through your iPhone.
Method 3. Use AirPlay from your Mac browser to Apple TV
You can not only use AirPlay from your mobile device, but you can also use AirPlay from your Mac browser to your Apple TV.
Step 1. Open amazon.com in your web browser on your Mac.
Step 2. Start playing the title you want to screen on your Apple TV.
Step 3. Click on the AirPlay icon in the top toolbar.
Step 4. A dropdown will ask you where you want to AirPlay this. Select your Apple TV.
Step 5. Your computer will ask you to type in the code shown on your Apple TV. Once you do so on your Mac, your desktop screen should show up on your Apple TV.
Method 4. Offline Play Amazon Prime Videos on Apple TV
With the above three methods, you need a stable internet link, and when you use AirPlay from your iPhone or iPad, you can't use your iPhone or iPad to do anything else. So is there a way to watch Amazon Prime videos on Apple TV offline? Don't worry, the following tutorial will help you solve this problem.
Firstly, you need to download Amazon Prime videos offline, and then import them to the Apple TV app for offline viewing. Kigo Amazon Video Downloader simplifies the download steps for you. With it, you can easily and quickly download movies, TV shows, and documentaries from Amazon videos, primevideo.com, Amazon UK, Amazon Japan, and Amazon Germany, and save them to a local computer in MP4 or MKV formats with the audio track and subtitles kept. It also provides Windows versions and Mac versions.
Tips: Sometimes when you download the prime category from amazon.com, you still need to choose amazon.com as the region resource to make sure the downloading is successful. The latest update of Amazon Video, adds more limits on HDCP requirements for accessing HD videos. Accordingly, now if you want to download 1080p HD video content with Kigo Amazon Video Downloader, your computer needs to support at least HDCP 1.0.
Download Amazon movies, TV shows, and original series.
Save Amazon Prime videos to MP4 / MKV.
Select audio tracks and subtitles to keep.
Support up to 1080p HD videos with 5.1 audios.
Fast speed and easy to operate.
Download for Win
Download for Mac
Steps to Download Amazon Videos and Offline Play on Apple TV
Before, just click the above download button to download and install the latest version of Kigo Amazon Video Downloader on your computer
Step 1. Run Amazon Video Downloader and Output Settings.
Run the program on your computer. Before you add videos to Kigo, click the "Settings" icon on the upper right corner of the screen to set the output video formats (MP4 / MKV), video quality (Low / Medium / High), the language of audio tracks, and subtitles and so on. Besides, in the "Account Settings" part, please choose the right website you are using to access Amazon Prime Video.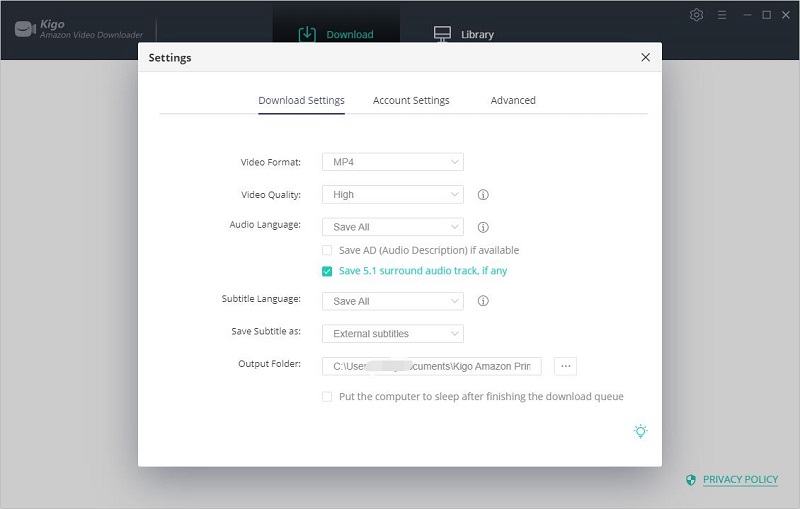 Step 2. Search to Add Amazon Videos.
Kigo has been built-in with a smart search engine, so users can search videos directly through the video name or keyword. The search results are the same as the result while you search them on the web browse. As you like, you can also copy or drag and drop the video link to the program.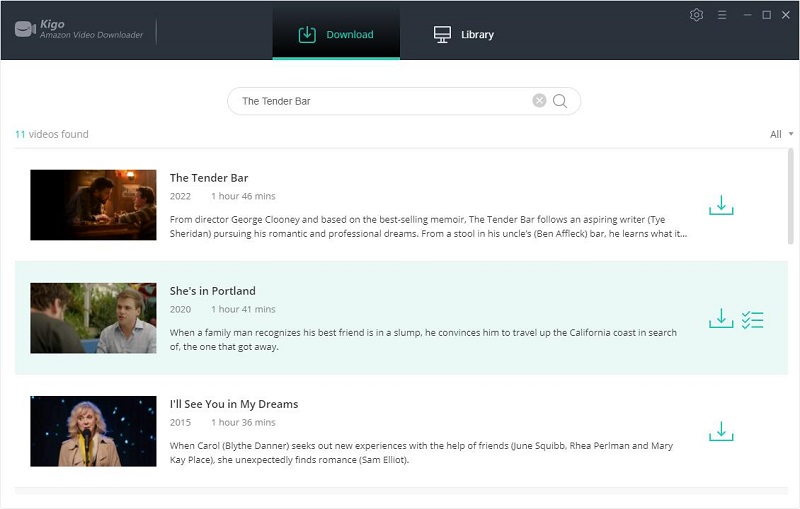 Step 3. Select "Advanced Download" Settings.
Kigo Amazon Video Downloader also offers the "Advanced Download" option that allows you to select specific video quality, audio tracks, and subtitles with different bitrates. For movies, click the "Advanced Setting" icon next to the download icon. If you try to download a TV show, click the "Download" icon, followed that a window will pop up allowing you to select episode, and you will click the "Advanced Download" button at the bottom left corner of the window.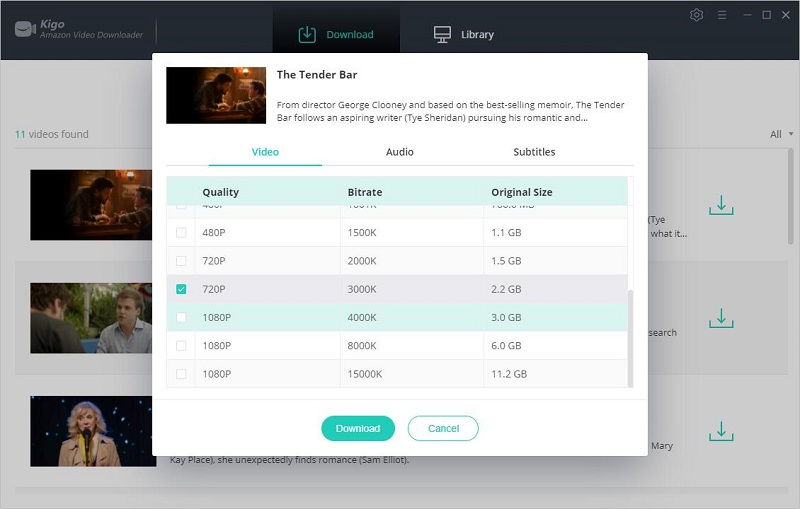 Step 4. Start Downloading Amazon Videos.
If you have finished the above settings and selections, click the "Download" button to start to download Amazon movies or TV shows to MP4 or MKV format with high quality.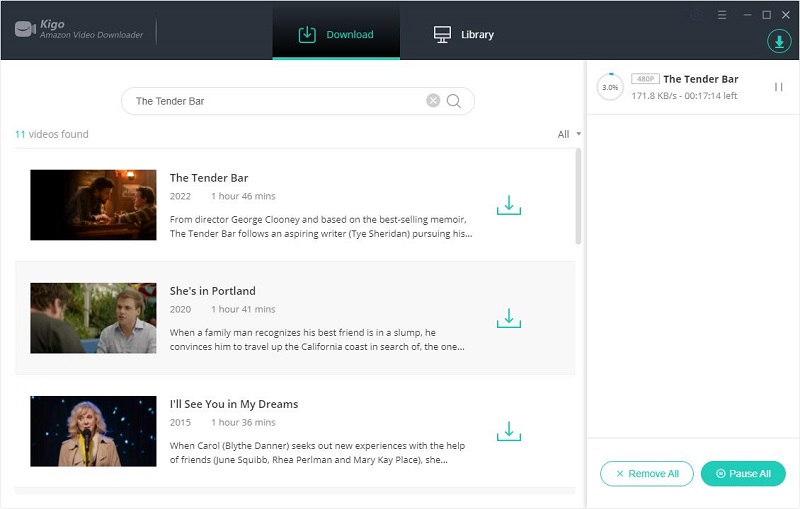 Step 5. Import Amazon Videos to Apple TV App.
After the downloading, you can click "Library" - "Folder icon" to locate and find the downloaded Amazon videos directly. You can import video files so that you can watch them in the Apple TV app. In the Apple TV app on your computer, choose File > Import. Locate the downloaded video on your computer, then click Open. Imported videos appear in the Home Videos category in the sidebar of your library.
Purchase for Win
Purchase for Mac
Part 5. Video Contents / Resolution / Subtitles / Audio Track for Amazon Prime Video on Apple TV
Amazon Prime Video is actually part of Amazon Prime. If you already have a subscription to Amazon Prime, you already have a subscription to Amazon Video. Content covers all manner of categories, including comedies, drama, action, sci-fi, fantasy, kids, and more.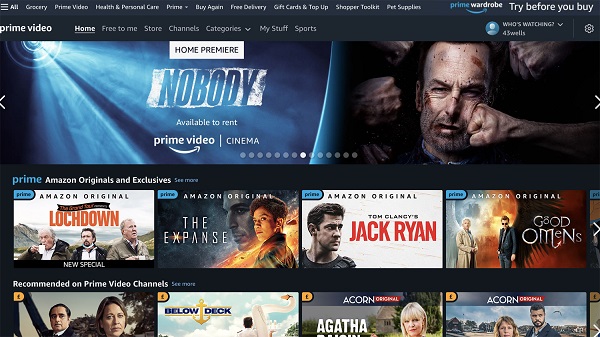 Amazon Video is the company's video streaming app. With it, you can rent, buy, or watch Prime content. It is available on a plethora of devices, including smart TVs, Blu-ray players, set-top boxes, game consoles, Android devices, and iOS devices.
Not only can you watch a lot of free content with your Prime subscription, but you can also rent or buy movies and TV shows, expanding your available content even more. Rentals are available for 30 days after you first rent them, but expire 48 hours after you've started watching them.You'll have to rent or buy videos from Amazon.com, but you can add them to your watch list, and then watch them in the Prime Video app after you've made your payment.
Once the videos are rented or purchased, videos show up in the Library section of the Amazon Video app. Hit the play button to start watching. If you've rented and watched a movie, it will disappear after 48 hours - 30 days if you've never watched it.
A number of factors influence what resolution you can stream Amazon Prime Video in on Apple TV. First off, it's important to note that the first two generations of Apple TV do not support Amazon Prime Video. For Apple TV 4K, you can stream in SD, HD and UHD/HDR, while 3rd generation Apple TV's support SD and HD. Just because the Apple TV is capable of streaming at a particular resolution doesn't mean it always will. First off you'll need a sufficiently fast Internet connection to stream at HD and UHD/HDR.
Then secondly you'll need a show or movie that's available in 4K/UHD. Typically these are more recent productions like Star Trek: Picard or Jack Ryan rather than The Office or Law & Order SVU.
Subtitles and captions for Amazon Prime Video on Apple TV are displayed in the lower half of the screen. To turn on subtitles, press play on your video and navigate to the "Menu" and select "Subtitles" in the Amazon Prime App.
Conclusion
You can choose any method to play your Amazon videos on your Apple TV. We still heartily recommend that you download Amazon Prime videos with Kigo Amazon Video Downloader for offline playback. That way you don't need to worry about when the video leaves Amazon Prime, or when you cancel your subscription one day, you can keep playing the video.
Disclaimer
Videos from Amazon™ are copyrighted. Any redistribution of it without the consent of the copyright owners may be a violation of the law in most countries, including the USA. KigoSoft is not affiliated with Amazon™, nor the company that owns the trademark rights to Amazon™. This page is provided for compatibility purposes only, and in no case should be considered an endorsement of KigoSoft products by any associated 3rd party.