Sometimes when you download Amazon videos offline with high quality (up to 1080p), it will take up a lot of storage space, and if you would like to download these videos on your mobile phones or tablets offline, there will be no more storage space to store others. Or while you want to play Amazon Prime videos on your car or your home theatre, downloading and saving Amazon Prime videos to SD card seems a wise choice.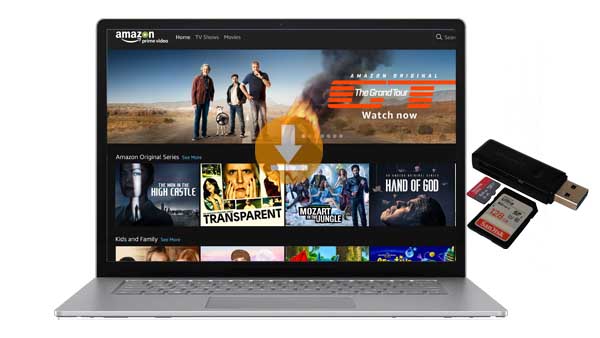 When you save these large downloaded videos to SD card, you have no need to worry about the storage space, after all you can decide to increase your SD card storage space with less money than the cost that you change a new mobile phone or a new Tablet.
Besides, due to the small size, SD card is removable and portable. Hence you can take with it all around, unlike the hard disk drive which is much larger than SD card. It is also pretty easy to access a SD card on computer. You can get a card reader first. Sometimes your computer has built-in SD card supporter. Then, insert the card into the reader. And lastly, plug the reader into a USB port on PC.
SD card has been widely used nowadays. If we want to save our Amazon Prime videos to SD card, how to do? In the following we will show the two methods to download and save to SD card.
Method 1. Save Amazon Videos to SD Card on Android Phones
First please make sure that your Android phones support memory card replace.
Step 1. Open the Amazon Prime Video app on your Android device.
Step 2. Tap on the "Menu" button, navigate to the "Settings" tab and scroll down to find the option "Download Videos to SD." The tab also shows you the available storage space on your SD card and the free space available.
Step 3. Search the videos you want to download. If the video is available for download, you will find a download icon on the detail page of the video. Click the "Download" icon to start.
Step 4. After the downloading, the downloaded videos will be saved to your micro SD card.
Method 2. Download Amazon Prime Videos and Save to SD Card
As we all know, Amazon Prime videos supports downloading with its app. However the downloaded videos have many limitations like you can only play on the app, or they can only be available during your subscription period and so on. It seems impossible to use the app to download and transfer these to SD card and so on. To help users have more freedom with the downloaded Amazon Prime Videos, Kigo Amazon Video Downloader comes to help you, which is designed to download movies, TV shows (including original series) and documentaries from amazon.com or primevideos.com and save to MP4 / MKV formats with multi-language audio tracks and subtitles kept.
Download Amazon movies, tv shows and original series.
Save Amazon videos to MP4 / MKV format.
Select some or the whole audio tracks and subtitles to keep.
Download up to 1080p HD videos.
Fast speed and easy to operate.
Download for Win
Download for Mac
Steps to Download Amazon Videos to SD Card
Step 1. Free download the latest version of Amazon Prime Video Downloader, install and run it.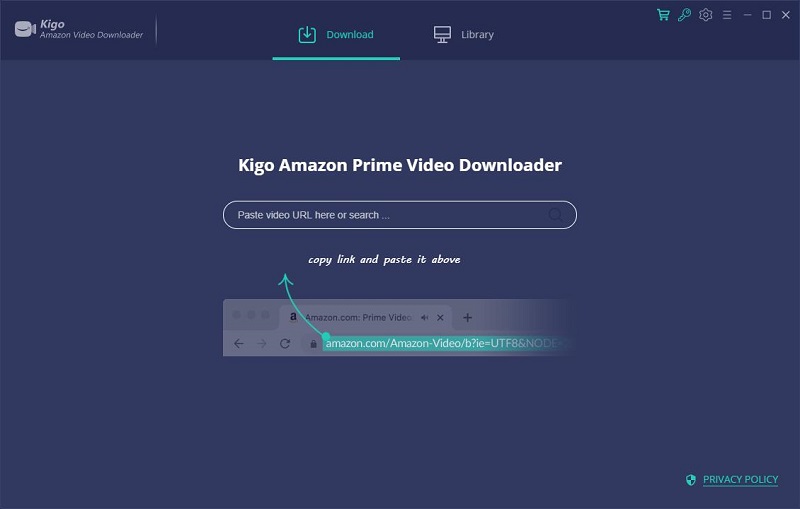 Step 2. Output settings.
Click the "Settings" icon on the upper right corner of the screen to set the video format, video quality, the language of audio tracks and subtitles, and so on. Besides, in the "Account Settings" part, please choose the website you are using to access Amazon Prime Video.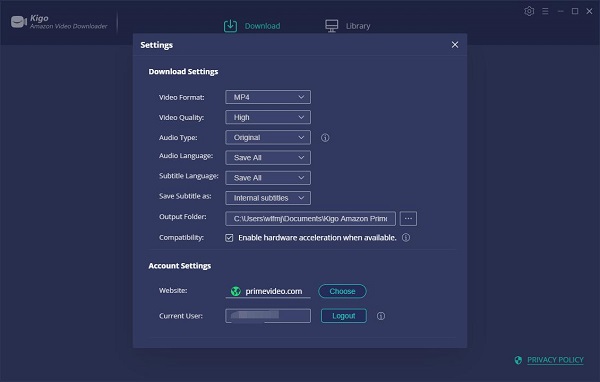 Step 3. Add Amazon videos.
According to your need, you can copy or drag and drop video link to the program. You can also search the videos you want to download and add.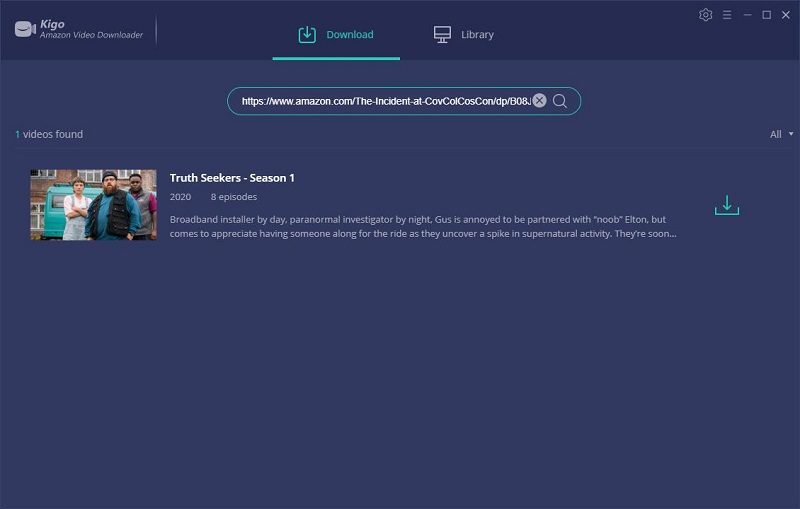 Step 4. Start to download Amazon videos.
Now you can click the "Download" button to start to download Amazon movies or TV shows to MP4 or MKV format with high quality.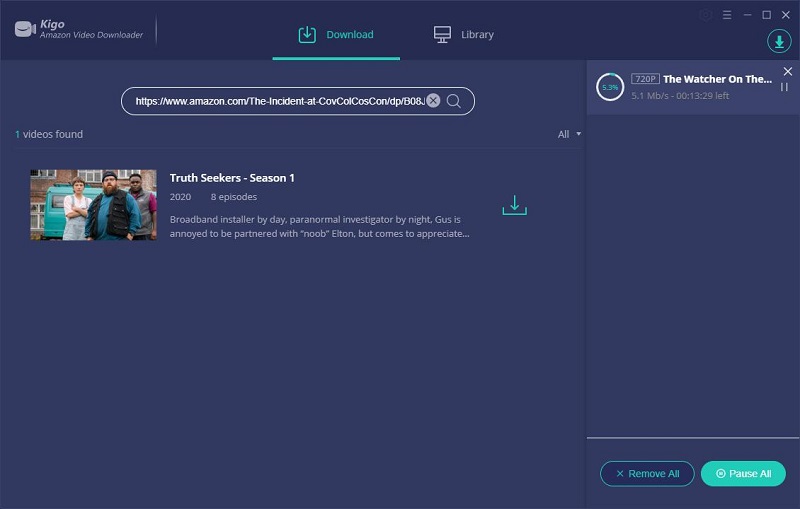 Step 5. Save the downloaded videos to SD card.
Once you finish the downloading, you can click on Library to find the downloaded Amazon videos on your computer.
If the card reader isn't built-in on your computer, you need to an extra SD card to connect the card to your computer. Or you can directly insert the SD card to your computer.
Locate to find the downloaded videos and copy or drag and drop them to your SD card folder, so easy, isn't it?
Purchase for Win
Purchase for Mac
Conclusion
If you coincidentally has an Android phone, you can set the SD card as the output folder so as to get the goal. While you want to have more freedom from the downloaded Amazon videos without limitations, here recommend you try to use Kigo Amazon Video Downloader to download them and copy to SD card.