Now more and more good-looking Amazon Prime videos are released, if you want to download high-quality videos from Amazon, you need a lot of storage space. Regardless of the computer or mobile device, the storage space is limited, and you cannot download all kinds of videos you want to the local. So how to expand storage space, a mobile hard disk or SD Card or a USB Flash Drive will be the options. Among these options, most people will tend to choose a USB Flash Drive as a portable storage device, which is easy to carry and available at any time.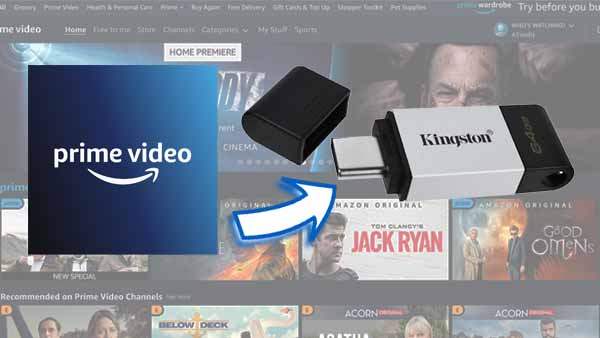 Part 1. Why need to save Amazon Videos to USB Drive.
When you choose a storage tool, why should you choose this tool? The reasons discussed next are likely to convince you.
Ease of Use.
USB flash drives are handheld and lightweight. They can fit inside the smallest of pockets, purses, and bags, and they don't have to be charged or require an internet connection. Only a computer is required to access the data on them. Effectively, they are the perfect alternative to carrying a laptop, tablet, or any other device that takes up space or needs to be charged. Accessing their data is as simple as inserting the connector into a USB port on a computer or mobile device. They are platform-independent, and files can be located on them using a keyword search in a document finder window.
Versatility and Speed.
USB flash drives are versatile and efficient. They can run several different types of applications and operating systems, and they can transfer files quickly.
Branding and Marketing Benefits.
USB flash drives are affordable, portable, and can be customized for effective branding and marketing. Their compact size makes them ideal for business, and they can be excellent promotional gifts. After viewing the original content, recipients can install their content and use them for their purposes. However, the giver's company logo and branding will still remain on the exterior to help recipients remember them.
Security and Privacy.
USB flash drives come with advanced security protection. Many are designed with password-restricted access, and data on them can be protected through encryption applications. Some USB flash drives even have separate zones for password-protected files and files that are accessible without passwords.
Affordability.
Most USB flash drives are affordable, with individual prices as low as $5 for 16 GB of storage space or multi-packs of five for as low as $25 for 32 GB of storage space. With advanced features like password protection and encryption, they can be more expensive. However, even then they're much less expensive than most external hard drives.
Part 2. How to Download Amazon Videos and Transfer to USB Flash Drive.
Downloading videos from the Amazon Prime app could be easy if you are using a mobile device (iOS / Android) and have subscribed to Amazon Prime. However, it's actually quite limited to save videos from Amazon Prime, not to mention you want to transfer video to USB. This is not possible.
Thus, if you want to download an Amazon Prime video to a USB flash drive permanently, you need to get help from third-party tools or services. Here we recommend you Kigo Amazon Video Downloader, which can quickly download Amazon videos to the local and save them in MP4 or MKV formats with up to 1080p quality, and then these local downloaded videos can be freely transferred to a USB flash drive or SD Card and so on.
Download Amazon movies, tv shows, and original series.
Save Amazon videos to MP4 / MKV format.
Select some or the whole audio tracks and subtitles to keep.
Download up to 1080p HD videos.
Fast speed and easy to operate.
Download for Win
Download for Mac
Guide to Download Amazon Videos Offline and Transfer to USB Flash Drive
Step 1. Download, install and launch.
Click the above download button to download and install the latest version of Amazon Video Downloader, and then launch it on your PC.
Step 2. Set output format, video quality, and so on.
Click the "Settings" icon on the upper right corner of Kigo to set the video format (MP4 / MKV), video quality (Low / Medium / High), the language of audio tracks and subtitles, and so on. Besides, please choose the website you are using to access Amazon Prime Video on the "Account Settings" window.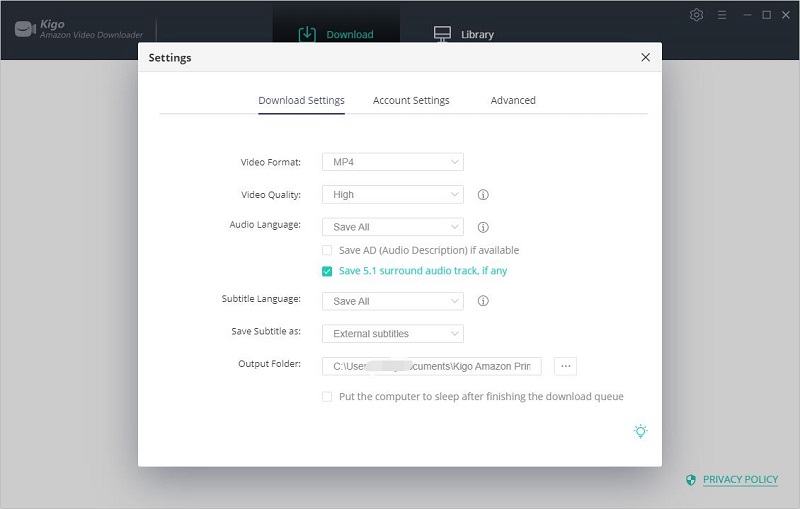 Step 3. Add Amazon videos to Kigo.
For Kigo has a built-in smart search engine, you can input the video title or keywords to search videos directly. Generally speaking, the search results are the same as what you search on web browsers. According to your need, you can copy or drag and drop the video link to the program.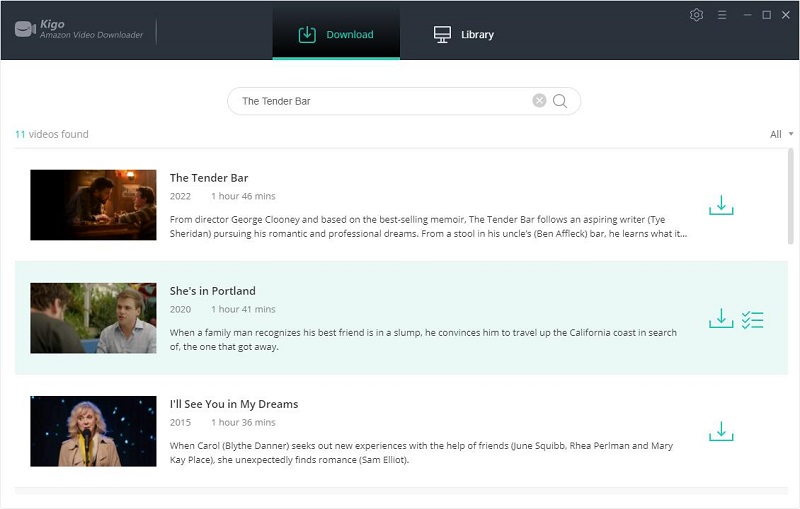 Step 4. Select and "Advanced Download" settings.
Once the video is listed on Kigo, you can continue with further settings. Kigo Amazon Video Downloader also offers the "Advanced Download" option that allows you to select specific video quality, audio tracks, and subtitles with different bitrates. For movies, click the "Advanced Setting" icon next to the download icon. If you try to download a TV show, click the "Download" icon, followed that a window will pop up allowing you to select an episode, and you will the "Advanced Download" button at the bottom left corner of the window.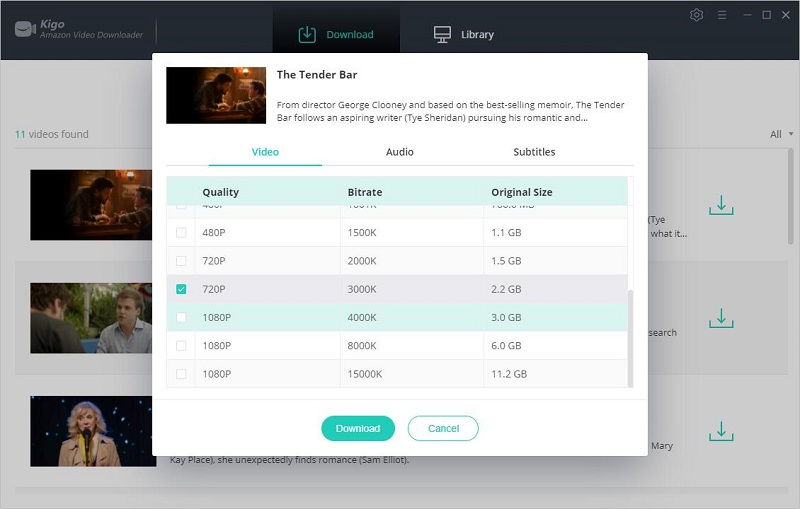 Step 5. Start to download from Amazon Prime.
When you finish the above "Advanced Download" settings, you can click the "Download" button to start.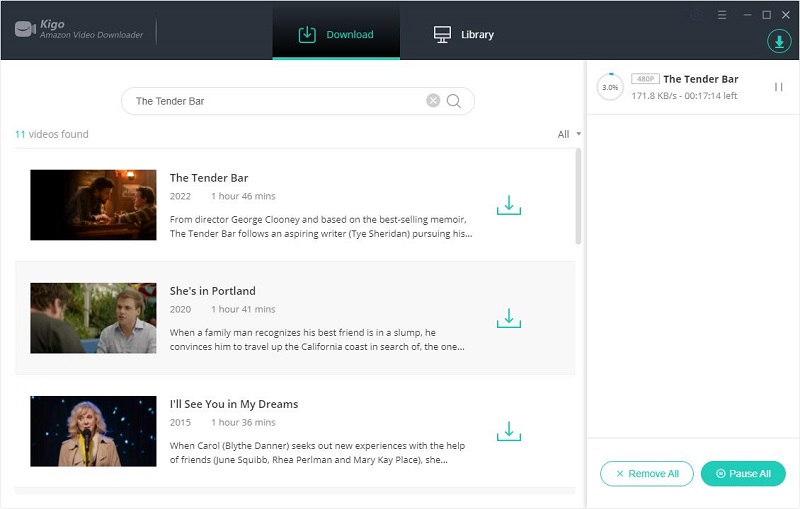 Please note that Amazon has more restricted restrictions about downloading videos. To download 720p or 1080p videos, users need an HDCP-compliant laptop.
Step 6. Transfer the downloaded videos to USB Flash Drive.
After downloading, you can click on Library - Folder icon to locate the downloaded Amazon videos on your computer. Connect the USB to the computer, and drag these videos to a USB drive. So easy, isn't it?
Purchase for Win
Purchase for Mac
Part 3. Play Amazon Videos on Various Devices via USB Flash Drive.
There are some cases you can play Amazon videos via USB Flash Drive on various devices as you like.
When you watch Amazon Prime videos without the app
When you want to play Amazon videos on an old smart TV, (Amazon Prime App isn't supported).
When you want to take movies to watch with your friends.

When you want to backup some videos.
If your video player or device supports a USB flash drive, you can play them freely from USB.
Warning:
USB flash drives can last as long as 10 years. However, if used often enough, the lifespan can be much shorter. Often, low-quality USB flash drives have defects that cause them to die only after a couple of uses, and certain components of USB flash drives in general are highly sensitive and easily damaged if not protected well. Furthermore, the connectors to USB ports can only withstand about 1500 insertions and removals on average. For these reasons, USB flash drives are not ideal backup storage devices intended to last for long periods of time.
Conclusion
When you choose to save Amazon videos to USB Flash Drive, you can save videos you like to watch and play. And Kigo Amazon Video Downloader also simplifies your download steps and operations.