If you ask what is the most discussed and controversial movie of late, it is undoubtedly "The Kerala Story", which revolves around three young Hindu women from Kerala who undergo indoctrination to convert to Islam and are subsequently sent to Syria where they are compelled to join the ISIS terrorist group and subjected to torture.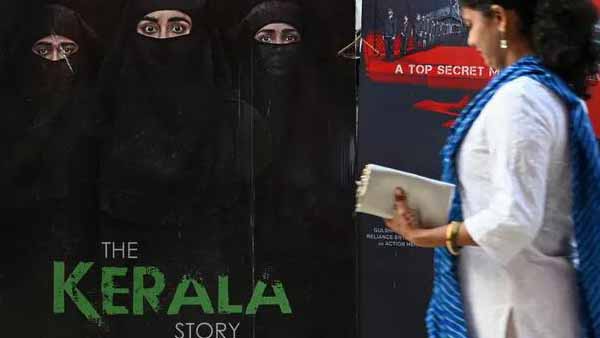 As soon as it was released, the film was criticized by many mainstream critics and opposition politicians, who called it a propaganda film that came to promote hatred against Muslims and tried to destroy religious harmony. Although the filmmakers claim that the movie is based on real events, many people still doubt its authenticity.
As a low-budget movie, its success has surprised many mainstream movie critics in India. On its opening day, the film grossed ₹8.03 crore in India, making it the fifth-highest opener in India for 2023. As of 3 June 2023, the film has grossed ₹275.86 crore (US$35 million) in India and ₹11.93 crore (US$1.5 million) overseas for a worldwide gross collection of ₹287.79 crore (US$36 million), becoming the second-highest grossing Hindi film of 2023.
Facts and Exaggerations of The Kerala Story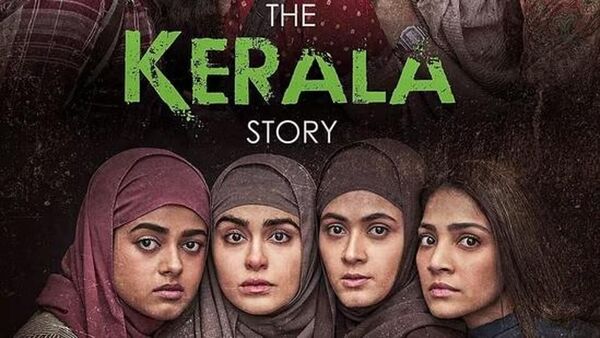 The 138-minute film weaponizes every available shred of reality to explain why a handful of Indian Muslims joined the Islamic faith or why people embraced Islam. Kasargod and Malappuram in Kerala have been shown as dangerous recruitment places for the Islamic faith. The word "Allah" appears in the ringtone of the film's main character, Asifa's phone, and it is depicted as if having a ringtone with the name of Allah is in itself a suspicious thing or a crime. The film is all about Islamophobia.
The movie faced legal challenges and mounting criticism in April as its release date approached. The Kerala high court refused to stay the release, but the film's makers agreed to remove the teaser, which gave the contentious figure of 32,000 women. Its description on YouTube was also changed to "the compilation of the true stories of three young girls from different parts of Kerala".
This claim has since been debunked by a few different outlets, including the fact-checking website Alt News, which published a detailed report that concluded that there was "no evidence" to back the number. According to the U.S. State Department, "66 known Indian-origin fighters" were affiliated with the IS as of November 2020, while India's National Investigation Agency said in September 2021 that it had arrested 168 people connected to 37 cases "of terror attacks, conspiracy, and funding" inspired by the IS. Indian officials have also stated that four women from Kerala who had joined the IS were in jail in Afghanistan. One anonymous police official told the BBC that since 2016, no more than 10 to 15 women from Kerala have converted and left to join the IS.
Audience Reviews of The Kerala Story

Since the film was critically panned. On the review aggregator website Rotten Tomatoes, 20% of 5 critics' reviews are positive, with an average rating of 3/10. You can also watch what its audiences thought about.
The Kerala Story is a thought-provoking film that tackles the sensitive issue of ISIS recruitment from Kerala. The movie does an excellent job of raising awareness about the dangers of radicalization and how it impacts communities. It sheds light on the methods used by extremist groups to manipulate vulnerable individuals, and it humanizes the victims, showing the struggles faced by families and communities affected by radicalization.
Overall, I found "The Kerala Story" to be a courageous and thought-provoking film. It raises awareness about ISIS recruitment from Kerala and sparks conversations about preventing extremist influences and protecting vulnerable individuals. It's definitely worth watching if you're interested in understanding the complexities surrounding this issue.
--- by Arun Raj
One thing I would want you all to understand is you may call this movie a propaganda, you may not find it important or you may run away from reality but you can not abandon the Truth, it's not seeking your very validation, these series of events and incidents have been documented legally, the government and the courts have acknowledged the malicious practices being followed by Islamic Organisation like PFI. Hundreds and Thousands of such cases have been filed.
--- by Jayesh Mhaske
This movie has lies and truths mixed in it. I don't think this movie is propaganda. I do think what happened to Shalini and her friends was real but I refuse to believe that 32,000 Hindu and Christian girls were converted to Islam and forced to work for ISIS.
Must watch? yes. It makes us feel the excruciating life of the convertees. Nobody deserves such life. But, don't believe everything you see in this movie. Be highly cautious and critical while you watch the movie.
--- by Anikijuttu Sai Charan
"The Kerala Story" is a must-watch movie that delivers a powerful and thought-provoking message about the reality of how innocent Hindu girls are being targeted by ISIS members for their own selfish motives. The film brilliantly portrays the gravity of the situation and the urgency of the need for the Hindu community to become more aware and awake to such atrocities.
The storyline is not only gripping but also emotionally impactful. The characters are well-developed and their performances are outstanding. The direction is top-notch, and the cinematography is stunning, capturing the beauty of Kerala, while also exposing the hidden dangers that lurk beneath the surface.
--- by Gaurav Sharma
There are few movies that have the power to shake us to our core and leave a lasting impact on our lives. This particular film, based on a real story, is one such movie that everyone should watch. It is an eye-opener that sheds light on a social issue that is often overlooked or ignored.
This movie is a must-watch for everyone, as it offers a powerful and thought-provoking message that will stay with you long after the credits roll. It will challenge your perspective, evoke emotions, and inspire you to take action and make a positive change in the world. Don't miss this chance to be a part of something truly impactful.
--- by Engineers funda
Is The Kerala Story available on Netflix?
Viewers who want to watch the film The Kerala Story on OTT platforms such as Disney + Hotstar, Amazon Prime, Netflix and Sony LIV can watch it by subscribing to Zee5, Disney + Hotstar, Amazon Prime, Netflix and Sony LIV.
Videos Like The Kerala Story on Netflix
If you enjoyed 'The Kerala Story', you'll be obsessed with Netflix's 'Caliphate'. With this series, you can delve into the stories of Swedish individuals entangled in the web of ISIS, as SAEPO races against time to combat these menacing threats.
Shot in Stockholm and Jordan, the eight-episode series develops through three plot lines. The first one is centered on Pervin, a Swedish Muslim woman in Syria who is desperately trying to get back home. The second focuses on Fatima, a Säpo intelligence officer in Stockholm who is trying to help Pervin. The third deals with Al Musafir (The Traveler), a young jihadi recruiter who helps radicalize two sisters – Suleika and Lisha – and their friend Karima, while also planning major terrorist attacks in Sweden with the help of secondary characters, like two young Swedish brothers who were radicalized in prison, while Fatima tries to stop him. The three storylines are deeply intertwined.
Tips to Download Netflix's 'Caliphate' to Computer
To download Netflix's 'Caliphate' to computer, Kigo Netflix Video Downloader is needed. You can use it to quickly download a variety of movies, TV and documentaries in HD MP4 or MKV format on PC / Mac. It also supports the download of subtitles and audio tracks in multiple languages. You can choose one or more subtitle files according to your needs.
Support downloading movies, TV shows and original series in MP4 or MKV.
All and some the audio tracks and subtitles will be kept.
Download up to 1080p HD videos.
Support H.265 and H.264.
Fast speed and easy to operate.
Download for Win
Download for Mac
If you are new to Kigo Netflix Video Downloader, please click on the "Download" button above to download and install the appropriate version to your computer.
Step 1 Basic Settings.
Launch Kigo on your computer, and click the "setting" icon to open the setting window to set the output format (MP4), output video quality, audio track language, subtitle language, output path, etc.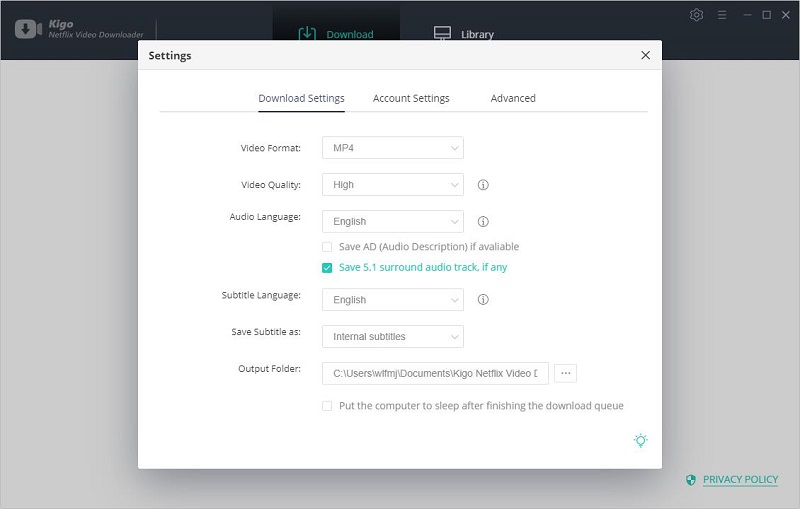 Step 2. Add Caliphate to Kigo.
Type "Caliphate" in the search box, then click the search button to start searching. If this is your first time using Kigo Netflix Video Downloader to download Netflix videos, a login window will pop up to guide you to log in with your Netflix account before searching. You can also copy the link from "Caliphate" details page of Netflix to add. After login, all search results will be listed.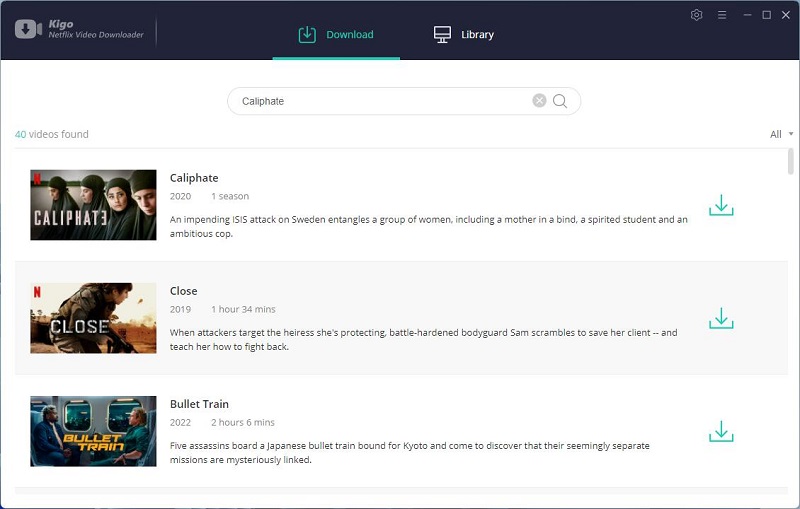 Step 3. Set Video Quality / Audio Track / Subtitles.
Then select the "Caliphate", and click "Download" icon to select the Season / Episode.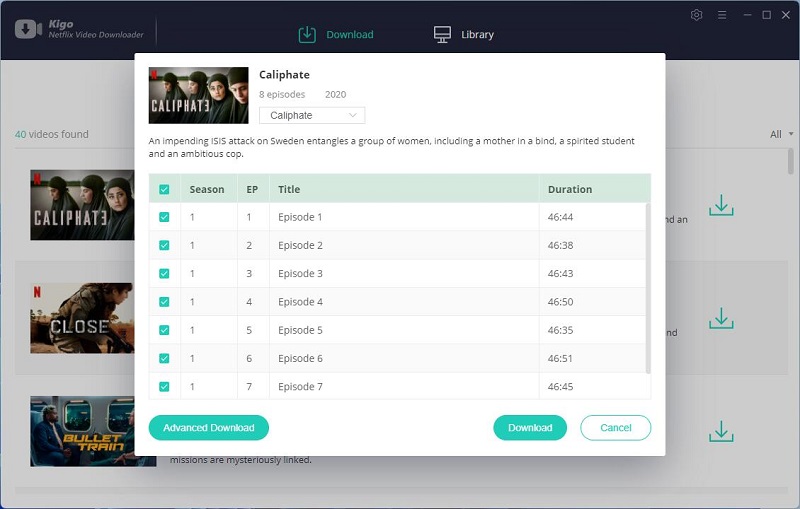 Then click the "Advanced Download" in the lower left corner of the window to set the video quality, audio track language and subtitle language with more details.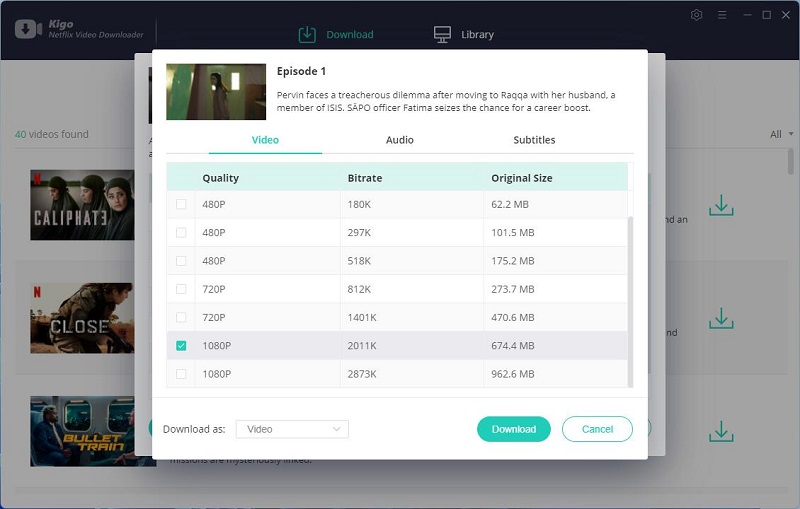 Step 4. Start to Download Netflix's Caliphate
After completing the above, please click the "Download" button to start downloading Caliphate from Netflix to your computer..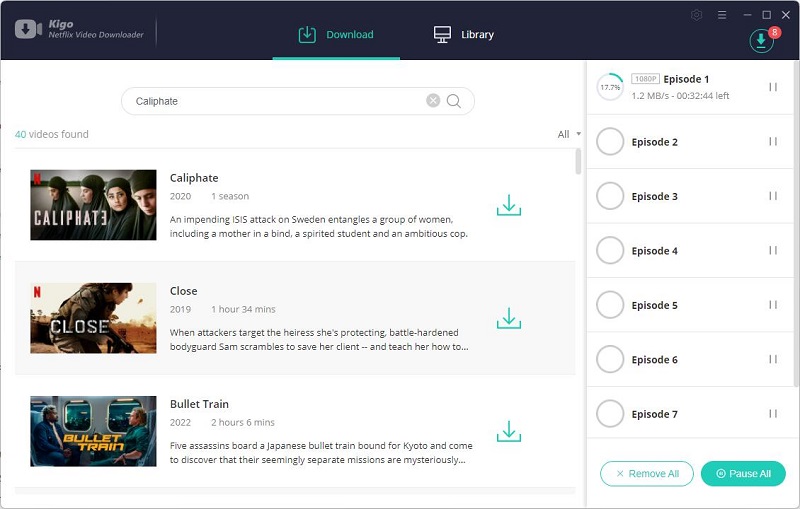 If you want to add more videos to the downloading queue, you can also keep adding other videos. All the videos will be downloaded one after another
Wait for the download completion prompt to pop up, you can click Library to find all the downloaded videos. Select an episode and click on the Folder icon on the right side to locate the downloaded video directly on your computer.
Final Word
'The Kerala Story' maker Vipul Shah and his team are aiming to empower women, especially underprivileged ones by giving them commando training. The point of contention between the truth and falsity of 'The Kerala Story' is that the film exaggerates the numbers, promotes hatred of Muslims, and exacerbates religious tensions. As ordinary people, when we watch movies and hate a group simply because of a movie? It's probably more a matter of accumulation over time.
When you find some movies or TV shows on Netflix and want to save them in MP4 format, Kigo Netflix Video Downloader can help you. Please note that only the first 5 minutes of each video can be downloaded with the trial version, please purchase a license to enjoy the full video. It is suggested that to download the trial version and have a test before purchasing it.
Purchase for Win
Purchase for Mac
Disclaimer:
Videos from Netflix™ are copyrighted. Any redistribution of it without the consent of the copyright owners may be a violation of the law in most countries, including the USA. KigoSoft is not affiliated with Netflix™, nor the company that owns the trademark rights to Netflix™. This page is provided for compatibility purposes only, and in no case should be considered an endorsement of KigoSoft products by any associated 3rd party.
---